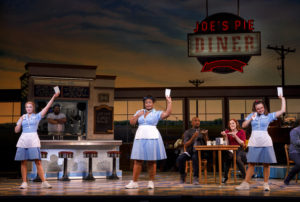 Desi Oakley, Charity Angel Dawson and Lenne Klingaman (all photos by Joan Marcus)
In 2007 writer/director/actress Adrienne Shelly created a little gem of an independent film entitled Waitress. Unfortunately Shelly was murdered before the film's debut. In 2015 playwright Jesse Nelson and songwriter Sara Bareilles turned the story of three waitresses and their love lives in a small Southern town into a Broadway musical. Perhaps if Shelly were alive she never would have ceded artistic control over her characters. Nelson took a little story about a few eccentric friends and turned it into a big Technicolor cartoon. The actors in the National Tour of Waitress which is currently at Hollywood's Pantages Theatre aren't portraying characters as much as they are inhabiting buffoonish cartoon creations under the full-speed-ahead take-no-prisoners style of direction by Diane Paulus.
Waitress and pie maker extraordinaire Jenna (Desi Oakley) is in a loveless marriage with the abusive Earl (Nick Bailey) when she discovers she's pregnant from a drunken night of lovemaking. She decides to keep the baby and hopefully shed the husband. She begins a passionate affair with the new doctor in town (Bryan Fenkart) who himself is married to a doctor serving her residency at the local hospital. Meanwhile back at the diner where Jenna works, sassy Becky (Charity Angel Dawson) begins an affair with cook Cal (Ryan G. Dunkin), even though both are "happy enough" in their marriages to others. Jenna and Becky have also encouraged shy Dawn (Lenne Klingaman) to join a dating service where she meets Ogie (Jeremy Morse) who turns out to be a revolutionary war enthusiast, amateur magician and newly minted stalker. What was charming and warm-hearted in the film comes across here as crass and smarmy while the people are loud caricatures. As a counterpoint, the domestic scenes between Jenna and Earl come across as over-the-top melodrama—all Earl is missing is a mustache to twirl.
Oakley adds some warmth and a touch of reality when given the chance which is not nearly often enough. She, and the rest of the cast have strong voices but Bareilles's melodies all seem to blend into each other. The score's best song is the 11 O'Clock Number "She Used to be Mine" which Oakley belts to the rafters. Dawson gets to really showcase her vocal power on the defense of her infidelity, "I Didn't Plan It". With just a six-piece on-stage band, the show seems to want to be a chamber musical that instead has been blown up all out of proportion. "Sugar, butter and flour" just add up to a tasteless mess in Waitress (the musical) instead of the delectable piece of pie nirvana it could have been.

Hollywood Pantages Theatre, 6233 Hollywood Blvd. in Hollywood. Ends Aug. 26. www.pantagestheatre.com