Well, dear readers, there are Kritzerland shows and there are Kritzerland shows and tonight's was the latter. Instantly the best anniversary show we've ever done, and, for me, one of the best period. Everything clicked. I was a little nervous about our new venue, but I knew instantly when I began the opening patter that it felt just like home. Usually we have one performer who's on fire in every show, but everyone, every single person in this show was on fire and there was not a single flub in the entire show, which is a rarity. I cannot say enough about the performers but let me try: Roger Befeler – what a pro and he was just great in all his numbers including one we switched up after the stumble-through, something that we've never done before in ninety-one shows.  Kim Huber – what a treasure this woman is – her put-together of two Freaky Friday songs, one from the 1976 movie and one from the new musical version was very moving.  Peyton Kirkner – cannot say enough about this kid – great comic timing and a perfect performance of the Shermanized Words Medley and her duet with me – we premiered a song from A Carol Christmas called Little Miracles. Can't wait to begin rehearsals with her for A Carol Christmas.  Jenna Lea Rosen – she's been doing our shows since 2011 and watching her grow and get better and better is always very gratifying. And I just happened to give her three songs that I knew she would hit out of the park, and hit them out of the park she did – especially Amanda McBroom's beautiful Ship in a Bottle, and my song What Do I Do Now? She also opened the show with It's Good to Be Here.  Robert Yacko – it was a good day when he did his first Kritzerland and we've developed the most perfect working relationship, and he's someone else I can give any kind of material to and he'll ace it. The new What If parody – he was brilliant in it, and he did the put-together of the three Bobby eleven o'clock numbers from Company (Marry Me a Little, Happily Ever After, and of course Being Alive) brilliantly. And then there were our special guests – Eric Thomas Petersen did his opening number from School of Rock and it tore the roof off the place, and Johnny Whitaker did two songs from the movie he starred in when he was a kid – Tom Sawyer – very moving. And Maggie Balleweg and Autumn Jessel did a great job recreating Let's Get Together from The Parent Trap. Richard Allen was perfect at the piano. As to Vitello's – other than some miscommunication about the start time of dinner and our show, once that was dealt with it could not have been a better evening. The food was great, the wait staff is absolutely stellar, and I think our audience is very happy with the move. We had over 100 people there (several walk-ins) and I just loved every minute of it. And now – on to October and our scary Halloween show, October 7.
For those interested in the What If – it was What if Kurt Weill and Bertold Brecht, instead of writing The Threepenny Opera, had written – Annie.  And it goes something like this (to the tune of Mack the Knife):
Oh the orphans
Scrub the floors, dear
And each day is filled with strife
Orphan Annie
Is so spunky
But she hates the hard knock life
She escapes and
Finds a doggie
Sings Tomorrow very loud
The Depression is depressing
But she's spunky and unbowed
Then Grace Farrell
Meets dear Annie
Hannigan – she starts to frown
But Grace takes her
And it's clear that
Orphan Annie's back in town
Daddy Warbucks
Likes dear Annie
He adopts her
Makes her rich
But Miss H she
Causes trouble
'Cause Miss H is quite a bitch
All the orphans
Reunited
And Miss H is off to jail
Annie's red dress
And red hair, dear
Is the thing that
Ends this tail
Leapin' Lizards
And the doggie
Is the thing that
Ends this tail.
Here are some photographs.  First, our merry troupe of players.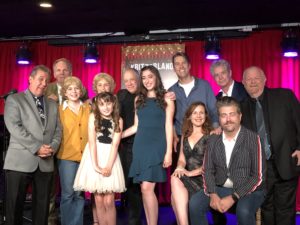 Here's Robert doing the Weill/Brecht Annie.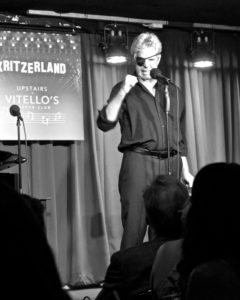 Here's Jenna doing Ship in a Bottle.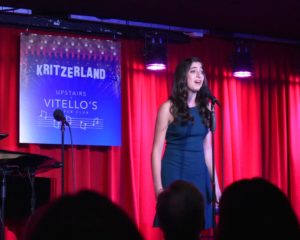 Here's Eric Petersen doing Mount Rock.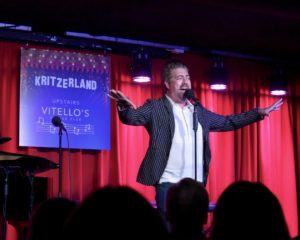 Here I am reading from the paper.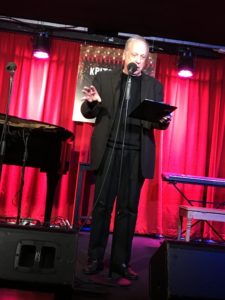 Here's Maggie Balleweg and Autumn Jessel channeling Hayley Mills and Hayley Mills.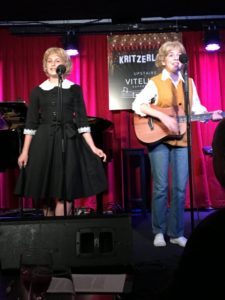 Here's Richard Sherman, li'l ol' me, and Dale Cooke.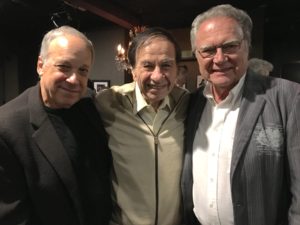 After the show, some of us went downstairs for food.  I hadn't eaten anything but a tiny Caesar salad, so I had penne with a meatball – very good. After that, I came right home, exhausted but very happy.  Oh, the patter was really funny and I went off the page many times – everything landed, I must say.  Also, when we made the song change to Something's Coming, I had to write a little commentary about West Side Story and of course I told its origins – how in the late 1940s the idea was to do Romeo and Juliet as a contemporary musical set on the East Side of New York and called East Side Story – with the tensions being that one is from a Catholic family and one is from a Jewish family. I said, "Can you imagine what that would have been like?"  And then I sang, "When you're a Jew you're a Jew all the way, from the time of your bris to your Bar Mitzvah day."  Got a really nice laugh.
Prior to all that, I'd gotten eight-and-a-half hours of blessed sleep, got up, and basically just relaxed until it was time to get ready. Then I moseyed on over to Vitello's, did our sound check, and the rest you know.
Today, I shall sleep in, and then I'm doing nothing – it's a damn holiday and I'm taking the damn day off and that's all there is to it. I'll relax, listen to music, eat, and relax.
The rest of the week is meetings and meals, a little read-through of a project on Tuesday, and on Friday I'll probably see a show.  And we're starting to set keys for A Carol Christmas this week.
Well, dear readers, I must take the day, I must do the things I do, I must, for example, sleep in, do nothing, relax, eat, listen to music, perhaps watch something, and then relax.  Today's topic of discussion: What is the hardest job you've ever had to do? Let's have loads of lovely postings, shall we, whilst I hit the road to dreamland, so happy we had us an incredible Kritzerland Upstairs at Vitello's 91 and eighth anniversary show and that our new home is going to be wonderful for us.