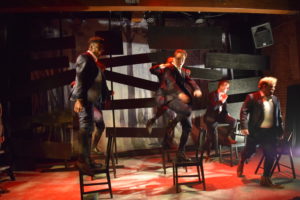 "The Bitch of Living" (all photos by Gigi Greene Photography)
Me + You Productions mounted a stunning piece of theatre, the folk and rock musical Spring Awakening, for a much too short two-week run at The Lounge Theatre in Hollywood. The 2006 Tony Award winner by Steven Sater and Duncan Sheik had taken Frank Wedekind's 1891 German play about a group of youths, not being told all the realities of life by their elders who thought they were protecting them, led to abuse, rape, teen suicide, abortion and other tragedies. Sater kept the nature of the characters in the nineteenth century milieu, but his lyrics and Sheik's rousing melodies boldly brought them into the 21st century.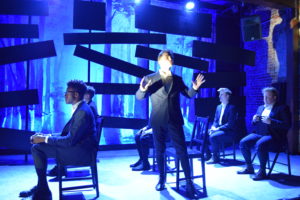 Melchior (Andrew Gleckler) and fellow schoolboys
Now producer Asha Noel Iyer's original concept is to make the show even more relevant in today's world of cyber bullying, weekly mass shootings at high schools around the country, the epidemic of teen suicides, the hate crimes, the government ordained separation of immigrant families and so much more that make up the daily headlines. An extremely talented baker's dozen of performers under the assured and inspired hand of director/choreographer Travis Kendrick create theatrical magic on the small stage of the Lounge Theatre. Being in such close proximity to the action in the 60-seat theatre, you can't help but feel the intensity of the emotions generated by these troubled teens as they attempt to cope with the lives they have been given. Their emotions become your emotions. You can't help but be affected by them.

Wendla (Asha Noel Iyer) and young girls
Iyer herself stars as Wendla, a sheltered young girl on the cusp of puberty and full of questions about what lies ahead for her. Her overly protective mother (played by Kris Robinson who brings variety to all the Adult Women she plays) still tries to convince her that babies are brought by storks. When finally confronted with Wendla's repudiation of that myth, her mother says babies only occur in marriage, which leaves the still confused Wendla open to frenzied seduction, pregnancy, abortion and death. She has led such a sheltered life, at one point she bemoans the fact that she has "never felt anything" and asks to be whipped.

Kris Robinson and Asha Noel Iyer
Her seducer and the unknowing father is Melchior (Andrew Gleckler), who knows how the bodies' parts fit together but is seemingly unclear of the results. Melchior is an intellectual and a rebel. The more he studies religion, the stronger becomes his atheism. He befriends socially inept fellow student, Moritz (Thomas Adoue Polk), whose wet dreams interfere with his studies most nights. Melchior writes a treatise explaining the facts of life to Moritz, which later gets him in trouble with his superiors. Moritz, unpopular with his teachers, is failed and denied passage to the next level of learning, leading to his date with his father's gun. This talented trio easily carry the show on their stalwart shoulders.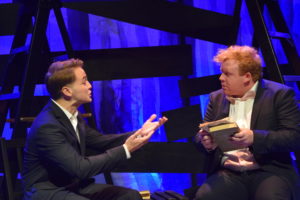 Andrew Gleckler ands Thomas Adoue Polk
The technical aspects of this production are top notch. The cast sing to tracks donated by David Carnvale of Theatre Out with Myrona DeLaney acting as music director. Kendrick's choreography ranges from angry stomping to lyrical ballet movements. The way the hands of one person glides over the body of their partner, the way they meld together is sensually beautiful to behold and truly poetry in motion.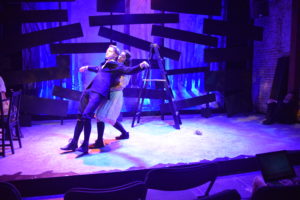 Andrew Gleckler and Asha Noel Iyer
David Goldstein's simple yet so very effective scenic design consists of a few chairs, a couple of ladders, a series of boards that are pulled off a wall and used for various tasks and then reattached. For the second act, the black masking is removed revealing startling facts of today's political climate. Martha Carter has used the lighting like a master painter, creating one masterpiece of color scene after scene.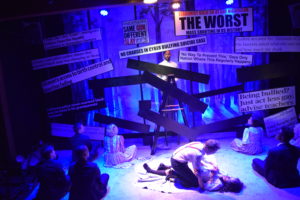 Andrew Gleckler and Asha Noel Iyer
Jack Stuart plays all the Adult Men while Anthony Cloyd, Emma Lou DeLaney, Laila Drew, Timothy Reese, Juj Seeley, Abigail Thomas, Michael Waller and L.E. Woods play the other teenagers, each getting a chance to shine in their solo work and blending their voices harmoniously together in a near heavenly choir sounding chorus for most numbers. A production as stellar as this Spring Awakening is a rarity and really deserves a longer run, not only so others could share in its rapture, but so that support for their cause (100% of proceeds go towards Everytown for Gun Safety) could reach more people.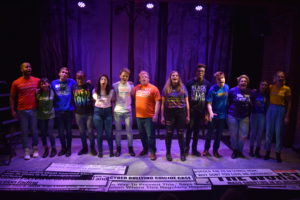 The Finale "The Song of Purple Summer"