Well, dear readers, once again it's TGIF – The Girls in Front, This Geriatric is Fun, Twelve Great Interesting Facts, That Grapefruit is Fat, Tillie Goes to France, or just plain old Thank God, It's Friday.  Yes, it is Friday and I don't care who knows it.  As I write these here notes, I am stuffed to the gills with Chinese food from a restaurant I'd never tried.  While no Genghis Cohen, it was pretty good.  I'm not sure I remember the name of the jernt correctly – maybe Fortune Wok or Family Wok or Take A Wok, Wok On By – something with Wok in it.  I was there with the Haverty clan after our audition session was done.  I had a cup of Won Ton Soup that was pretty good, we had cold sesame noodles, also good, then orange chicken (extra crispy) that was, of course, not a patch on the butt cheeks of Genghis Cohen but still tasty in its own right and left, we had some cashew chicken, also good, some kind of soft fried noodles or hard fried noodles or whatever the HELL they were, and some braised shrimp thing that I didn't care for.  Of course I ate too much, but I actually hadn't eaten anything prior to that, so I guess it was okay.  Our server was very funny and friendly – always a plus.
Prior to that, the day was perfectly okay.  I was up at five-thirty after two hours of sleep, but went back to bed around seven-thirty and slept until around eleven-thirty.  I answered e-mails, I did work on the computer, and hallelujah we cast our final female for the Kritzerland show, so just a couple more songs to choose and that's done.  Whew.
I picked up no packages or important envelope, sent another e-mail and then had a telephonic conversation about the latter, and if it's not here by one today, we'll have another conversation because this has to get solved.  I had a couple more telephonic calls, and then I got ready to mosey on over to the Group Rep for our next round of auditions.
As per usual, we had a nice number of people submit, we invited them to audition, few responded, some confirmed, and several of those were no-shows.  We did find our final female ensemble member, should she accept the gig, and we found another female kid for the kid's chorus that runs throughout the show.  We still need one more girl and two boys for that chorus.  We saw three people for the leading man – none were really right or what I want, but the final guy at least understood the character and did pretty well, so right now he's kind of the only candidate.  That said, we're seeing more candidates tomorrow morning.  Should they show up, that is.
Then we had our fun dinner, and then I came home.  I began making scratch vocals for cast members for whom the piano plunk tracks aren't enough – that way they hear the song sung, which is helpful to the untrained ear.  Then I listened to more music and tried to relax.
Today I shall hopefully, finally pick up the important envelope, I'll eat, I'll finish choosing songs, get the singers their music, and then I'm relaxing and there are no two or even three ways about it.
Tomorrow, she of the Evil Eye comes, and I'll go to our auditions.  Beyond that I do not know what the weekend holds but I suppose I shall find out.  Of course, I'll do a show order and write the commentary and get that out of the way. We'll put up the Facebook event page this morning and hopefully fill the jernt, which is really important for these first few shows.  Here's our little flyer.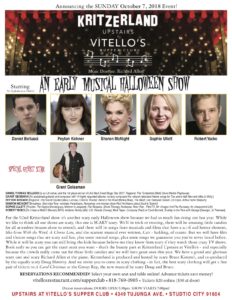 Let's all put on our pointy party hats and our colored tights and pantaloons, let's all break out the cheese slices and the ham chunks, let's dance the Hora or the Arizona Twist, for today is the birthday of our very own dear reader Laura. So, let's give a big haineshisway.com birthday cheer to our very own dear reader Laura.  On the count of three: One, two, three – A BIG HAINESHISWAY.COM BIRTHDAY CHEER TO OUR VERY OWN DEAR READER LAURA!!!
Well, dear readers, I must take the day, I must do the things I do, I must, for example, hopefully pick up an important envelope, I must eat, finish choosing songs, get singers music, and then relax.  Today's topic of discussion: It's Friday – what is currently in your CD player and your DVD/Blu and Ray player?  I'll start – who knows?  Your turn. Let's have loads of lovely postings, shall we, whilst I hit the road to dreamland, where I shall sing my new, snappy rendition of Wok On By.