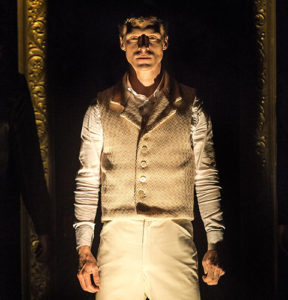 Colin Bates (all photos by Craig Schwartz)
In his program notes for the current A Noise Within's production of his adaptation of A Picture of Dorian Gray, director Michael Michetti states "Oscar Wilde was perhaps the nineteenth century's most infamous homosexual". That was mostly due to the scandal regarding his trials for gross indecency and his subsequent time in jail. He was also well known for his witty comedies satirizing Victorian society. Besides his plays Wilde also wrote the novella The Picture of Dorian Gray in 1890 which was condemned at the time for its utter immorality and depiction of homosexuality. Wilde himself cleaned it up for re-publication and further purges of the text sterilized the story even more. Adapter Michetti has gone back to the tale's original printing in Lippincott's literary magazine and the earliest published versions of the novel to bring it to the stage. He first presented it 12 years ago at Boston Court Pasadena and has restaged the current version. Most people who are familiar with the story from the classic but heavily sanitized 1945 film version that featured Hurd Hatfield, George Sanders, Angela Lansbury and Donna Reed, will get an eyeful of Victorian immorality at its best, nudity and all.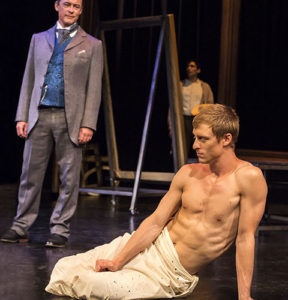 Frederick Stuart, Amin El Gamal, and Colin Bates
Lord Henry Wotton (Frederick Stuart) is admiring the latest portrait by his talented artist friend Basil Hallward (Amin El Gamal). Taken with the beauty of the young male subject, Wotton attempts to get Basil to name him. Basil refuses, saying the painting is his best because he has put so much love into it. As Wotton prepares to leave, the stunning Dorian Gray (Colin Bates) arrives for a final sitting for the portrait. He asks Wotton to stay and talk while he poses au naturel. Even though married, Sir Harry is taken with Dorian and soon challenges him to experience the amoral side of life. Dorian, realizing he will age while his portrait mockingly stays young and beautiful, makes an impetuous wish to keep his beauty and have his picture suffer the consequences instead.

Colin Bates and Frederick Stuart
Sir Henry is soon introducing Dorian to the seedier side of London but on his own Dorian finds a little theatre company and falls in love with its young leading lady, Sibyl Vane (Chelsea Kurtz) and proposes marriage. Shocked, Sir Henry and Basil demand to see this bride-to-be and when Sibyl's lack of talent engenders their criticism, Dorian cruelly ends his relationship with Sibyl who commits suicide as a result. When Dorian sees a sinister change in his portrait, he realized his wish has been granted and begins a life of full on debauchery.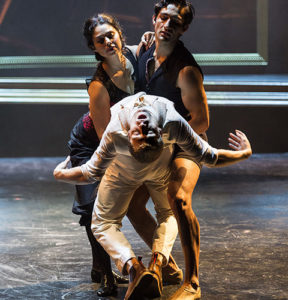 Tania Verafield, Abe Martell, and Colin Bates
Michetti's directorial flair, immensely aided by choreographer John Pennington and Bates's previous ballet company experience, make for a dazzling start of Act Two. As one of the Ensemble (Daniel Lench) reads from the novella, 18 years of Dorian's hedonistic debauchery are enacted through various pas de deux and lyrical dance movements. Soon even murder is no crime for Dorian as his portrait continues to absorb his punishment. The loss of his soul finally overtakes Dorian and his final confrontation with his portrait brings the tale to its conclusion.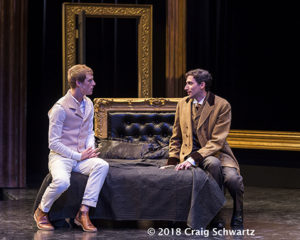 Colin Bates and Amin El Gamal
Bates makes a stunningly attractive and guileless Dorian. He always appears in a blindingly white "ice cream" suit that truly sets him apart from all the other characters in somber shades of black, grey or brown (courtesy of costume designer Garry Lennon). Stuart gives great support as the amoral Lord Henry, serving as the witty mouthpiece of Wilde who has given the character a treasure trove of bon mots. The entire cast adds to the mystery and occult feel of the tale. The scenic design by Michetti and James Maloof is mostly a series of picture frames all lighted beautifully by Rose Malone. Robert Oriol's sound design also contributes to the overall mood of the production.
A Noise Within, 3352 E Foothill Blvd. in Pasadena. Ends Nov. 16. www.anoisewithin.org