Well, dear readers, it was another crazy wacky wacky crazy day and evening with yet more drama of the unnecessary kind.  One of the three issues from the night before solved itself with the actress making the right decision, so that was good.  But then another actress decided to leave the show, saying she really wasn't aware of how arduous our rehearsal schedule was/is.  That was a bit odd, since it was clearly stated on the audition form.  In fact, we went out of our way to make the schedule work for her, really bending over backwards to do so.  But apparently that wasn't enough – and I have to say I would not call our rehearsal schedule arduous under any circumstances.  The music rehearsals lasted all of three nights at about two-and-a-half hours each.  The first week of rehearsals I think we only worked four or five evenings.  The second week, which just wrapped on Sunday was four evenings and one weekend day – three hours in the evenings (and I don't know that we actually went all three hours) and then five hours on Saturday, of which we only worked three-and-a-half.  If that's arduous I don't know what.  This week it's six rehearsals – again, three hours in the evenings, one weekend day that's longer and the other weekend day of three hours. And so it goes – four weeks total and then we play our show.  Normally, this theater rehearses seven weeks so it sure could be a lot more arduous.  Doug has written to see if anything can be done but I'm not sure what effect that will have, and so we're trying to figure out how to deal with that unexpected bit of business.  We'll see what happens, and we have feelers out should we need to find someone pronto. This is the problem with 99-seat theatre and it always has been.
Aside from that, I got about seven hours of sleep, got up, answered e-mails and had telephonic conversations, then I went and got Taco Bell for my main meal o' the day.  I came home and ate that up whilst listening to more music and doing more back-and-forth e-mails and trying to find our Kritzerland replacement.  Then it was time for our music rehearsal.
We had three people coming.  The first is someone Kerry O'Malley worked with.  He's fun, young, and has a really good voice.  Brittney Bertier was supposed to be next, but unfortunately she was coming from a singing gig in Thousand Oaks and got caught in that horrid plane crash on the 101 freeway.  So, she simply could not get to us because the traffic was so insane. Our writer and John Boswell, our MD, took a break until our next singer.  We reconvened at six, and Eric Petersen came and we worked almost ninety minutes with him, since he has a bit more to do than everyone in terms of solos.  He's just great.  After that, I went over to Gelson's and got some chicken teriyaki from their hot food bar and some white rice, came home, and that was my evening snack. I continued listening to music, had many long telephonic conversations about the problems we're trying to solve, and that was about it.
Oh, I keep forgetting to post this really cute photograph of Jenna Lea Rosen and li'l ol' me at her show on Sunday.  Check out the world's greatest photobomb on the left.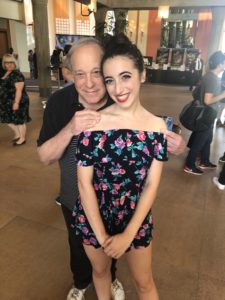 Today, I can sleep in, then I'll eat something light but amusing, hopefully pick up packages, do some banking I should have done days ago, then relax until it's time to mosey on over to the theater.  Doug and I are doing a little video interview for their publicity campaign at six and we'll be done with that by six-thirty.  I'm hoping we've solved at least one of the two problems and if so then we'll block that person in before we run the show.  Then I'll come home and relax.
The rest of the week is rehearsals and more rehearsals and that includes the two weekend days.  Our set also gets built this weekend, so that will be great and we can start working with it on Sunday afternoon.  I also have meetings and meals – so much to do.
Well, dear readers, I must take the day, I must do the things I do, I must, for example, sleep in, eat, hopefully pick up packages, do some banking, do a video interview, and then run our show.  Today's topic of discussion: It's Ask BK Day, the day in which you get to ask me or any dear reader any old question you like and we get to give any old answer we like. So, let's have loads of lovely questions and loads of lovely answers and loads of lovely postings, shall we, whilst I hit the road to dreamland, hoping that the crazy wacky wacky crazy will be over as of now.