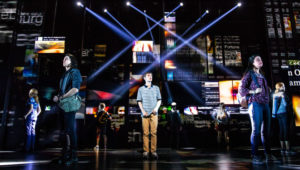 (all photos by Matthew Murray)
If you have seen the musical Dear Evan Hansen and are a fan, you might not want to read any further because I will be challenging most things that you hold dear about the show. I am sure to be one of the very few dissenting voices in my appraisal of this behemoth star-making musical. The show opened on Broadway nearly two years ago, making a star of Ben Platt, the leading player. The show won a total of six Tony Awards including Best Musical, Best Book and Best Music & Lyrics. Even though Platt has long since left the show, it still manages to gross $1.5 million most weeks on Broadway and has just launched a National Tour that has already broken box offices records at the 50-year old Ahmanson Theatre during its opening week. It is definitely a musical for Millennials who live on social media with their faces buried in their cell phones, constantly updating their feeds and checking out the postings of others. The Ahmanson was packed to the rafters with Millennials on opening night and they started hooting and hollering before the show began. They applauded each number with more fervor than the opera divas across the Music Center plaza were probably receiving. They came prepared to have a good time and they were determined to do so. This viewer came with an open mind but found the dramaturgy sorely lacking. This viewer just felt we were being presented with another overly hyped, overly awarded Broadway show (like the recent much ado about mostly nothing The Humans) that got blown all out of proportion. Less is often better than more in the theatre.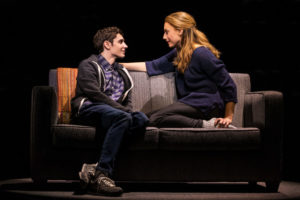 Ben Levi Ross and Jessica Phillips
Steven Levenson's book is so full of holes it's like a giant piece of Swiss cheese. I understand that sometimes you have to suspend disbelief, but that is usually reserved for tales of science fiction/ fantasy or plots with serial killers having more lives than Garfield. Levenson's book deals with parental neglect, teen depression, teen drug use and teen suicide—topics that require a certain gravity that would hopefully come across as believable. It's never made clear why Evan Hansen (Ben Levi Ross) is so anxiety-ridden. His father is long gone, divorced when Evan was seven. The action starts on the first day of his senior year in high school. Evan is a nervous nerd with no friends. His mother Heidi (Jessica Phillips) encourages him to complete the assignment his therapist gave him to write a letter to himself each day affirming himself. She also checks that he is taking his medication. Those seem to be her top two mothering skills since between her job as a nurse and the college classes she is taking to become a paralegal, she is never around to cook Evan a meal or to just talk. Evan had fallen out of a tree recently and has his arm in a cast. His mother suggests he get classmates to sign the cast as a way of breaking the ice. School bad boy, the depressed and drugged out Connor (Marrick Smith), has a run in with Evan and thinks the affirmation letter he found that Evan had written and printed is really making fun of Connor. And after he was the only kid in school to sign Evan's cast.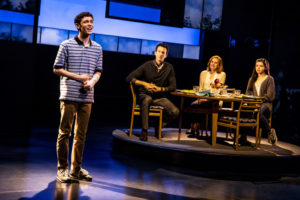 Ben Levi Ross, Aaron Lazar, Christiane Noll and Maggie McKenna
Then Connor commits suicide. His parents find the letter and think it is Connor's suicide note to his best friend, Dear Evan Hansen, although they never knew he had a friend. Evan is so taken with the attention, and since he has always had a crush on Connor's younger sister Zoe (Maggie McKenna), he doesn't correct the assumption he and Connor were BFFs, albeit secret ones. One little white lie leads to another and another until it grows all out of proportion when it hits social media. With the help of a couple of opportunistic fellow students, Evan is soon producing a treasure trove of secret emails and there are buttons and wrist bands and T-shirts to sell. To keep the momentum going The Connor Project is soon raising funds to restore an apple orchard where Connor and Evan supposedly spent all their quiet time. Evan manages to hide most of it from his mother although she finally does discover how and where he has been spending his time. Connor's family members handle their grief in different ways—Mrs. Murphy (Christiane Noll) basically adopts Evan as a second son, an attitude that stoic Mr. Murphy (Aaron Lazar) finally comes around to. Even Zoe buys into the fantasy life of her brother as told by Evan. It's easy to understand why Evan continues the charade—not only is Zoe warming up to him but he finally has a tight-knit family unit that gives him home cooked meals most nights as well as a safe and warm environment when he sleeps over. No one else takes a moment to reflect on how Evan's tales don't jive at all with the Connor they lived with every day. The day of reckoning finally arrives when Evan is finally forced to tell the truth, but he basically just gets a slap on the wrist for his fabrications.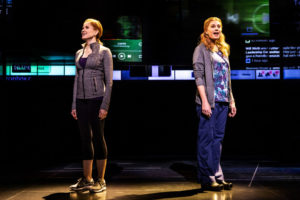 Christiane Noll and Jessica Phillips
Music director/conductor/keyboard artist Austin Cook leads the small band that is situated above the action. The score by Benj Pasek & Justin Paul is basically a chamber musical with a heavy reliance on strings-guitars, viola and cello. The songs have a pop/rock flavor and a definite American Idol influence—they may start soft but nearly every one ends up screaming out the lyrics before the final chord. Director Michel Greif encourages his actors to shout and to shout louder. The quietest moment in the show, and most sincere and touching one for this viewer, is "To Break in a Glove," between the grieving father (wonderfully played by Lazar) and the desperate for fraternal bonding Evan. Noll also gives a nuanced performance as the grieving mother. Smith is also a highlight as Connor who appears as a ghostly and cautionary foil to Evan at times. Ross seems to be either giving a carbon copy of the quirky mannerisms of Platt or are they really the quirks of the character. It's difficult to tell although they are less noticeable in the second act. The rest of the cast seem to play caricatures rather than characters. David Korns is credited with the scenic design which is mostly just a series of panels and screens. A lot of shows these days use projections to create their locations but here the projections are not of locations but rather a constant stream of Facebook and other social media posts. Dear Evan Hansen might be the Facebook musical we all didn't know we wanted or needed.

Ahmanson Theatre, 135 N. Grand Ave. in Los Angeles. Ends Nov. 25. www.centertheatregroup.org