Well, dear readers, it was a splendidly splendid and highly wacky Kritzerland at Vitello's 92 last night.  We had more people than I thought we'd have and they were a GREAT audience – I knew it instantly, within the first twenty seconds of the opening patter.  We only had a couple of lyric flubs – it happens – but everything went really smoothly and the performers did a great job. Daniel Bellusci killed with the What If we did, which was a Stephen Sondheim musical of Psycho – I wrote it a long time ago for Writer's Block and it was great to finally be able to use it and it landed incredibly well thanks to Daniel's great performance of it.  He also did Not While I'm Around beautifully and he kind of brought the house down with Monster Mash.
Little Peyton Kirkner was her usual adorable self – she did wonderfully with her put-together of The Blob and The Purple People Eater, and we had such fun doing Two Lost Souls together.  Sharon McNight was her usual hilarious and irreverent self, first with Somewhere That's Green, then the raucous You Can't Eat Dog in Taiwan, and finally with a crazy version of Love Potion Number 9.  Our newbie, Sophie Ullett, was faboo (oobaf, spelled backwards) – she did a great Who Killed Teddy Bear with some truly funny interplay we kind of added after the stumble-through, between her and Richard Allen at the piano.  Then she did a wistful and beautiful When I Fall in Love, one of my favorite songs ever.  And she tore up the jernt with our final song, Defying Gravity.  Robert Yacko opened with The Brain from Planet X – a couple of lyric flubs but handled like the pro he is and the audience was completely with him, and it was a really good opener.  His The Mist was truly beautiful and haunting, and then he had great fun with Everybody Wants to Be Sondheim.  Grant Geissman did a put-together of The Addams Family and The Munsters that was fantastic.  And I did okay soloing on Here's That Rainy Day.  My allergy attack the night before was not so helpful and my voice wasn't quite as strong as I'd have liked it to be so I just went with that and it worked fine for the song.  Richard Allen did a great job at the piano. Here's an actual photograph of our merry troupe.  Left to right you've got: Sharon McNight, Doug Haverty, Sophie Ullett, Robert Yacko, Daniel Bellusci, Richard Allen, li'l ol' me and li'l young Peyton Kirkner.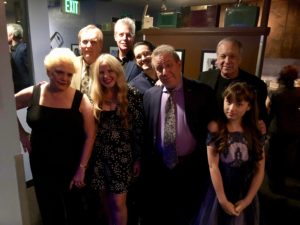 We had fun folks with us – dear readers Amy and Mark and former neighbors Tony Slide and Bob Gitt – the four of them really do attend most of our shows, which is very nice.  Richard and Elizabeth Sherman, Sami's mom Karen, Barry and Cindy Pearl, the Haverty clan, Kay Cole and her ever-lovin' Michael Lamont, Disney's Howard Green with a large party,  Marshall Harvey, EMMY award-winning writer Joe Keenan, critic Rob Stevens and his plus one, and amazingly, Grant's 99-year old mom – we were worried the stairs would be too much, but she got up and down them just fine.  Lots of other fine folks I'm forgetting because I am TIRED.  Here is a lovely photograph of me and someone I love dearly.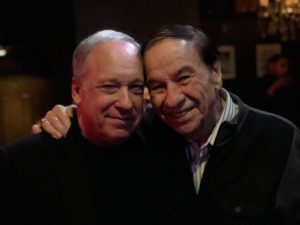 After the show, a few of us went downstairs to have a bite.  I tried their chicken alfredo – it was not a huge portion and it was very good indeed. Before the show I had my usual small Caesar salad.
Prior to all that, I'd gotten a bit over eight hours of sleep, but had had my little allergy problems in the middle of the night.  But normally I don't get anywhere near that much sleep the night before a Kritzerland show, so that was a good thing getting over eight hours.  I relaxed and rested my voice, and then I got ready, moseyed on over to Vitello's and we did our sound check and the rest you know.
Today, I'll sleep in, do the usual morning stuff, eat something light, hopefully pick up some packages, and then I'll be at the Group Rep at four to make sure our sound guy is getting everything up and running for the rehearsal – this is an important test of how things will sound with hanging mics and will tell me whether we'll need more reinforcement.  At seven most of the cast arrives, we'll sing through the two group numbers, and then I'll begin staging the long opening number, which will probably take most of the evening if not all of the evening.  Should I finish it early, I'll start doing the scenes that follow it and try to get us past the entire fifteen or sixteen pages of that long first sequence.
Tomorrow is more of the same, and the rehearsal belongs to Kay Cole, who'll be staging the two numbers she's doing.  If there's any time left over we'll go back and run stuff from the night before. Wednesday, I'll continue with scene two and just keep mushing forward from there.  Thursday we'll mush further forward and Friday we're off.  In fact, if I recall correctly we don't meet again until the following Monday because the two shows that are running close this weekend.
Well, dear readers, I must take the day, I must do the things I do, I must, for example, sleep in, do morning stuff, eat, hopefully pick up packages, supervise the sound set up, and then begin blocking for A Carol Christmas.  Today's topic of discussion: What are your favorite sauces for pasta and other dishes?  Let's have loads of lovely postings, shall we, whilst I hit the road to dreamland, happy that we had a scary fun Kritzerland at Vitello's 92.