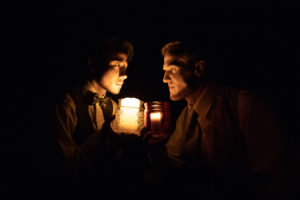 David Huynh, Burt Grinstead (all photos by Larry Sandez)
Leopold and Loeb killed Robert Franks in 1924 in what at the time was labeled "the crime of the century". They committed the crime as a demonstration of their perceived intellectual superiority, citing the philosopher Nietzsche's concept of Ubermenschen or supermen. The infamous case provided the inspiration for the 1959 film Compulsion, based on Meyer Levin's 1957 novel, and the 1992 film Swoon. But British playwright Patrick Hamilton was the first to give it theatrical life with his 1929 play Rope. Alfred Hitchcock famously filmed the play in 1948 with a cast featuring Farley Granger, John Dall and Jimmy Stewart. The film is notable for taking place in real time and being edited so as to appear as a single continuous shot through the use of long takes.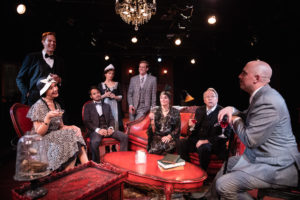 The dinner party
Written originally in three acts (although brief in duration), Actors Co-Op is currently presenting the play without an intermission and staged by director Ken Sawyer "in the round" in the intimate Crossley Theatre. Friends and roommates Brandon (Burt Grinstead) and Granillo (David Huynh) have strangled fellow Oxford undergraduate Ronald Kently with a rope and stuffed his body in a locked wooden chest in the living room of their 1929 London Mayfair apartment. They are so sure they have committed the perfect murder that they have invited friends (Kyle Anderson, Heidi Palomino and Donnie Smith) and Ronald's father (Carl Johnson) and aunt (understudy Suanne Spoke at the performance I viewed) for a light supper, to be served on the same chest the body lies in.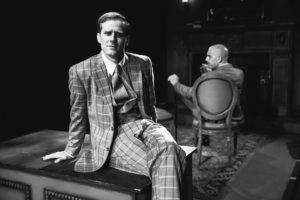 Burt Grinstead, Donnie Smith
The synopsis in the Samuel French catalog for Rope says "the horror and tension are worked up gradually". That is not the case here. The action begins with a series of hysterical blackouts involving the murderers and never stops to take a breath. There is not a soupcon of subtlety in the direction or acting on view. The frenzied dialogue and thick and seemingly lower class accents of the killers make their words unintelligible at time. There have been a few changes—Sabot (Deborah Marlowe), the serving person, has been given a gender switch while the usually quiet and sleepy Mrs. Debenham has been given psychic powers and overreacts to contact with anyone or anything. Neither change adds up to any real purpose. The production's best asset is the scenic and property design (blood red floor tiles and crimson tinged furniture) by Hellen Harwell. This is a rare misstep not only for Actors Co-Op but for director Sawyer, whose The Woman in Black is still one of my favorite theatrical thrill rides.


Actors Co-Op, 1760 N. Gower St. in Hollywood. Ends Oct. 28. www.actorsco-op.org.