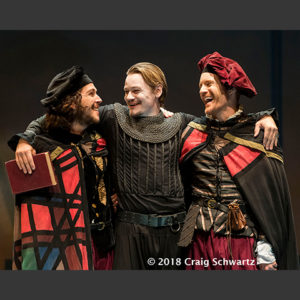 Rafael Goldstein, Paul David Story, and Kasey Mahaffy
William Shakespeare's Hamlet is considered among the most powerful and influential works of world literature. It is also Shakespeare's longest play and probably his most performed play. Even though it is lengthy, Shakespeare did not write much dialogue or action for the duo of Rosencrantz and Guildenstern, courtiers and college buddies of Hamlet. For centuries R&G continued to be thought of as very minor players in the tragedy that was Hamlet's. British playwright Tom Stoppard rectified that in 1966 with his comic take on the tale, Rosencrantz and Guildenstern Are Dead. R&G was the first of his plays to garner recognition and contained the existential themes, language play and use of wit and comedy while addressing philosophical concepts that have come to be known as "Stoppardian." Director Geoff Elliott and A Noise Within have staged a wonderfully funny and thoughtful mounting of the play at their theatre in Pasadena.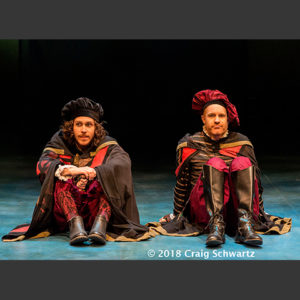 Rafael Goldstein and Kasey Mahaffy (all photos by Craig Schwartz)
Rosencrantz (Kasey Mafaffy) and Guildenstern (Rafael Goldstein) are having a philosophical dialogue on the meaning of their lives, not remembering what came before this moment or what is to come later. They have engaged in a game of coin tossing that has resulted in over 90 consecutive tosses all ending up as "heads." Is that even possible or plausible? The twosome doesn't know but they keep tossing the coins. Finally they hear the sound of music and a troupe of woeful looking tragedians appear on the road, bound for nearby Elsinore where R&G finally realize they have been summoned by King Claudius.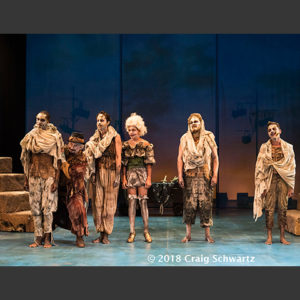 Matt Jennings, Wesley Mann, Philip Rodriguez, Sam Christian, Jonathan Fisher, and Oscar Emmanuel Fabela
Stoppard has woven Shakespeare's dialogue into his work in scenes involving his dynamic duo and their interaction with school chum Hamlet (Paul David Story), King Claudius (Jonathan Bray), Queen Gertrude (Abby Craden) and others. The boys are still basically bystanders in Hamlet's life, but in their own story they really get to fill in the gaps, mostly in hilarious shenanigans with the troupe of players, especially the Lead Player (Wesley Mann). In Act Three, Stoppard gives us Hamlet & R&G's sea voyage to England, their capture by pirates and their eventful meeting with the English king and their demise. Getting there is all the fun.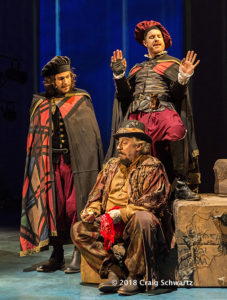 Rafael Goldstein, Wesley Mann, and Kasey Mahaffy
Mahaffy and Goldstein make a merry duo, riffing off each other marvelously. Mann offers great support and comic timing. Elliott's direction is tight and sure and keeps the lengthy, wordy play moving along at a brisk pace. Frederica Nascimento's scenic design is spare until a ship magically comes together on stage in the dark. Jenny Foldenauer's colorful costumes and Ken Booth's bright lighting are well done. Rosencrantz and Guildenstern Are Dead but comedy is alive and well.

A Noise Within, 3352 E. Foothill Blvd. in Pasadena. Ends Nov. 18. www.anoisewithin.org