Clarice and Lambs with jazz hands (all photos by Peter Flanigan)
The 1991 horror thriller The Silence of the Lambs was the fifth biggest worldwide box office hit of the year. It would go on to win the Academy Award for Best Film, becoming only the third to take the five top awards (Picture, Director, Actor, Actress & Adapted Screenplay). In 2005 Jon and Al Kaplan wrote an unauthorized musical parody Silence! The Musical which played off-Broadway. Los Angeles had a production at the Hayworth Theatre in 2012 and now Bucket List Theatre is currently presenting it at The Actors Company in West Hollywood just in time to chill, thrill and titillate audiences for Halloween.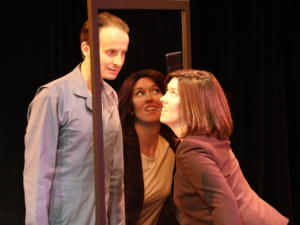 Jesse Merlin and Amanda Conlon
Hunter Bell's book for the musical sticks pretty close to the action in the screenplay and the low-budget production, with title cards often taking the place of actual sets, is a lot of fun, especially if you are familiar with the characters and the plot. And there are singing and dancing lambs, that often use their hooves as castanets. What more could you want? Clarice Starling (Amanda Conlon) is an FBI trainee with a tragic past that involved her now dead father as well as the titular lambs. Conlon gives Clarice the proper wide-eyed innocent demeanor of a FBI newbie as well as a noticeable lisp. She is assigned to interview a convicted serial killer, the insane Dr. Hannibal "The Cannibal" Lecter (a spot on Jesse Merlin) to see if the brilliant psychiatrist and even more brilliant psychopath can give any clues as to the identity of current in-the-news serial killer, Buffalo Bill (a gleefully manic Nick Dothee), who kidnaps plus-size women, skins them with plans to wear them as he transforms like a butterfly from male to female. You got the plot now?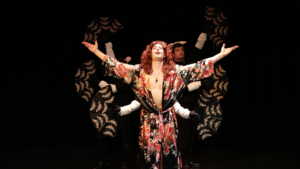 Nick Dothée as Buffalo Bill
Conlon also serves as the show's director, choreographer and production designer and may have stretched herself a bit too thin. The direction is snappy and the 90-minute no intermission show shuffles along at a nice pace. The choreography, especially the balletic pas de deux for Lecter's plaintive ballad "If I Could Smell Her C*nt," is well executed. The production design is spare but gets the job done on the small stage. Conlon's performance could use a bit more bite however. Edgar Cardoso serves as musical director and keyboard artist and does just fine. The ensemble plays a variety of roles but especially delight as the chorus of lambs. Leave your church lady relatives at home; they wouldn't get the humor in the outrageously vulgar and oh-so-much fun lyrics and the general balls-to-the-walls playing of this uncouth parody.

The Actors Company, 916 N. Formosa Ave. in West Hollywood. Ends Nov. 3. https://www.bucketlisttheatre.com/tickets.