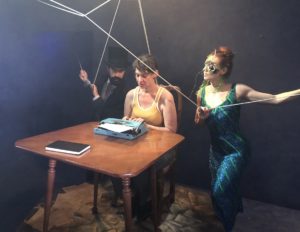 James Ferrero, Betsy Moore, Megan Rippey (photo by Son of Semele Ensemble)
Alice B. Sheldon was a Chicago debutante who was never completely comfortable in her body or her life. At the age of six, she was known as one of the first "little white girls" to explore Africa in the company of her authoress mother. After an early and disastrous marriage to an abusive drunk of a husband, she joined the WACS during WWII and rose to the rank of Major. After the war, with her second husband she joined the newly formed CIA. She earned a Ph.D. in experimental psychology and finally at the age of 50 she began writing science fiction, under the male pen name of James Tiptree, Jr. It wasn't until a decade later that James was revealed to be Alice. It shocked both fans and reviewers of the genre, having them reexamine what was considered "male" writing as opposed to "female". Sheldon committed suicide in 1987 and was inducted into the Science Fiction Hall of Fame in 2012.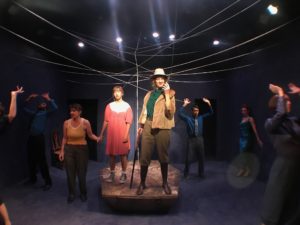 Nathan Nonhof, Betsy Moore, Isabella Ramacciotti, Anneliese Euler, Robert Paterno, Megan Rippey, Ashley Steed
Sheldon/Tiptree's fascinating story has been brought to the stage by playwright/director Maureen Huskey in The Woman Who Went to Space as a Man, an engrossing and entertaining 90-minute outing at Son of Semele Theater. Alice (Betsy Moore) is preparing to end her life when a few of her sci-fi creations attempt to distract her from her purpose. This is especially true of Mira (Megan Rippey) who feels her story has not really been told yet. Alice looks back over her life, starting at age 6 in Africa with the overpowering presence of her mother, Mary (Anneliese Euler), a big game hunter and a queen of Chicago society. Child Alice (Isabella Ramacciotti) comes to think of herself more as a boy instead of a girl. Young Alice (Paula Rebelo) begins to explore her lesbian tendencies in college and really gives them vent with her fellow WACS during WWII. Her second marriage, to Ting (Alex Wells), is a loving relationship if a somewhat sexless one. Ting encourages Alice to finally live her dream and become a writer. Alice doesn't want to feel she is competing with her mother's career as an author, so she publishes under the name of James Tiptree, Jr. (James Ferrero).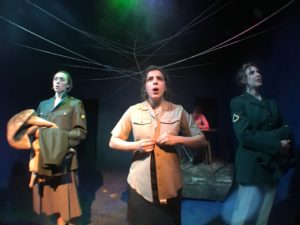 Ashley Steed, Paula Rebelo, Emma Zakes Green
Playwright Huskey has wonderfully woven all these characters and incidents in a fast moving tale while director Huskey has created vivid and stunning images to make it all come together. At times all three versions of Alice are in a scene as well as male alter ego James. The real life characters mix with the sci-fi creations and yet the narrative thread is never lost. The text explores the nature of male and female. The Ensemble, which also includes Kamar Elliot, Emma Zakes Green, Nathan Nonhof, Robert Paterno and Ashley Steed mesh together perfectly in telling this story. In a Q&A the playwright reveals she always knew "this script would be a musical of some kind". Unfortunately, that is the script's weakest element. The score by Yuval Ron attempts a Brecht-like quality that never really gels. The lyrics are more repetitive recitative than actual songs. Even though the cast has some fine voices, the musical interludes for the most part, except for the lively WACS trio, slow the action and dampen the mood.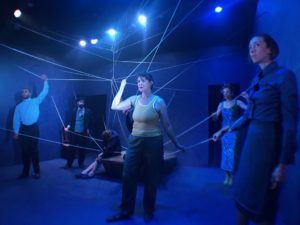 Nathan Nonhof, James Ferrero, Emma Zakes Green, Betsy Moore, Megan Rippey, Ashley Steed
Eli Smith's set design consists of a small movable platform, a table, a chair and lots of cords strung across the stage at various heights and lengths. The cast effortlessly find themselves hanging from, leaning on these cords at various times. It creates a great visual image, one with countless variations. Lena Sands has designed some wonderfully evocative sci-fi costumes for some of the characters. Rose Malone's lighting gives added emphasis to the action while Martin Carrillo's amazing sound design is like a VIP character itself. Blast off with The Woman Who Went to Space as a Man and take an amazing voyage through an intriguing life story.


Son of Semele Theater, 3301 Beverly Blvd. in Los Angeles. Ends Nov. 18. www.sonofsemele.org