Well, dear readers, it's been two months since we announced a Kritzerland release. Yes, you heard it here, dear readers, it's been two months since we announced a Kritzerland release so it is both high and low time to rectify that situation, oh, yes, it is both high and low time to rectify that situation.  We're trying to have an additional three or four titles by the end of the year and hopefully we will.  But this announcement is, of course, a special one for me because it is the cast recording of my new musical, written with Doug Haverty, entitled A Carol Christmas.  I'm very proud of both show and score and we open in a mere week-and-a-half, and actually in a mere week we play our invited dress rehearsal.  We actually go into the studio to record the vocals on Sunday, but the packaging is already done, so once it's mixed by mid-week next week it goes right in to be pressed, so we should have it well in advance of the actual ship date, in fact if all goes according to Hoyle, we should have it by our second weekend of the show's run.  Anyway, spread the word on the Facebook and everywhere else you can.  Here's the cover.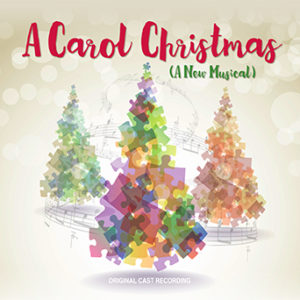 Yesterday was a bit of a day.  I got seven hours of sleep, had a brief visit from a brief visitor, then I made a bit of bow tie pasta (about five or six ounces) with butter and cheese – that was very good and hit the spot and then the spot hit it right back.  Then I went to the mail place – well, I should have called first and saved myself a trip because the errant and truant pension check wasn't there.  I'm giving it until today and then I'm going to insist they stop payment, issue a new check that I can go and pick up.  Six days late is six days too many.  And in case I haven't made it abundantly clear, I HATE the USPS.  Then I came back home, listened to music, had telephonic conversations and had to attend to many things.
Then I moseyed on over to the theater for our run-through.  I began the evening just giving some general playing notes to our leading man and leading lady.  Then we began.  We were missing (for the final time) one cast member, so Alexa was there to cover her. It was a weird little run-through with some really good things in it, and a few peculiar things, but it ran its usual eighty-nine minutes.  The staging is looking very good, and a couple of actors really stepped up to the plate, which was great.  We're still having one issue that we're going to have to deal with today in one way or another.  We'll see how that all goes.
After, I stopped at Gelson's and got a thing of bagels and a chicken enchilada from the deli case, came home and had the enchilada and a bagel for my evening snack. Both were very good.  Then I had two long telephonic conversations, after which I listened to some very good music by Laurie Johnson, including a jazz symphony that was wonderful and either I'm crazy or Mr. Johnson was, but I'm pretty certain its main theme is straight from Villa-Lobos – I'll check at some point today.
Today, I'll hopefully print out a LOT of orders, I'll relax, I'll eat, I'll hopefully pick up a way overdue pension check, I'll finish casting Kritzerland, I'll write some liner notes, but otherwise I'm going to enjoy my day and evening off, because once that's done there aren't any days off until we open.
The rest of the week is meetings and meals, rehearsals, hopefully starting to use costumes, hopefully starting to get the sound balances done, and then dry tech and our first tech rehearsal Friday night.  Full out dress/tech on Saturday after a cue-to-cue, and Sunday we record the vocals for our cast album.
Well, dear readers, I must take the day, I must do the things I do, I must, for example, hopefully print out a LOT of orders, relax, eat, hopefully pick up a way overdue pension check, finish casting, write, and then enjoy the day and evening off.  Today's topic of discussion: What year-end movies are you most looking forward to? I've already been told that the one I must see the most is called Green Book, which does sound like it's right up my alley, being about the amazing jazz pianist Don Shirley.  Your turn.  Let's have loads of lovely postings, shall we, whilst I hit the road to dreamland, happy to have announced the cast album release of A Carol Christmas.