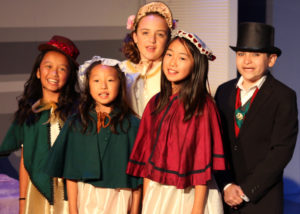 A Carol Christmas carolers (all photos by Karen Staitman)
Charles Dickens' A Christmas Carol was published in London in 1843. The first edition sold out in six days and it has never been out of print since. There have been many stage, film and television versions of the story over the years. It is a staple of many theatres around the world during the Christmas holiday season. Locally South Coast Repertory is presenting its 39th annual production in Costa Mesa while A Noise Within is presenting its umpteenth production of the show in Pasadena. Jefferson Mays is currently doing a new one-man version of the classic tale at the Geffen Playhouse while in years past Los Angeles audiences have seen Patrick Stewart play all of Dickens' characters on stage. My favorite local adaptation was by the now long defunct Theatre Exchange in North Hollywood who set their story in a Depression Era hobo encampment. I must admit my all-time favorite version of the tale is the one-hour TV classic from 1962, Mr. Magoo's Christmas Carol with songs by Jule Styne and Bob Merrill. On film Scrooge has been played by such actors as Alastair Sim, Albert Finney and Michael Caine. The role of Scrooge has been modernized with Bill Murray playing a cynical television executive in Scrooged and Susan Lucci playing a ruthless businesswoman in Ebbie, where both are visited by three spirits and give a chance to change their lives just in time for Christmas.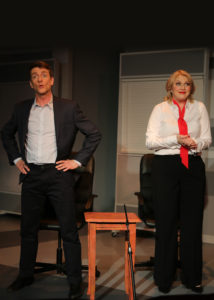 John Schroeder and Hartley Powers
Now in the age of #MeToo, playwright Doug Haverty has written a feminized, modernized update entitled A Carol Christmas which is being given its World Premiere by The Group Rep at North Hollywood's Lonny Chapman Theatre. The names, locales and motivations have all been changed but the basic tale remains with most of the story's main characters now envisioned as female. Haverty's best writing occurs in re-envisioning the ghosts/spirits. Marley is now Joelle (Janet Wood), the recently deceased business partner of Carol (Hartley Powers), a driven clothing designer and home shopping network star with a line of clothes for "Girls Who Eat". Joelle appears in a DVD warning of three unexpected meetings she has scheduled for Carol on Christmas Eve. Odette (Debi Tinsley) is a New Age therapist as she takes Carol on flashbacks to her happier, less hectic past life. Karina (Wood again) is a Russian tea pusher with insight into Carol's present while Mabel (Tinsley again) is a voodoo priestess whose tarot cards spell uncertainty for the future.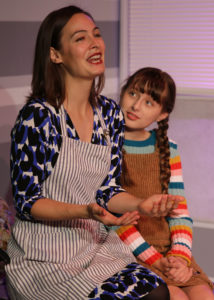 Savannah Schoenecker and Peyton Kirkner
Bob Cratchit here becomes Blythe (Savannah Schoenecker), Carol's organized and unflappable assistant while Tiny Tim is embodied by Blythe's sickly daughter. Instead of a crutch, this tiny Trina has a bum ticker but as played with such spunk and exuberance by Peyton Kirkner, she doesn't seem to be in any danger of expiring soon. It may have been an attempt to add some heart to the story because that is the central ingredient missing here. Haverty has kept Carol's early beau Blake (John Schroeder) in her present life. Why he keeps wooing her all these years later after the way she callously dismissed him from her life is a big mystery. Except he is a research MD specializing in heart disease and it fills in a big plot point. Carol herself is a mystery at the center of the story but Powers powers her way through, she is virtually never off stage. The original Scrooge was driven by greed but it's not clear what drives Carol. She is a successful businesswoman and seems to have no life outside work and demands the same of her employees. Not that much of a villain. She doesn't have a lost love to moon over like Scrooge longed for Belle—Carol threw over Blake for a NYC job offer. Theirs is a particularly odd and emotionless breakup scene featuring Blake singing his parting love song, "Separate Ways," to Carol's back and then her just leaving him. The rush to an ending also seems thin—Carol goes from grouchy to happy in warp speed for the finale.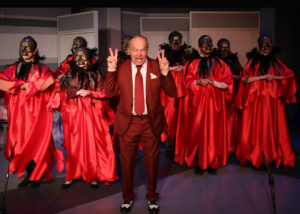 Lloyd Pedersen leads the Death-ettes
The original musical score by Bruce Kimmel is the show's best asset but also may be its biggest problem. Cramming 17 songs into a 90 minute running time leaves little time for character development. Wood and Tinsley make the most of their characters' quirks and their songs—softly delivered—are among the most fun, especially Wood's "Owaska Tea" and Tinsley scatting her way through "Tarot Cards". The score is varied with upbeat tunes and ballads and even a rap number. Lloyd Pedersen as Mr. Death joyfully leads a chorus of Death-ettes through a soft shoe number, "Shuffle Off this Mortal Coil," featuring the best of Kay Cole's limited choreography. There is an unnecessary ballet interlude and as the Emperor once said to Mozart, too many notes. Not every member of the chorus needs their own solo and songs by the Tarot's High Priestess and The Lovers could easily be cut and not missed.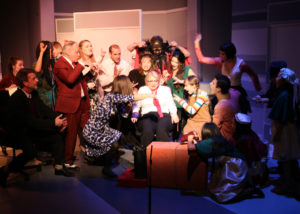 Carol confronted by her nightmares
As director, Kimmel has set a fast pace and although some of the cast have a tendency to deliver big expressive faces (just short of mugging at times), they are the best singing talent this viewer has heard on The Group Rep stage in well over a decade. The tracks by musical director Richard Allen are well executed but the sound balance was off at the performance I viewed (there were hanging mics, floor mics, head mics, everywhere a microphone in a 92 seat theatre). As a result a majority of the cast felt the need to yell their vocals. Tesshi Nakagawa's simple yet elegant and very functional set design easily morphed into various locations.

Lonny Chapman Theatre, 10900 Burbank Blvd. in North Hollywood. Ends Dec. 30 www.thegrouprep.com