Well, dear readers, I am happy to report that the replacement pension check arrived – finally – six days after it was postmarked.  Now, this check came from Burbank and was delivered to the mail place in Valley Village.  That is a distance of perhaps four or five miles, a drive of approximately six minutes. And remember, these same USPS people LOST the first check.  It has first class pre-printed on the envelope.  It says "important document inside".  And yet, they lose it, they take six days to deliver a piece of mail from Burbank.  I'm not sure how much more inept a postal service can be, frankly.  In fact, I'm going to call the Burbank post office today and give them holy hell.  Or perhaps I'll just drive over there, since I'll be so close.  Perhaps I'll just do that.  Perhaps I will.  But at least it got here and one can only pray that subsequent checks will not be lost and arrive on time.
Yesterday wasn't a bad day at all.  I got about seven hours of sleep, got up, answered e-mails, and then got ready for my noon o'clock rehearsal for the musical revue or cabaret or evening or whatever the HELL you want to call it.  I've had so many things happening one after another, that I haven't really said much about this little evening I'm directing.  I was approached about it back in June or thereabouts.  The wonderful Kerry O'Malley e-mailed me some parody lyrics her friend, the writer Joe Keenan, had done.  She asked me to read them, told me she wanted to put together an evening of them to do before the mid-terms and would I help and direct.  So, I read them, they were very funny and sharp and since I think the world needs to laugh and that biting satire has a place (it's been all too absent in recent years), I said yes.  We met, I made suggestions about how the evening might go, and I also said they shouldn't just think of it as a one-nighter and that it might sit down somewhere for an engagement, because the daily goings on are so easy to satirize.
The original plan to do it before the mid-terms had to be scrapped – they simply could not find a place to do it that wasn't booked.  So, we booked end of November at the only place available, definitely my least favorite club in LA.  I would have preferred Vitello's, of course.  We did a sing-through at my house, cast the show, and did a few music rehearsals.  We had to work around my schedule, too.  Finally, our staging and putting it together dates arrived.  The show is called Everybody Rise: A Resistance Cabaret.  Of course, as you might have already figured out, it is political in nature and involves this administration, which, let me tell you, is easy to satirize, as have been certain other administrations of both parties.  The parodies, all to well-known show tunes, are really funny and, for me, they'd be funny no matter what side of the fence I was on, but that's just me.  Here is the poster for the show.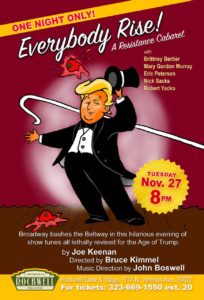 On our first day, I tackled several group numbers.  The cast had a lot of material to learn, so I kept it simple, but the group stuff cried out for staging and wouldn't be as much fun without it.  I got through a lot, and also did a few solos and a trio.  It's a wonderful cast and everyone was laughing during the entire four hours.
After we finished, I went directly to the mail place, then directly to the bank, then directly to my nearby Subway, where I got a foot-long spicy Eyetalian sandwich. I came home and ate it all up.  I listened to music whilst catching up on e-mails and telephonic calls, then I finally sat on my couch like so much fish.
Last night, I watched the first half of the new Blu and Ray of 2001: A Space Odyssey. I first saw the film during its opening week at the Warner Cinerama on Hollywood Blvd.  I remember saying after it was done, "This is either the worst piece of crap I've ever seen, or it's a masterpiece."  A day later I decided it was the latter, and I went back to see it several more times.  It was a spectacular film to watch in those pristine 70mm films on the huge curved screen. Blisteringly beautiful.  Some years later, in the 1970s, I saw it again in 70mm but the print was fading and already in bad shape.  Then I owned every incarnation of the movie on home video – the laserdisc, the DVD, the first Blu-ray.  But now they've done a new 4K transfer off the original negative and released it on 4K and Blu-ray.  Of course, I don't have a 4K TV so I contented myself with the Blu-ray, which I'd read was not nearly as good as the 4K.  Well, it's still miles ahead of the old Blu-ray – it's very sharp, detailed, excellent color, and robust sound.  Over the years, the original negative had some shots that had to be replaced with dupe footage – and every time one of those shots shows up it's really obvious, as the sharpness drops considerably.  I only got through part one, so I'm looking forward to part two tonight.  The film's structure is still, after all these years, completely unique and one-off.
After that, I did some work on the computer, finished choosing the Kritzerland songs, save for two, and got everyone their music, so that's done.  I listened to more music, too.
Today, I'll be up by ten again, and we have our second rehearsal and I'll try to finish everything else – that should be doable because most of it is solos – I think there are only two group numbers left and those are simple.  So, if I get everything blocked and positioned then I assemble the whole thing tomorrow and we can do a rough stumble-through of it. After, I'll hopefully pick up some packages, eat, and then come home and watch the rest of 2001.
Tomorrow, we'll assemble the show and do a rough stumble-through.  Then I'll relax.  Thanksgiving I'm not sure about.  If I get a really good night's sleep, then I may meet dear reader Jeanne for a Thanksgiving at a restaurant around two.  That would be nice, actually.  Friday is a complete day of rest, start to finish.  Then Saturday we're back doing A Carol Christmas.  We got our first review, from Broadway World, and it was kind of a rave.  We have a matinee and evening performance that day, and then a matinee on Sunday. Monday we have a run-through of the cabaret show, followed by the first Kritzerland rehearsal.  So, it's going to be a really crazy week and I still have to order the Kritzerland show and write commentary.  Luckily we've done half the material before, so I can just use that commentary.
Well, dear readers, I must take the day, I must do the things I do, I must, for example, rehearse, hopefully pick up packages, eat, and relax.  Today's topic of discussion: When did you first see 2001 and what was your reaction to it? Let's have loads of lovely postings, shall we, whilst I hit the road to dreamland, happy to be helping to bring a little satire back in the world – and some laughter, too.