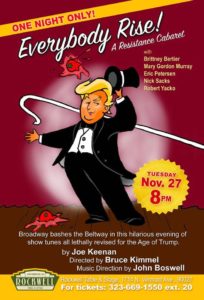 George S. Kaufman may have famously said, "Satire is what closes on Saturday night" but he wasn't in the audience at Rockwell Table & Stage on November 27 to experience the political and satirical lyrics to familiar Broadway showtunes. Written by Joe Keenan, Everybody Rise! A Resistance Cabaret had the audience guffawing in recognition from beginning to end as he gave our current POTUS, his family and administration a royal roasting. Anyone old enough to remember the 1962 comedy album The First Family? Vaughn Meader and others portrayed President John F. Kennedy and his family–making fun of PT 109, his rocking chair, touch football games, Jackie's redecorating the White House, Caroline and John John etc. Those were such innocent days and such gentle ribbing of America's First Family. We are in the World of Trump these days, ever since he came down that escalator in Trump Tower in 2015. The former reality TV star and his gang of greedy cutthroat opportunists and equally inept politicians have been in desperate need of parody although their antics are often self-parody to the nth degree. There have been a couple of attempts at the annual Hollywood Fringe Festival the past two Junes, but the creators of those shows seemed to have lost their creativeness after coming up with titles like Trump in Space. Keenan honed his talents writing special material for such entertainers as Harriet Harris, Bryan Batt, Allison Janney, David Hyde Pierce and others. He has also written for such TV shows as Desperate Housewives, Hot in Cleveland and Frasier
.
Cole Porter, Stephen Sondheim, Kander & Ebb, Rodgers & Hammerstein, Stephen Schwartz, Irving Berlin, Rodgers & Hart are among those who provided the tunes for Keenan to work his alchemy on. Right from the opening number, the audience knew that in troubled times, "Anything Goes." Bruce Kimmel directed and kept the pacing tight and fun. John Boswell provided great accompaniment on piano and Kerry O'Malley served as the evening's host, introducing various segments. The cast of five created a merry troupe of players, getting through some treacherously funny lyrics and mostly managing not to laugh along with the audience. They were great in the group numbers and each got opportunities to display their talents in solos. Mary Gordon Murray did a lovely Melania impersonation with "The Lady is a Trump" and brought down the house as Secretary of Education Betsy DeVos proving you "Can Save a School with a Gun". Robert Yacko essayed both Mike Pence as well as Rudy Guiliani. Nick Sacks preened as Don Jr. to the beat of "Goldfinger" while Brittney Bertier donned a long blond wig and was the perfect Daddy's girl who just wants to be "Popular" even though her Daddy is quite unpopular.
The star of the White House and of this revue is Trump as played perfectly by Eric Petersen. From his Chicago inspired paean to self, "All I Care About Is Trump" through a Mar-a-Lago Christmas to his finale "I'm Still Here," Petersen was spot on. He channeled his inner Liza as he bared his gams, straddled a chair and to a tune from Cabaret delivered "My Hair". Besides parodying Trump and family, Keenan delved into some other issues like the Republican Congress bemoaning "Why Can't He Behave," Memes and the public's obsession with following the news, "Click". He created a heartfelt and quiet moment that showed the hypocrisy behind "Thoughts and Prayers" to the tune of "Edelweiss". He even scored a bull's eye at the attraction between Republican Congressmen (former Speaker Dennis Hastert and wannabe Speaker Jim Jordan) and young male college wrestlers with "You're A Queer One, Jimmy Jordan".
Lindsey Graham is portrayed as a meek "Little Lamb," while Omarosa comes sweeping down the aisles and we are told to "Attend the Tale of Kellyanne" but there are still plenty of untouched subjects. The show at Rockwell was the premiere and it is hoped that the revue will find a permanent home soon. Those who follow the news know every day brings new subjects to parody. Where is Brett Kavanaugh's "Beer Barrel Polka" or Mitch McConnell's Granny Clampett takedown or Sean Hannity and the other Fox News talking heads? How about Eric Trump, the forgotten son? Ted Cruz and Marco Rubio? Jeff Sessions and all the other fired or resigned in disgrace Cabinet members? There is a treasure trove of items ripe for parody. This political junkie can't wait for the next outing of Everybody Rise! A Resistance Cabaret. Resisting has never been as much fun.