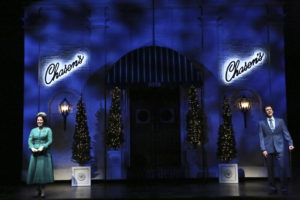 (all photos by Michael Lamont)
Nancy and Ronald Reagan were a true power couple in American politics. Sort of like the Clintons of the 1970's & 1980's except Nancy was content to be the power behind the throne and never sought elective office herself. Their courtship and the behind the scenes look at the private lives of this dynamic duo should make for an interesting stage outing. But who ever thought it was a story that needed to be a musical? Evidently book writer Sam Bennett and composer/lyricists Al Kaska and Phil Swann. A two-person musical with eight scenes and ten songs all neatly wrapped up in 90 minutes without intermission. That is what is currently on display at the El Portal Theatre in North Hollywood with In a Booth at Chasen's. The songs really don't add to the story, often stalling it in its tracks, most notably with "What a Way to Make a Living," a diatribe against gossip columnists. Choreographer Kay Cole has overloaded the show with a lot of dance steps for a famous couple you really don't picture dancing except maybe at Inaugural Balls.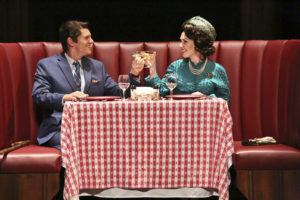 Ron and Nancy met cute on a blind date arranged by a producer at the famous eatery of the stars, Chasen's. During the opening number we learn it's "old maid" Nancy's first date in two months and newly divorced Ron's third in the same week. Nancy is a starlet at MGM while Ron's movie career seems to be a thing of the past and only TV (anyone remember General Electric Theater or Death Valley Days?) beckons him. Reagan is currently President of the Screen Actors Guild, helping HUAC (U.S. Congress's House Un-American Activities Committee) to root out Commies in Hollywood. Nancy needs his help because there seems to be another actress also with the name Nancy Davis who is suspected of being a Commie sympathizer. They both plead "an early call" in case their is no chemistry but they are soon finishing their chili and going off to catch Sophie Tucker's act. She laughs at his jokes, once she understands them, and he likes that. It does take her two long years to get him to propose marriage in that very same booth at Chasen's. She seemed to be the one with most of the ambition and drive in the relationship and it would have been interesting to see more of that played out in their marriage and his political career.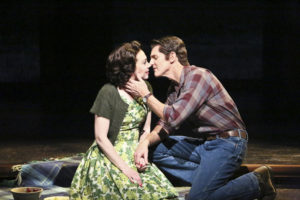 But that is not the story the creators set out to tell—they only wanted to show the courtship. The final five minutes where Ron muses on what he might to able to accomplish in the future (run California, be President of the USA, end the cold war, etc.) is awkward and belongs in another show. Kelley Dorney as Nancy and Brent Schindele at Ron are both very charming and personable as well as being bona fide musical theatre stalwarts. Their chemistry is strong and they present a believable portrait of this young power couple in the making. They sing the score well, you just wish they had a better score to sing. Dorney has one standout number, "Red," that just cries out for her to be vamping center stage, surrounded by a corps of high-stepping tuxedoed chorus boys but she has to go it alone here. Cole also directs and she keeps a nice pace going during the scenes but unfortunately the many, long scene changes, probably paced for the offstage costume changes, really drag on the momentum. However Kate Bergh's period costumes and Andy Walmsley's scenic design of Chasen's interior and exterior are very well executed. The production had a computer problem at the matinee I attended so the show had no projections but to this viewer, they really weren't missed.

El Portal Theatre, 5269 Lankershim Blvd. in North Hollywood. Ends Nov. 25. www.inaboothatchasens.com