Well, dear readers, I have made no bones about me being worried about last night's Kritzerland show, oh, no, I have made no bones about me being worried about last night's Kritzerland show, but all that worry was for naught because Kritzerland at Vitello's 93 went beautifully, thanks to four really talented performers, one talented musical director, and a great audience.  For only the second time in our eight year 93 show history there was no commentary other than my opening and closing remarks.  The opening patter was longer than usual, as it included not only a little history of Pure Imagination, the revue I created and directed, but my personal history with the songs and shows of Anthony Newley and Leslie Bricusse. Other than that, the show played straight through. It was not the exact show we did five years ago, due to our travails finding our fifth performer – I'd already cut one trio from the running order, and when we finally realized that having a fifth performer was going to be impossible, I cut three other solos that that track had.  So, last night's show was probably fourteen minutes shorter than the actual revue, which was fine and still lasted a little over an hour, PLUS whatever time the patter took.
The cast was so good and believe me this was a very atypical situation with having to learn more music than usual, plus the group numbers.  But it all went swimmingly thanks to our quartet – newcomer (to us) Robert Collins did great for his first time doing a cabaret show, Hadley Belle Miller, who's been doing Kritzerland shows since she was nine, has really blossomed into a fine performer, Laura Wolfe, who was a standby for the show back in 2013 and who actually played three weeks of the run, was great, and Marc Ginsburg was his usual wonderful stuff – he can really do anything.  Richard Allen was solid at the piano.  The pace was really good, and the reordering I had to do to make up for the cuts actually worked perfectly.  The opening and closing patter went well and got laughs, and it was such a different show for us that I'm happy to have done it.  Here is a photograph of our merry troupe onstage – left to right: Laura Wolfe, Robert Collins, Marc Ginsburg, and Hadley Belle Miller.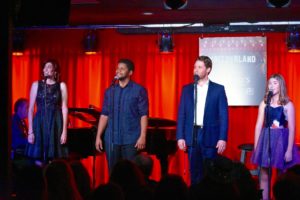 Here's Marc doing The Candy Man – Robert Collins in the background.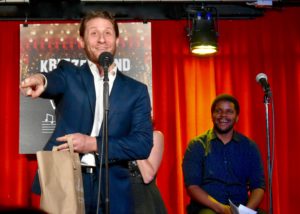 Lots of nice folks in attendance and we all hung out for a while after – one of the nice things about Vitello's is that there is nothing booked in the room after us – we used to have to pack up quickly at The Federal because there was always something booked in after us.  No one could go out to eat, so after I just went to In 'N' Out for two cheeseburgers, which I brought home and ate up.  That wasn't what I had in mind, but what can you do.
Prior to all that, I'd gotten six hours of sleep, then had to mosey on over to the theater to do our ten o'clock run-through.  I have to say, the first fifteen minutes went beautifully, the best the opening has ever gone, great pace, everyone on their game.  And there were other pockets of the show that were excellent, so now we just have to get the rest of it to work like that and we'll have a show close to the one I know we can have.  It ran eighty-seven minutes.  I gave just a few notes, Doug and I had a conversation with a performer afterwards, and then I came directly home, where I managed to listen to some music and relax for a couple of hours before moseying on over to Vitello's for sound check.  We actually ran the entire show at sound check, which was very helpful.  The rest you know.
When I got home, I listened to music whilst eating the cheeseburgers, and then it was time to write these here notes.
Today, I will most assuredly sleep in, and then one can only hope and pray that the pension check finally arrives.  I'll eat something at some point, hopefully pick up some packages, and then we have a seven o'clock run-through with one actress missing, so Alexa will cover for her. And that is the LAST time anyone will miss any rehearsals right up until the time we open.  After the run, I'll work on a few things.
Tomorrow is our day off and boy do I need it.  But I'll finish liner notes, finish casting the December Kritzerland, announce the Carol Christmas CD for pre-orders, and then the rest of the week is meetings and meals and rehearsals every night.  Friday, I dry tech the show and the light cues get written, and then the cast arrives and we do a full-on run with costumes and lighting with no stops unless things completely fall apart.  I like to run straight through and just take notes, and then run the problem bits.  Saturday we have a cue-to-cue, then we run the show with costumes again.  Sunday, we convene in the studio to record the cast album.
Well, dear readers, I must take the day, I must do the things I do, I must, for example, sleep in, finish liner notes, hope and pray the errant and truant pension check arrives, eat, and have a rehearsal.  Today's topic of discussion: What movies have you enjoyed this year? Let's have loads of lovely postings, shall we, whilst I hit the road to dreamland, happy that I worried for naught about Kritzerland at Vitello's 93.