Well, dear readers, we finished our second weekend of A Carol Christmas with a completely sold out Sunday matinee (oversold – we had to put in extra seats), which was a big surprise to me, but it made up for the lighter houses of Saturday in a big way.  The audience was very positive although it was too cold in the theater, a problem I've warned about before, but no one really takes me seriously that when people are cold they don't react to anything.  So, we're going to keep it a little warmer from now on.  The show wasn't quite as sharp as Saturday – a couple of flubbed lyrics and some people tripping over lines, but overall it was fine.
The Shermans and the Greens were in attendance and we all sat together. Richard and Elizabeth told me over and over again how much they enjoyed the show, and they told the cast, too.  Of course, the cast was thrilled to meet Richard and we got a photo op for everyone.  After the show ended we did a brief talkback that was pretty fun.  I had lots of lovely comments from so many nice folks – I think the show simply makes people feel good – they come out smiling and are happy to have seen something with a positive message.  We've been getting tons of requests for the cast album, but the mastering guy is hammered and I may have to have my other guy do it, IF he has time.  The print is being delivered tomorrow, so we're just waiting on the master.
After the show, the Shermans and the Greens and Doug and I went to dinner at a nice Eyetalian jernt called Ca Del Sol.  The food was very good and I thankfully did not overeat and my pasta dish was a very reasonable portion.  We had lots of fun conversation and Richard just kept going on about the show and the songs, so that was nice.  Here are some actual photographs for your mental delectation.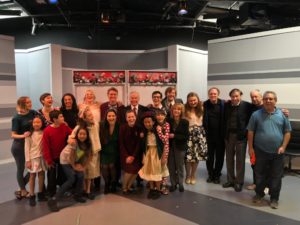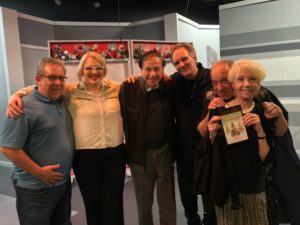 After that, I stopped at Gelson's for some ice cream, then came home.  I ate a little bit of ice cream whilst catching up on e-mails, then I listened to a lot of music, did a show order, or two thirds of one, which I'll finish today, and of course fretted about how the HELL I'm going to survive this week.  I gotta tell you.  I blissed out on the music of Bliss, discovered two excellent violin concertos, both by Alan Rawsthorne, and did something I've never done – actually ordered my Christmas cards early – they'll be here by Friday and I'll send them out early for a change.
Prior to all that, I only got six hours of sleep as I just could not fall asleep until around four-fifteen or thereabouts.  Most annoying, but lots going on in the old brain.
Today, I'll be up by ten and then I'll mosey on over to the rehearsal space for our noon o'clock rehearsal.  We'll run through the entire show without stopping, or at least that's the plan – I have to get a proper timing of the show.  When we're done, I'll give notes and then clean up and work stuff until we wrap at two. I think at that point I'll hopefully pick up some packages, I may try to grab a quick bite to eat – it may have to be Subway or something because our first Kritzerland rehearsal is at four and I have to go rummaging for some charts in the garage.  I've begun to think I haven't located one box of classical CDs, but I'm just not sure.  I'll rummage around for that, too.  After the Kritzerland rehearsal, then I'll relax, perhaps watch a DGA screener and then relax.
Tomorrow, I'll relax until it's time for sound check, which is at five, then I suppose we eat something at the club and then we play our show.  I think the audience will be primed for the kind of really funny parody/satire this show is, at least that's the hope.  Wednesday I'm not sure what's happening but something is happening, Thursday is our second Kritzerland rehearsal, Friday we resume performances of A Carol Christmas, Saturday is our stumble-through, and Sunday is sound check and show.
Well, dear readers, I must take the day, I must do the things I do, I must, for example, rehearse, hopefully pick up packages, eat, rummage, rehearse, and relax. Today's topic of discussion: What are the most recent great meals you've had?  Let's have loads of lovely postings, shall we, whilst I hit the road to dreamland, happy we had an oversold house for our matinee.