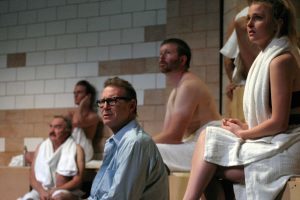 John Moskal, Devon Schoelen, Jeff LeBeau, Brian Graves and Shelby Lauren Barry (all photos by Enci Box)
Five years before Terrence McNally introduced Googie Gomez, an untalented Puerto Rican songstress Goddess performing in a gay bathhouse, to Broadway audiences in his farce The Ritz, playwright Bruce Jay Friedman had created Morty, a Puerto Rican God with a wicked and dark sense of humor, and made him the attendant in his comedy Steambath. The play, directed by and starring Anthony Perkins, only played 128 performances off-Broadway in 1970. Controversy over its profanity, brief nudity and perceived blasphemy were given as the causes of its demise. Somehow it was filmed for PBS in 1973 with Bill Bixby and Valerie Perrine in leading roles. Controversy kept the number of PBS stations nationwide willing to air it to 24. Luckily KCET in Los Angeles was one of them and even with the cleaned up language and the black bars covering Perrine's chest, this viewer found the show to be outrageously funny and memorable.

John Moskal and Jeff LeBeau
A lot has changed in the nearly 50 years since the debut of Steambath. Now it is un-PC to crack any racial or ethnic jokes or to say anything perceived as demeaning about gays or women. But in this current World of Trump, the jokes and slurs in Friedman's script are mild compared to what we hear come out of the mouth of POTUS on a daily basis. Ron Sossi, the director of the current revival at the Odyssey Theatre, has wisely chosen not to update the script except for dropping a few really obscure names. He keeps the action set firmly in the 1970s. He also hasn't added much new to the script except for one outrageous but terribly funny sight gag involving a whipped cream topped milkshake and the name Monica Lewinsky that Morty admits belongs in the future.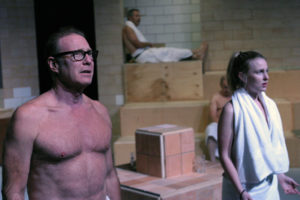 Jeff LeBeau, Robert Lesser, John Moskal, Shelby Lauren Barry
Tandy (Jeff LeBeau) is the newest arrival in the titular steambath (the amazingly realistic scenic design is by Gary Guidinger). Tandy recently quit his job teaching art appreciation to the police to work on his book about Charlemagne. He has also come to terms with his divorce and is looking forward to spending more time with his daughter. He is greeted by the Oldtimer (John Moskal) who fills him in on the ins and outs of sweating. Also in the room are two young gay dancers (DJ Kemp and Devan Scheolen), a stockbroker (Brian Graves) and the uncouth Bieberman (Robert Lesser) who delights in disgusting bodily habits to the Oldtimer's constant consternation. Things liven up when Meredith (Shelby Lauren Barry) arrives, takes off her towel and showers, hidden by a heavy cloud of steam.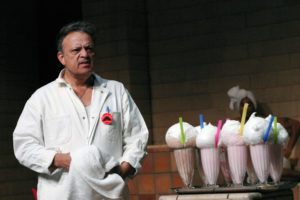 Paul Rodriguez
The Oldtimer has been in many dangerous situations around the world but the last thing he can remember is driving a taxi and crashing it. Meredith remembers coming home from shopping and finding a deranged young man with a blunt object hiding behind the curtains. The dancers admit they hung themselves over failed love affairs with the same dancer. Even though Tandy's last memory is of eating tainted Chinese food, he refuses to believe he's dead and wants to talk to the person in charge. That turns out to be Morty (Paul Rodriguez), God with a Puerto Rican twist. Morty is assisted by the tap-dancing, always smiling prop-dispensing Gottlieb (Yusuf Yildiz). Tandy has doubts Morty is really God, even after hearing him order accidents on the 405 freeway and deaths and disease around the world. Morty attempts to convince him with magic tricks and by consuming an enormous amount of milkshakes. Once Tandy realizes he's dead and awaiting his final judgment in the purgatory of the steambath, he begs to go back to his boring life, to have another chance at it.

Jeff LeBeau and Paul Rodriguez
Sossi's direction keeps the action flowing smoothly even with all the steam and props—milkshakes, popcorn, towels, beer. The cast is very believable in their roles with Moskal especially effective as the Oldtimer. Rodriguez dominates the proceedings as God really should do. His comic timing is perfectly matched to Friedman's surreal humor. Don't miss this opportunity to see this time capsule gem of a comedy sure to offend everyone. Visit Steambath, breathe in the steam and luxuriate in the totally un-PC but outrageously funny humor.

Odyssey Theatre, 2055 S. Sepulveda Blvd. in Los Angeles. Ends Dec. 16. www.odysseytheatre.com