Well, dear readers, can it really be the last day of November?  It can simply because it IS the last day of November.  Why, that must mean that tomorrow is a little month I like to call December, and it is my fervent hope and prayer that December will be a month filled with health, wealth, happiness, creativity, and all things bright and beautiful.  But more about December tomorrow, because today is the last day of November.  I have to say, the past three months have been VERY trying and stressful, and yet they've had moments of great fun, success, and merriment and mirth and laughter and legs.  I, for one, would like to finish out this year with no damn stress. Wouldn't that be loverly?  In any case, it is the last day of November and that's all there is to that.
Yesterday was certainly a day and not a terrible one.  I got almost eight hours of sleep, got up, answered e-mails, did some work on the computer, and began getting our three releases ready to announce. And here they are: three new releases in our series of Ben Bagley reissues – Frank Loesser Revisited, Rodgers and Hart Revisited, and Rodgers and Hart Revisited II (there are five volumes of Rodgers and Hart, so I wanted to get the first two done and out there, as they're terrific).  I'm really hoping these do well – we NEED them to do well.  Here are the covers.
I do love that Harvey Schmidt art, don't you?  At some point I picked up a couple of packages, including a DGA screener of yet another film that I've never heard of and that really holds little interest for me.  I stopped at McDonald's for reasons the eluded me then and elude me now – I got two filet o' fish sandwiches and one of the little teeny-tiny cheeseburgers.  I came home and ate all of that and it was, well, edible.  After that, I had some telephonic calls, and then we had us our second Kritzerland rehearsal.
Our second Kritzerland rehearsal was ever so much fun.  I just love our holiday shows.  This time we had our full cast save for the two young people because it's a long trip for them and they were kind of perfect on Monday.  Everyone was pretty tight on their lyrics, so that's always a good thing.
After rehearsal, I finished writing the commentary.  I listened to music, mostly Malcolm Arnold, and I had to do track lists for the new releases.  I also got some fun photographs from our little musical revue.  This one encapsulates how I always like my staging to have dignity – always dignity.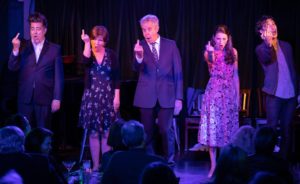 Here's Eric Peterson doing My Hair (to the tune of Mein Herr).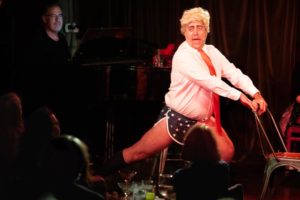 Here's Brittney Bertier doing Lindsay Graham (to the tune of Little Lamb).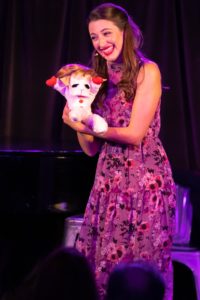 Here's Robert Yacko doing Rudy Giuliani (to the tune of Gary, Indiana).  I'll have more soon.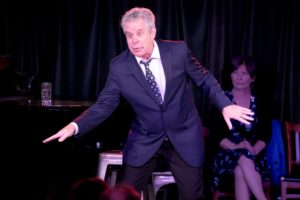 I also got in the mail something I've been looking for forever – a program from the Frank Sennes' Moulin Rouge production of West Side Story, which no one believed existed when I'd tell them about it.  Now they know it did.  What's fascinating is that it's exactly as I remembered it.  The movie came out in December of 1961 and this production was built quickly to capitalize on it in June of 1962.  I attended right after I graduated from junior high school, maybe even on the opening night.  It was a hastily put together production with VERY cheap sets, but it was fun because we got several of the film cast, like Tucker Smith (playing Riff – he dubbed Russ Tamblyn's singing in the film and played Ice), Gus Trikonis, and David Winters (A-Rab in the film but here recreating his Broadway role of Baby John). But best of all, we got two of the original Broadway stars – Larry Kert and Chita Rivera.  Ms. Rivera's then husband Tony Mordente recreated the musical staging and choreography.  Here's some photographs of the Playbill and better yet, the prix fixe menu – hugely expensive meal, as you'll see.
Then I just listened to music and tried to relax.
Today, we have all digits crossed that they'll have the A Carol Christmas CD ready for us in the later afternoon.  The glass master, from which they replicate, was supposed to arrive yesterday, but due to "weather" (we had about twenty minutes of rain – ooh) it didn't arrive but will this morning.  So, here's hoping because I would really not like to lose yet another week of lobby sales. I'll eat, hopefully pick up some packages, hopefully take possession of the A Carol Christmas CDs, and then we begin our third weekend of performances.
Tomorrow, we have our stumble-through, and then I'll see how I feel about attending the show in the evening, especially as I'll be attending the matinee on Sunday. I just need some time to rest, but we'll see.  Sunday I'll attend the matinee and then I'll have to really hurry over to Vitello's for our sound check at four.  Then we do our show.  Monday I begin preparing for the January Kritzerland and I have a lot of stuff to catch up on and we have to get a lot of CDs shipped.  And I'm prepping a soundtrack release for next week – I've been sitting on it for over a year, but finally found a few fillers to put with it so that it's a decent run-time.
Well, dear readers, I must take the day, I must do the things I do, I must, for example, pray our CD is ready, eat, hopefully pick up packages, hopefully take possession of the CDs, and then attend our evening performance.  Today's topic of discussion: It's Friday – what is currently in your CD player and your DVD/Blu and Ray player?  I'll start – CD, tons o' stuff.  DVD, DGA screeners.  Let's have loads of lovely postings, shall we, whilst I hit the road to dreamland, happy to announce three new releases.