Rex Smith has the fun role of the crotchety old rock 'n' roller Billy Mack and he doesn't disappoint, even donning a gold lame speedo for the finale. B. Slade delivered a jazzy rendition of the classic "White Christmas". The talented cast also consisted of Doug Kreeger, Rumer Willis, Matthew Sargent, Alex Csillag, Megan Shung, Tom Zmuda, Glory Curda and Zak Resnick.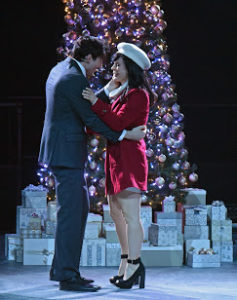 Sean Yves Lessard (The Prime Minister) and Carrie Manolakos (Natalie) (photo by Kevin Parry)
Musical Supervisor/Arranger Jesse Vargas led the ten member orchestra which was divided between strings in the orchestra pit and piano, brass and percussion upstage. The singing sounded great thanks to AnnMarie Milazzo's vocal design and Benjamin Seldate's sound design. Michael Berger's lighting and Steve Mazurek's costumes were also well executed. Love Actually Live put me into the true spirit of the holidays, like nothing I have seen in a very long time. Bravo to all involved.

The Wallis, 9390 N. Santa Monica Blvd. in Beverly Hills. Ends Dec. 31. www.thewallis.org