Well, dear readers, I am sitting here like so much fish, listening to music, having just watched a motion picture on Blu and Ray entitles Some Like It Hot.  I first saw this motion picture at my beloved Stadium Theater sometime in May or June of 1959 as it began its second run engagements.  I saw it at an evening showing, most likely a Friday or Saturday night as I probably wasn't out of school yet to go on a weeknight.  The theater was jammed, sold out.  I had seen a lot of movies by that time – I was eleven.  I'd seen all manner of films, including a lot of really funny comedies. But as the film unfolded, I had never ever heard laughs like that, laughs that loud and that long and that often. They began with the first sight gag of the coffin filled with liquor bottles in the hearse and continued to the final classic line of the film.  I had never heard dialogue more brilliantly structured or seen a farce so brilliantly structured. I had to go back and see it again to hear stuff you couldn't hear the first time.  And it was just as funny the second time with just as big an audience.
Today, people question whether it's the funniest comedy ever made – which is a stupid way to think about anything, those kinds of absolutes.  There are those who think it's not funny at all and every single one of those people who pontificate about that never saw the film when it came out and mostly have seen it on TV or home video.  Watching a comedy alone, however funny or not funny you might find something, is not the same as sitting with 1000 other people watching a comedy that's actually funny.  It isn't, and those pontificators should just shut up because they look rather stupid.  And since the majority of them weren't born when the film was released, they don't have the ability to understand the simple fact that there had never quite been a comedy like Some Like It Hot before.  And it's a film that's been ripped off so many times by lesser talents that it, of course, can never seem as fresh as it was back in 1959.
There is nothing about the film that doesn't work – not one thing.  The rat-a-tat dialogue, containing some of the funniest lines ever written, the perfect plot, the perfect direction, and above all the perfect performances right down to the smallest role.  One cannot say enough about Jack Lemmon and Tony Curtis and their comic timing.  And Marilyn Monroe, despite however much trouble she may have been on the set, is luminous, funny, heartbreaking, and stunning – and those Orry-Kelly costumes. The technical end of things is also great, from the camerawork to the sets and art direction to the fun score by Adolph Deutsch.  For a film comedy that runs 121 minutes, the pacing is a marvel.  Joe E. Brown is hilarious, too, George Raft is fun as are his henchman, Nehemiah Persoff is great, Joan Shawlee is great, and the recurring bits with the horny bellhop are also hilarious.  That fellow is named Al Breneman and here I am with him at the last Ray Courts show I did back in 2014.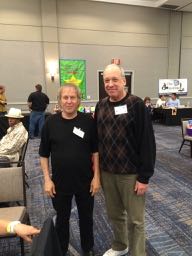 Of course, I had the original MGM/UA Blu-ray – it was in their ridiculous 1:66 aspect ratio – a ratio the film was never shown in anywhere, and that transfer was just substandard and from an old HD master.  The new Criterion Blu-ray is a stunner – just perfect – it's a brand new 4K transfer and it looks like film and is so beautiful – great contrast, sharp as a tack, and looking just like it did all those years ago.  And while watching a comedy at home by yourself is not optimal, I have to tell you I was laughing out loud the entire time.  Now multiply that by 1000 people who had no idea what they were in for and that's what I had in 1959.  Is it the greatest comedy ever made?  Who knows and who cares?  It's certainly ONE of the greatest.  I love it unequivocally.
Yesterday, I got about seven hours of sleep, and once up I answered e-mails and just laid low as much as possible, which worked for about an hour.  I got through the day but that's going to get more difficult today and as I approach a birthday, I wish it were not this way. Grant Geissman stopped by, we chatted, and were reminiscing about Orange Julius (there used to be one right near here) and how we miss it.  So, for fun we looked it up on the line and found that some Dairy Queen locations still make them.  In fact, there was one at the big mall in Burbank.  So, he drove us over there and we got us one and I must say many memories came flooding back as I drank it.  They're rather expensive now – six bucks for a small.  When I was a kid they were a dime and they weren't small at all. After that, we went to the food court to a Philly cheesesteak place and we each had one – they were actually pretty good, with the roll being especially fresh.
Then we stopped at the mail place and I picked up a couple of packages and a few uninteresting mail tidbits, and then came back here.  Once home, I attended to some things on the computer, avoided some telephonic calls, listened to music, and then I had to leave to do The Broadway Radio Show with our very own Donald Feltham.  That was actually a lot of fun – we talk all about A Carol Christmas and you'll be able to hear it starting on Sunday.  That took a little over an hour and then I came right home.
I was a little hungry and had only had the smallish sandwich, so I made a very small portion of wide egg noodles with butter and cheese and that was the perfect evening snack.  Then I finally sat on my couch like so much fish and watched Some Like It Hot.
Today, I'm praying is not too difficult – we'll see how it all plays out.  I surely need some more miracles coming this way. I'll eat, I'll hopefully pick up packages, although they decided that it's a national day of mourning, something I'm not sure they've done for other elderly former presidents who've died. Then I'm doing Michael Sterling's LA Talk Radio show with Doug Haverty and Hartley Powers, so that at least will probably be fun.
Tomorrow I'm petrified about, Friday we resume performances of A Carol Christmas, and a new speech is going in the show, which I hope will help the one moment in the show that has never felt right – too rushed.  The few lines will only add less than thirty seconds to that moment but I think it will help flesh it out.  Saturday is, of course, my birthday – how happy it will be is unknown to me at the moment.  Sunday we play a matinee and then I think we'll announce our final two titles for the year, both soundtracks.  And then I'm done with any work for the rest of the year, other than making notes for what I hope will be my next book.
Well, dear readers, I must take the day, I must do the things I do, I must, for example, hope for miracles, eat, hopefully pick up packages, do a radio show, and relax. Today's topic of discussion: It's Ask BK Day, the day in which you get to ask me or any dear reader any old question you like and we get to give any old answer we like.  So, let's have loads of lovely questions and loads of lovely answers and loads of lovely postings, shall we, whilst I hit the road to dreamland, happy to have seen the marvelous Some Like It Hot again and in such a stellar presentation.