Well, dear readers, last night's Kritzerland at Vitello's 95 all young people show was a big fat huge success. I'm not sure it could have gone better. Everything worked – the structure, the material, but most of all the young performers, every single one of whom hit it right out of the park.  The growth that was made from the first rehearsal to the show was huge, but these young folks took direction beautifully, listened, learned, and delivered the goods. I thought a couple of them weren't going to quite reach the heights of the others, but by gum and by golly and buy bonds, they did, and then some.  I'm very proud of each and every one of them.  The patter worked well, there were lots of laughs throughout, we had a completely sold out house and they were wonderful to play to.  There were so many highlights, so let me call out a few:  If Mamma Was Married opened the show, and Autumn Jessel and Peyton Kirkner got every laugh and socked home the harmonies perfectly.  Mackenzie Wrap closing the show with The Life I Never Led from Sister Act and killing with it.  Marissa Margolis doing a wonderful Anyone Can Whistle, Alexa Giraudon doing a beautifully sensitive Starfish, Olivia Knox doing a beautifully sensitive When She Loved Me, Peyton Kirkner bringing the house down with I Want to Be a Rockette, Sam Herbert doing a rousing Half the Battle from Ben Franklin in Paris, Juliette Boland doing Times Like This to perfection, and Ellie Birdwell doing an incredible job with The Winner Takes it All/Thank You for the Music – but everything was great.
Afterwards, a few of us went downstairs and had some food – I'd only eaten a small Caesar before the show.  That was fun. Then I stopped at Gelson's and got some treats, as I thought I deserved a nice treat.  Here are some photographs.  First our cast doing our sing-a-long at the end of the show – The Mickey Mouse Club – none of them knew it, which is why they're looking at the lyrics – pretty funny.  Left to right: Mackenzie Wrap, Ellie Birdwell, Marissa Margolis, Alexa Giraudon, Autumn Jessel, Sam Herbert, Olivia Knox, Hadley Belle Miller, Juliette Boland, and Peyton Kirkner.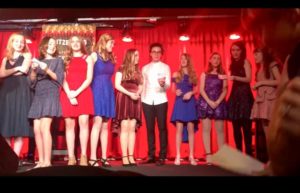 Next here's Peyton doing I Want to Be a Rockette.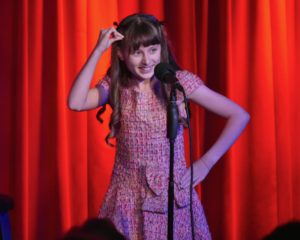 Here's Marissa Margolis and Ellie Birdwell doing my song, Pals.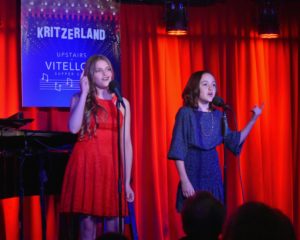 Here's Olivia Knox doing When She Loved Me.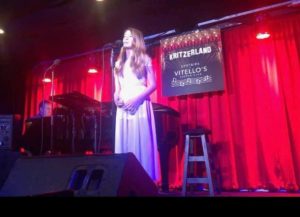 Here's Alexa and Olivia doing Applause.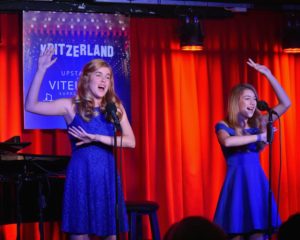 And here's our backstage photograph – front row, left to right: Olivia Knox, Peyton Kirkner, Ellie Birdwell.  Back row, left to right: Richard Allen, Mackenzie Wrap, Hadley Belle Miller, Li'l Ol' Me, Alexa Giraudon, Juliette Boland, Marissa Margolis, Sam Herbert, and Autumn Jessel.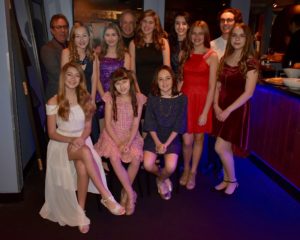 Prior to all that, I got nine hours of sleep.  I futzed and finessed a huge amount, which is why I only got three new pages written before having to get ready and then mosey on over to Vitello's for our sound check.  It was a night to remember.
Today I'll be up early to make a telephonic call, and once I've made the telephonic call I will then know if my HUGE gamble will pay off – so really do send your strongest and most excellent vibes and xylophones for the HUGE gamble to pay off. I'll futz and finesse, then print out pages, Xerox pages, and deliver pages to Muse Margaret.  I'll eat, I'll hopefully pick up some packages, I'll write a set of liner notes, then while I'm waiting for the Muse Margaret call, I'll write new pages.  I'm hoping to relax a bit at some point.
Tomorrow I know I have at least one meeting, otherwise I'll write all the livelong day and night, and the rest of the week is meetings and meals, lots of writing, some rehearsals for the film music concert, and doing whatever needs doing.
Well, dear readers, I must take the day, I must do the things I do, I must, for example, be up early to make a telephonic call, pray for the HUGE gamble to pay off, futz and finesse, Xerox, deliver pages, eat, hopefully pick up packages, write, and hopefully have a nice Muse Margaret call.  Today's topic of discussion: What are your favorite performances of Mr. Robert Preston, and were you ever lucky enough to see him on the stage? Let's have loads of lovely postings, shall we, whilst I hit the road to dreamland, happy that Kritzerland at Vitello's 95 was a night to remember.