Well, dear readers, it is with an extremely heavy heart that I write these here notes.  Thursday afternoon at five I got the kind of call none of us ever wants to get.  The kind that starts with, "I'm afraid I've got bad news."  And it was the worst kind of news.  Nick Redman, one of my best friends, someone I've known for thirty years, and one of the finest people I've ever known, had passed away.  I was asked to not say anything until his wife, the wonderful Julie Kirgo, was ready to have it be public.  I spent most of the evening an emotional wreck, just recalling our thirty years of friendship, camaraderie, all the crazy adventures we had, many of them chronicled at the end of There's Mel, There's Woody, and There's You.
Nick and I met when his then-wife Nectar was my assistant when I was working on the Fox show Totally Hidden Video.  I remember the day she brought him to our editing bay – with his pony tail and wonderful Brit accent and we hit it off right away. We'd just formed Bay Cities and after about eight months I brought him in to run our soundtrack division.  We spent three years together doing the Bay Cities insanity.  We ate many lunches, many dinners, had many, many laughs, and put out a lot of great albums. When it came time for me to produce what would be my first cast album, The Anastasia Affaire, he came with me to New York.  That became a regular thing after that, our little trips to New York.  Many times, due to Bay Cities never having any money, we'd share a hotel room.  He got to meet all the great Broadway folks I worked with and he loved that.  We saw lots of shows together, most memorably Catskills on Broadway, where we laughed so hard we both literally fell off our seats. We had endless dinners in Santa Monica when I was at The Shores.
And then in 1993 I made a decision that would cause a rift between us – I closed down Bay Cities to go to Varese Sarabande.  He was very angry about it and I couldn't blame him, but it was a decision that would ultimately change his life in the best possible way. He got a job at Fox and began his journey there that would result in huge success for him and a job he held right up until the end.
His beautiful daughter Rebecca was born during that time and I was sad not to be there for that. But then fate intervened when I was signing at one of those autograph shows.  He'd come to wrangle our friend Joanie Sommers, who was also signing there. We'd brought her back after years of her not doing anything and made a wonderful album with her and Nick and I became very close to her.
I came over and said hi, and he was cordial but aloof.  So, I talked to Joanie for a bit, until she finally turned to both of us and said, "Oh, c'mon already, stop this and be friends, you love each other and this is ridiculous."  And that was it.  We both laughed, our friendship was back in an instant, and I hung out with them more than at my own table.  Years later, he threw me my big fiftieth birthday party at the very same Beverly Garland Hotel.
We'd speak all the time, rant and rail on about everything that annoyed us, laughed relentlessly, and I was so proud of all his successes and he was proud of all my Varese Sarabande success.  Many years later, when he became friends with Julie Kirgo, I predicted that would end up as it ended up – in a forever relationship.  We all watched Rebecca grow up and become the smart, independent, talented and beautiful human she is. And from the day I started these here notes, he read them religiously.  At haineshisway.com he was known as "our very own Nick Redman."
Two years ago, after Nick got sick, it was hard to get over to see him – he was either in the hospital or I was working, but we did manage to have a few wonderful visits.  He was able to see Levi last year, and he really wanted to come see A Carol Christmas, but it just wasn't possible.  I was supposed to come visit next week if he was feeling up to it.  And now there will be no more visits, no more calls (with our usual peculiar-to-us greeting that always made both of us laugh), and I will miss him like crazy.  It's hard to imagine a world without him, but now I guess I have to.  He touched many, many people's lives, leaves behind an incredible legacy from both Fox and his Blu-ray label, Twilight Time. I'm usually very pragmatic when people pass away, but this one hit hard.  He was one of a kind and I loved him dearly.  Rest in peace, dear Nick.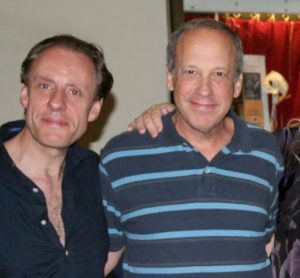 Yesterday I got about seven hours of sleep. Once up, I saw the news I'd been asked to sit on was public, so I wrote a little Facebook post, even though I'd written my tribute here right after I got the news on Thursday.  The wonderful tributes filled with affection and love were plentiful, from those who knew him well, to those who were just fans.  It made the day a bit easier, although I had very emotional moments throughout the day.  I had no time to futz and finesse as I had to go to an early lunch meeting at Jerry's Deli.  I had a Cobb salad, chatted, and was handed some material to read, after which I have to make a decision as to whether I want to be involved or not.
After that, I moseyed on over to the mail place and picked up some packages and a hefty residual check totaling $0.01.  I kid you not.  I then came home and began futzing and finessing.  That took about an hour, then I wrote a couple of new pages.  After a short break, I continued writing, went to a new chapter, took a break and watched another episode of You – episode four – I don't know how many there are total, but it's already become completely tiresome.  Not the lead duo, although I suspect they, too, will become tiresome.  No, it's the book group of the gal – the most stupidly written bunch of cliché characters that I've ever see, every single one of them, from their names to the dialogue to the casting.  It's like really bad sitcom writing and now any of that got past the first read-through is anyone's guess.  Although it would be MY guess that the creators think it's hilarious stuff. It isn't.  Also, the male lead works in a book store, and the cellar where he has a temperature-controlled vault that looks like something out of a serial killer movie, is laughable.  It's like they read some Wikipedia thing about rare books, but their attempts at writing about rare books would be hilarity of the highest order for any real book collector, like, well, like me.  Not sure I'll make it through much more.
After that, I did a quick visit to Staples, then got some chicken salad and a couple of bagels from Jerry's for my evening snack – too much to eat, really, but that's just the way it is when I'm in book mode.  I ended up writing a little over fifteen pages.  I can't imagine there are more than thirty or thirty-five pages to go.  But this is the critical part of the book, so I have to get it right.  After that, I took a hot shower, then listened to music.
Today, I have to be up by nine for a ten o'clock rehearsal for the upcoming concert.  I'm not at all sure how long it will last, but I'm hoping not more than two hours.  Then I'll have to hopefully pick up some packages, then I'll futz and finesse and write as many new pages as I can before I have an early dinner at a favorite restaurant. Then I'll come right home and continue writing – if I'm within twenty pages of finishing I'll probably just do a marathon session and finish. We shall see.
Tomorrow, if I haven't finished, I will.  Then I might celebrate with a friend, as I normally do when I finish a book. Otherwise, I think a day and evening of relaxation will be in order, IF, that is, I have finished.  Monday, I'll futz and finesse, print out pages, Xerox pages, deliver pages to Muse Margaret, and then it's full speed ahead on the upcoming concert.
Well, dear readers, I must take the day, I must do the things I do, I must, for example, be up early, have a rehearsal, hopefully pick up packages, futz and finesse, write new pages, have an early dinner, and then write all evening with a few breaks for good behavior.  Today's topic of discussion: If you knew Nick's work in soundtracks and Blu-rays, what are your favorite things he did?  Let's have loads of lovely postings, shall we, whilst I hit the road to dreamland, knowing that I had thirty years of a close and wonderful friendship, the memories of which will always be with me.