Well, dear readers, I've had the call from Muse Margaret.  It happened at seven-thirty last night.  I'm always concerned when she gets the final pages of the new book that I'll have ruined everything.  But I'm happy to say she really loved it.  After going over her favorite bits in the new 132 pages she got, she had seven tiny little things – two small deletions, two small additions, and typo stuff.  I was so pleased.  And for those who like to see what 315 typed pages look like, here they are.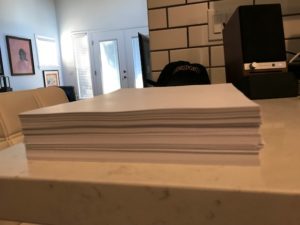 They stack actually looks larger in person.  So, what is this book I've been slaving over since January 1? Normally, I don't reveal anything until I have a cover or we're pretty far along in the process, but I have no problem revealing what this is because it was so much fun to do.  So, let me just say this:
She's baaaaaaaaaack.
Yes, the new book is the seventh Adriana Hofstetter mystery.  I won't reveal the title just yet, but soon. It's been four years since the last book.  I've almost done this book for the last two years – but got the ideas for Thrill Ride and GEE very late and ended up happily doing those.  But this year I knew it would be back to Adriana.  I think the setting for this one is really fun, and boy was it great to meet up with all those characters again.  This one is structured very differently from the others in terms of its pacing and that was fun to do.  The funniest thing was in December.  I always like to do a "save as" from the last book, GEE in this case, and then type the new title and nuke the previous text, then write a couple pages just so when I begin on January 1 I'm already into it.  So, I did that, typed the new title and hit "save."  And I got this little pop-up that said I already had a document with that title.  So, I went and looked and there it was – apparently, I'd typed the title page in 2017.  Go know. So, now I print out a copy and do my first go-through to find typos and anything that I think needs adjusting.  I'll probably print it out on Thursday, but won't get to it until Friday or Saturday.
Otherwise, yesterday was a nice day.  I only got about six-and-a-half hours of sleep, due to an overactive brain. Once up, I answered e-mails and got coherent, at which time I began futzing and finessing the thirty-four pages I'd written the day before.  That may be the most pages I've ever written in a day, but I felt I had to work my through it because I'm always afraid I'll lose my forward momentum as I head to the end and that goes double for the Hofstetter books.  It took about ninety minutes to get through those pages.  I did a huge amount of smoothing out, subtracting, adding, but I was actually not unhappy with any of it.  But all that futzing and finessing always improves everything.
Then I went and got the pages Xeroxed, then delivered them to Muse Margaret. Then I picked up a couple of packages, then I went to Jerry's Deli and treated myself to an excellent patty melt and onion rings and got a couple of chocolate chip peanut butter cookies to take with me. I came right home, did some work on the computer, including entering some fixes I hadn't entered from the first batch of pages.  I listened to some music, then finally sat on my couch like so much fish.
Last night, I watched the last two episodes of You.  They were entirely predictable and I must say the series as a whole is a bust.  The first couple of episodes were okay, but it went downhill from there and rather quickly, and then it just became a repetitious bore.  The reviews for it are unbelievable – they LOVE it.  I will never understand how TV critics in particular simply can't see inept writing.  And I went on Amazon to look at a little of the book it's based on and what I read there is terrible.  Just a typical "now" thriller – they're all the same, these trendy thrillers from female writers, and it doesn't matter if they're terrible or good – they all sell and people fall for them, although I must say there were a surprising number of one-star reviews from people who were not fooled.
After that, I got the Muse Margaret call, entered those little fixed and additions, then went to Ralph's for sodas.  Once home, I just listened to music and relaxed, which is just what I needed.
Today, I'll put together my commentary for the upcoming concert – it's mostly a cut-and-paste job, but there are a few new things that I'll have to write and I have to adjust the stuff that was peculiar to the setting where these concerts were originally done.  I'll hopefully pick up some packages, and then Sami and her mom are picking me up and we'll have a finishing the book celebratory meal.  I'm looking forward to that.
Tomorrow we have a rehearsal from ten until three, so that's most of my day. Thursday and Friday I relax and have ME days, save for writing two new sets of liner notes, maybe three.  And then on Sunday we do our two-show day for the concert.
Well, dear readers, I must take the day, I must do the things I do, I must, for example, put together my commentary, I must pick up packages and hopefully an important envelope, and then I must have a celebratory meal. Today's topic of discussion: What were your favorite record labels when you were growing up, the ones you could always trust, or whose look and sound you liked, and what were your favorite obscure labels?  Let's have loads of lovely postings, shall we, whilst I hit the road to dreamland, happy to be able to say: she's baaaaaaaaaack!