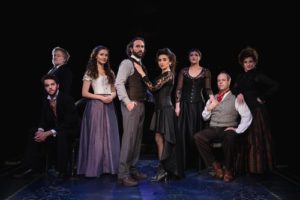 The Ensemble (all photos by Larry Sandez)
Leo Tolstoy's 800-plus page 1878 novel Anna Karenina is considered by many to be the greatest work of literature ever written. It has been adapted to film many times, most memorably the 1935 MGM version starring Greta Garbo as the adulterous and tragic heroine. With a 95-minute running time, the plot mostly concerned the married Anna and her affair with the dashing Count Vronsky. The 2012 British version starring Keira Knightley had a more leisurely running time of 130 minutes and gave landowner Levin's story more screen time.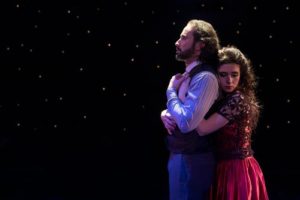 Joseph Barone and Eva Abramian
The novel does seem to have two main characters, Anna and Levin, as it tracks their fates in Imperial Russian society. One trends upward to a happy ending while the other spirals downward into tragedy. In her 1992 stage adaptation, British playwright Helen Edmundson chose to give them equal time. Even though they only meet once in the novel, Edmundson has them together in sort of a way station/purgatory from the very start, witnessing and commenting on each other's actions and decisions. It is an interesting concept and director Heather Chesley skillfully guides her cast of eight through their roles in the intimate playing space of Actors Co-Op's Crossley Theatre.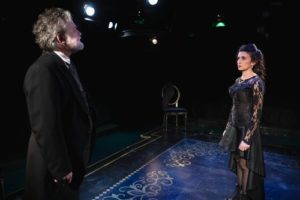 Bruce Ladd and Eva Abramian
Eva Abramian makes a willful, lusty and driven Anna, condemned at an early age to marriage to a much older man, Karenin (Bruce Ladd), a provincial politician. Her loveless marriage has produced her one joy, her young son, Seryozha (Ivy Beech in a non-speaking role). While attempting to smooth the troubled marriage of her philandering brother Stiva (Michael Worden) to Dolly (Lauren Thompson), she meets the handsome, young cavalry officer Count Vronsky (Garrett Botts). Sparks fly and soon the two are engaged in an affair that eventually produces a daughter. When Karenin refuses to grant a divorce or let Anna have custody of Seryozha, the couple move to Italy where he paints while she becomes increasingly unhinged. They return to St. Petersburg where the Count is still accepted in society but Anna is ostracized.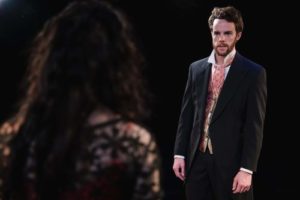 Eva Abramian and Garrett Botts
Meanwhile Levin (Joseph Barone) works his 6000 acre estate and pines after Kitty (Ivy Beech) who at first rejects his marriage proposal because she has her eyes on Count Vronsky. After Vronsky begins his affair with Anna, Kitty finally sees the value of Levin and consents to marriage. Levin the atheist finds God once again when Kitty goes into labor with their first child. Death (in the form of the ensemble in black shrouds and veils) is present throughout the play, not only heralding Anna's ultimate fate but that of several other minor characters. Anna first meets Vronsky on a train platform where he shows his kindness and generosity (perhaps just to impress her) to a Railway Widow (Deborah Marlowe) whose husband was just killed by a train. The talented ensemble of six play many and varied characters over Anna Karenina's two-and-a-half hours but Abramian and Barone hold the center stage with their performances.

Actors Co-Op, 1760 N. Gower Ave. in Hollywood. Ends March 23. www.actorsco-op.org.