Well, dear readers, this here month seems to be half over already, more than half when you consider that it's a short month.  Yes, February is flying by, like a gazelle eating pork rinds and whistling Dixie.  So, here we are, writing these here notes rather late, but happily knowing that the form in which I post them is back to normal.  The drama with the Word Press update was immense and kept me up until three in the morning.  Whoever did the update didn't test it, because in addition to this totally wacko new form to write in, it wouldn't publish.  I was furious.  I was beside myself, which, as you know, is no mean feat.  But our web guy finally texted back and fixed it and put it back the way it was.  The problem with just throwing an entire new way of doing a blog post without some warning and certainly without a tutorial, was ridiculous.  About 800,000 people went back to the Classic Editor after it happened.  That is a known fact that is known and a fact.  The whole thing smelled to high hell and I was, of course, in a state of high dudgeon.  Speaking of smelling, look what I found in my travels – an original flyer for Scent of Mystery in Smell-O-Vision.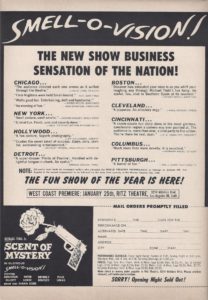 Isn't that fun?  The Ritz Theater is, of course, where I saw the film during its all too brief smelly run there.  But enough about smelly and high dudgeons, let's get down to brass tacks, shall we? Yesterday was a kind of Thursday. I slept until eleven – about seven hours of sleep.  Once up, I answered lots of e-mails, did some work on the computer and then I went and had a chili, cheese, and onion hot dog and a side Caesar salad at Jerry's Deli, both especially good.  There was no mail to pick up, so I came right home.
Once home, I spent the next couple of hours finishing the Kritzerland commentary for the March show, so that's now done, only awaiting whatever finessing I do. I listened to music, had some telephonic calls, and did a few things that needed doing.  Then I sat on my couch like so much fish.
Last night, I watched a home-grown DVD of a musical that recently had a little staged workshop presentation.  The author has been working on this show for thirty years or more, and she's asked if I'd help and then direct it at some point.  I'm trying to decide if I want to – in certain ways I've already done the show – it has many parallels to Levi.  But I'll finish watching and then have another meeting about it.
After that, I listened to more music.  I listened to something on Sound Cloud or whatever it's called and it kind of screwed with my ears and hearing because Sound Cloud is just plain weird, too loud, and really bass heavy.  So, everything I'm hearing now, music-wise, is messing with my mind.  Hopefully that will go away by morning because it is most annoying.
Today, I will write some liner notes, eat, hopefully pick up packages, and watch stuff.  I really have no plans beyond that.
Tomorrow is the same and so is Sunday, unless I go have a dinner somewhere with someone.  I'm leaving that open as a possibility.  Next week is busy with a lot of things, and then things really get busy with the Kritzerland rehearsals and show, followed by Nick Redman's memorial and then the musical revue, all happening within days of each other.
Well, dear readers, I must take the day, I must do the things I do, I must, for example, write some liner notes, eat, hopefully pick up packages, and watch stuff.  Today's topic of discussion: It's Friday – what is currently in your CD player and your DVD/Blu and Ray player?  I'll start – CD, too many to list.  DVD, finishing that musical.  Your turn. Let's have loads of lovely postings, shall we, whilst I hit the road to dreamland, happy to no longer be beside myself.