Well, dear readers, I must write these here notes in a hurry for she of the Evil Eye will be here all too soon and I must get some sleep since I only got about four hours of it.  So, let me begin by telling you of my irritating morning.  The cell phone had rung three times in the morning – I'd been up around six but had gone back to bed.  When I finally got up I looked and the same number, an 818 number, had called and one message had been left.  And that message said that legal papers had been attempted to be delivered to me but had been returned and I needed to call an 866 number and talk to the attorney of record.  Now, I will preface my reaction with this: Once you've been served papers in a major lawsuit this kind of call is like being hit with a truck.  So I had a kneejerk scared reaction, for no reason really, for had I thought it through I would have realized that if someone had not been able to serve papers they would not call me from an 818 number saying they were a process server – in other words, they would not ALERT me.  But I did not think it through and instead texted someone who's done legal work for me.  He responded that he couldn't talk until the evening but to send him the number and he'd call.  When I texted him, however, and interestingly, the first thing I wrote was that it could just be some phishing scam.  But still it made me very uneasy for the next few hours.  And then I did what I should have done instantly – I Googled the 866 number and sure enough, scam.  I told my lawyer friend that all was fine.  And then I called the 866 number, just for grins, got a machine and left a message, well, let's just say I had a good deal of fun leaving it and that the language can only be described as cherce.  And the nice part is that they listen to the messages because a lot of people call back in the evening.  So, I hope it brightens their pathetic little day.  These people are maggots, although that's being disrespectful to actual maggots – they are trash, they traffic on causing people pain, stealing from the vulnerable, and it's terrifying because they know your name, something I never understand.  So, the lesson learned here, is if you EVER get any kind of message with a threatening tone, telling you to call a number – instantly Google the number.
Otherwise, yesterday was a decent enough day as Fridays go.  I didn't do much – basically just a bit of work on the computer, and I decided to switch a song in the Kritzerland show, so I got that music and sent it to the singer.  I just wasn't thrilled with one of the numbers I'd chosen – it's nice enough and attractive enough, but it just kind of peters out at the end so I found something I liked better.
I also had a surprising e-mail from Sony – The Cardinal was ready to ship – I truly wasn't expecting that e-mail for another week-and-a-half.  So, I had to wire their money, which was horrifying, but had to be done.  I have to say I'm disenchanted with licensing right now at these prices and 1000 CD runs. I thought the two Sony titles would do much better than they've done – Advise and Consent and The Cardinal – but my main dealer ordered very lightly on both, which is really irritating and I'm going to let him know there will be no more of these coming from us ever, or if I decide to do another I will not offer it to dealers at all – they'll have to purchase exclusively from us if they want it.  But you can lead a horse to water but you can't make it drink, especially if it's a high horse or a gift horse.  We'll see how the overseas orders are – sometimes those help offset when the main dealer orders low.  We can only hope.
Then I picked up some packages, then went and had a Philly cheesesteak and a side Caesar at Jerry's Deli, then came home.  That's when I have the bright idea to Google the 866 number so that made me relax instantly.  I listened to some music, then sat on my couch like so much fish.
Last night, I watched some movie from a few years ago called Kill the Messenger, the story of reporter Gary Webb, who published a series of articles linking the CIA with narcotics and guns being brought into the country from Nicaragua. While he's praised, and while other papers are kicking themselves over a smaller paper getting the scoop, between the CIA and the other newspapers vilifying him, none of it turns out well.  Since I knew nothing about any of it, I found it interesting.
After that, I listened to more music, specifically the guitar stylings of the wonderful Johnny Smith.  Oh, and here's the flyer for the Kritzerland show.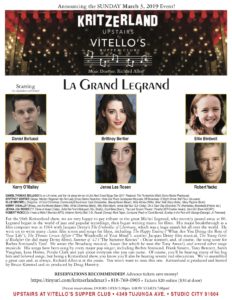 Today, I'll be up early, and then I'll go have a light breakfast, do some errands and whatnot, come home, have a very short rehearsal for the song I'll be singing at Nick Redman's memorial, and then, I'll get ready and mosey on over to Doug Haverty's, and he and his family and the likes of me will head over to Sierra Madre to sup and then see a show.
Tomorrow I should be able to relax, but am seeing a matinee of a play, too, but it's not too long.  Monday is our first Kritzerland rehearsal, and then it's meetings and meals, rehearsals for the revue, our second Kritzerland rehearsal, stumble-through, sound check and show, more revue rehearsals, Nick's memorial, and then we perform the revue.
Let's all put on our pointy party hats and our colored tights and pantaloons, let's all break out the cheese slices and the ham chunks, let's all dance the Hora and the Wah-Watusi, for today is the birthday of dear reader Druxy.  So, let's give a big haineshisway.com birthday cheer to dear reader Druxy.  On the count of three: One, two, three – A BIG HAINESHISWAY.COM BIRTHDAY CHEER TO DEAR READER DRUXY!
Well, dear readers, I must take the day, I must do the things I do, I must, for example, be up early, have a light breakfast, do stuff, hopefully pick up packages, rehearse, sup, and see a play.  Today's topic of discussion: What are your favorite newspaper or journalist stories on film and in theater? Let's have loads of lovely postings, shall we, whilst I hit the road to dreamland, happy that the maggot phone call turned out to be a scam.