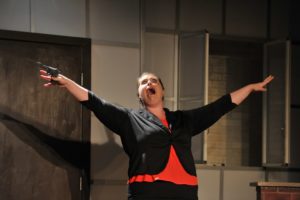 Caroline Thrasher
Philip Labes and Michael O'Konis's More Guns! A Musical Comedy About the NRA starts with the announcement "In the beginning God created the world, then he created the USA, then he created the NRA". Maybe he should have rested on that day. The scariest aspect of this show at The Second City Hollywood Studio Theatre is the NRATV videos that screen as part of the pre-show. If you ever thought the NRA was not a religion unto itself, you need to see some of these born again gun addicts fondling their weapons of choice.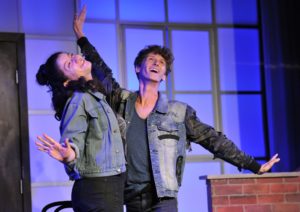 Marnina Schon and Philip Labes
Labes and O'Konis had an easy target to hit the bullseye with their book, music and lyrics. The fresh, young cast energetically throw themselves into the raucous entertainment. There is a minimal plot involving NRA honcho Bushmaster (a manic Caroline Thrasher who possesses a strong voice as well as a sharp sense of comic timing) and her for pay lobbyist Ron (Andrew Pifko) trying to buy congressional votes to avoid passage of a law to require universal background checks. For Bushmaster it's a religion, for Ron it's personal—his wife was robbed and killed while waiting for her background check to be approved for her own firearm. Ron has neglected his daughter Christina (Marnina Schon) for the cause. Christina who is in a "Liberal Love" relationship with Wolf (Philip Labes) decides to run off to California with funds gained by selling her dad's gun collection. In a time of doubt, Ron turns to God who seems to answer his prayers by presenting him with a special gun that turns liberal Congressman into More Guns.

Dahlya Glick, Andrew Pifko and Mike McClendon
There are some fun ideas espoused in the songs like "NR Amen," sung by the cast in choir robes, and Ron leading his potential swing votes (Dahlya Glick and Mike McLendon) through his new dance steps to "The Lobby." Besides "Liberal Love" there is "Conservative Love," and songs about gun shows and loopholes. There are even puppets. The live three-piece band under the direction of O'Konis provides a lively beat and Glick provides some spirited choreography. The cast is augmented by Ricky Abilez, Lauren Michaels, Jack Norman and Dor Gvirtsman in various roles, all under the direction of Zach Seigel.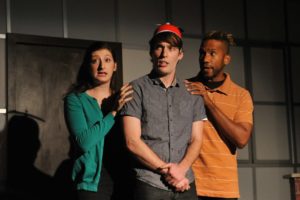 Dahlya Glick, Dor Gvirtsman and Jack Norman
The script could do with some tightening and more hard-hitting political satire and less family drama but it is a fun way to spend an hour or so if you are of a liberal bent. This is not a show for Second Amendment know nothings. More Guns! could easily accommodate a few more songs because the cast is possessed of some strong singing voices, solo and in chorus.

The Second City Hollywood, 6560 Hollywood Blvd. in Hollywood. Ends April 27. https://www.secondcity.com/shows/hollywood/more-guns/