Well, dear readers, it is late and therefore I must write these here notes in a hurry despite my eyes being blurry and despite my not liking curry. But do not worry, here come a flurry of notes to be judged by a jury of dear readers named Murray and so I'd better scurry.
Yesterday was a bit of a muddle but I am taking the position that I'm doing what I want and letting things fall where they may.  I am going to have to change the title of the new book due to a trademark I tried to get the owners to sign off on, but the setting in the book itself will remain the same, because there is no trademark on writing about a place, whether fiction or real – for example, in Thrill Ride having a character called Walt Disney or having much of that book set in the Walt Disney studios or having trips to Disneyland in GEE or having the entirety of Patrick Bronstein Presents set in real restaurants.  I understand why trademarked names can't be used in a title – well, I don't really understand and frankly I could probably do it and be fine, but in the actual book, uh uh, because all fiction books carry the disclaimer about the fact that although real places or names being used it's all in the author's imagination and not intended as reality.  There is too much precedent for all that.  So, when I have a conversation about this tomorrow, that's my position and that's all there is to it.
I did get nine and a half hours of sleep, missing the morning.  Once up, I answered e-mails, printed out more orders and finally got the dealers to pay for The House that Dripped Blood, so that was good.  Then I picked up a couple of packages, then had a Chinese chicken salad at Jerry's Deli, which is where I heard that they didn't want to sign off on the title of the book.  I came home and spent some time actually revising things just in case I wanted to fictionalize everything, including the title location and I certainly could do it and it's not that hard, but it's not as much fun as the real location and its real history.  I did fictionalize Hollywood Heritage for Murder at the Hollywood Historical Society, but I did that because I was having fun with certain real-life members.
All of that, plus some conversations about the book issues, took all of the day and some of the evening, so that I never had a chance to sit on my couch like so much fish.  I did listen to music, and I did go to Gelson's at some point.  I had a snack and did the event page for the March Kritzerland show. And suddenly it was the midnight hour.
Today, I'll hopefully have a conversation about the book with the person who gave me the news yesterday – whether I do or not, I'll just proceed as I was but with a new title.  I'll eat, I'll hopefully pick up some packages, and then I'll try to come up with a show order, and I'll definitely watch something or other.
Tomorrow, she of the Evil Eye comes, so I'll have to leave early, and then I'm seeing a matinee of a play, after which a couple of folks and I may go have some Dino's Pizza.  Sunday I'm not sure what all is going on, and then next week is busy with all manner of things.  Here is our flyer, in case that's of interest to anyone.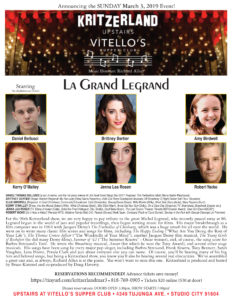 Well, dear readers, I must take the day, I must do the things I do, I must, for example, hopefully have a conversation about the book, I'll eat, I'll hopefully pick up packages, try to come up with a show order, then relax. Today's topic of discussion: It's Friday – what is currently in your CD player and your DVD/Blu and Ray player? I'll start – CD, many, many things. Blu-ray, Queen of Outer Space. Your turn.  Let's have loads of lovely postings, shall we, whilst I hit the road to dreamland, happy to have written some notes in a hurry for someone named Murray.