In 1975, E.L. Doctorow published Ragtime, his work of historical fiction set in and around New York City during the early years of the 20th Century. He intermingled the stories of three distinct groups of people–upper Middle Class white Americans in New Rochelle, African Americans in Harlem and Eastern European immigrants in the slums of the lower East Side. He added some historical figures of the time like J.P. Morgan, Harry Houdini, Emma Goldman, Booker T. Washington and others. In 1996 playwright Terrence McNally, lyricist Lynn Ahrens and composer Stephen Flaherty turned the novel into a big budgeted, large cast Broadway musical of the same title.

Photo by Nick Agro
The Pasadena Playhouse is currently presenting a scaled down version of Ragtime that is the first must-see production of 2019. Scenic Designer Tom Buderwitz has crammed the Playhouse's stage with various crates, limiting the playing space to a smaller area front and center as well as adding a second level above the stage where some characters appear at times. The program describes the setting as "The present. The warehouse of a national historical museum." That doesn't really make sense because the characters don't really crawl out of the storage crates and put on an historical pageant, but that is about the only negative comment I will deliver. The cast size has been condensed to a robust group of 21, most playing multiple roles. With the limited playing area and the smaller cast, director David Lee has skillfully crafted a very intimate and deeply touching production.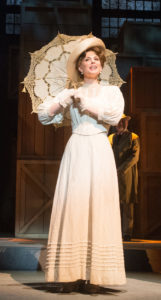 Shannon Warne (photo by Jenny Graham)
With this intimacy, some characters are more fully realized while others, though still powerful, seem to have less emotional heft. The nexus of this production is the character of Mother (beautifully brought to life by Shannon Warne). At first she is the corseted, straight-laced subservient wife and mother as she sees her adventure seeking husband, Father (Zachary Ford, exuding stoic masculinity and patrician conservatism), off to the North Pole. While he is gone, Mother has adventures of her own, each one giving her a taste of independence she is loath to surrender upon his return.

Bryce Charles, Clifton Duncan (photo by Jenny Graham)
One momentous decision leads to another as she rescues a baby buried in her garden and left to die. She takes the baby and also the child's depressed and unwed African American mother, Sarah (Bryce Charles) into her home. She then invites into her home and encourages the courtship of Sarah by her lover and father of the baby, ragtime piano player Coalhouse Walker, Jr. (Clifton Duncan). After a long courtship, Coalhouse does finally win over Sarah's heart but their happiness is short-lived as Coalhouse's Model T is vandalized by racist volunteer firemen. He seeks redress legally but is stymied by the system and loses Sarah to mob violence. He turns his anger to revenge and the musical takes a darker turn.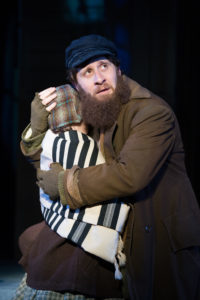 Marc Ginsburg and Iara Nemirovsky (photo by Jenny Graham)
Another thread of the story that starts dark but has a happier conclusion is the tale of immigrant Tateh (Marc Ginsburg) and his daughter (Iara Nemirovsky). Tateh is a skilled artist, cutting and selling novelty silhouettes on the street, inventing an animation process and finally becoming "The Baron", a silent film director. Mother's and Tateh's paths cross several times and their attraction to each other slowly builds, keenly shown in the acting of Warne and Ginsburg.
Mother's Younger Brother (Dylan Saunders) has always been a problematic character in that he is more a plot device than a full-bodied character. At first he is infatuated by the scandal ridden socialite and vaudeville star Evelyn Nesbit (a flirtatious Katharine McDonough). When she ultimately rejects him, he turns his ardor on anarchist socialist provocateur Emma Goldman (a fiery Valerie Perri).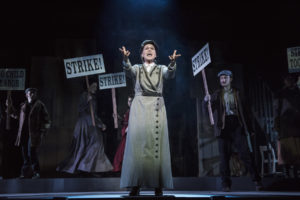 Valerie Perri (photo by Nick Agro)
The entire cast is possessed of great voices and whether it is in standout solos like "Back to Before" or soaring duets like "Wheels of a Dream" and "Our Children" or choral numbers like "The Crime of the Century" or "The Night that Goldman Spoke at Union Square" this musical really sings. The 16-member behind the crates orchestra is led by Music Director & Conductor Darryl Archibald and the score sounds symphonic thanks to Philip G. Allen's expert sound design. Kate Bergh's detailed period costumes and Jared A. Sayeg's colorful lighting enhance the production. This Ragtime demands to be seen. So see it!

Pasadena Playhouse, 39 S. El Molino Ave. in Pasadena. Ends March 9. pasadenaplayhouse.org