Well, dear readers, I am still taking all my preventatives, fighting like the dickens to not get sick, as I have no time for such stuff and nonsense. So, send some of those patented most excellent vibes and xylophones to not get sick as I have no time for such stuff and nonsense.  In other news, this is the final day of February, a short month that is merely annoying for robbing us of at least two days, which I find most unseemly.  Hence, tomorrow we will march into March, and it is my fervent hope and prayer that March will be a month filled with health, wealth, happiness, creativity, and all things bright and beautiful.
Yesterday was mostly a relaxing day, which I needed.  I got eight hours of sleep, did the usual morning things, and then I had to mosey on over to Jerry's Deli for a lunch meeting, during which I ate lunch – a chili, cheese, and onion hot dog and a side Caesar salad, both excellent.  The meeting was fine and we'll see if it leads to anything interesting.
After the meeting, I went to the mail place and picked up one tiny package, then came home.  I had a nice e-mail waiting, saying the check-in folks and the gent who oversees the production process on my books found no problems, so the book is now in production, which means I'll probably see a galley late next week.  I listened to music, did work on the computer, rearranged quite a bit of the Kritzerland show order, then had to adjust the patter to match the new order.
I wasn't really in the mood to watch anything, so I just listened to music and kept taking the preventatives.  We'll probably make the new book available for pre-order in a day or two.
Today, I have to be up by eleven at the latest, then we have our second Kritzerland rehearsal at one and should wrap that up by four-thirty, at which point I'll go to the mail place and then eat.  I'll then be able to relax for the rest of the evening.  And I'll begin those damn liner notes.
Tomorrow, we have a revue rehearsal from eleven to two, and then the rest of the day will be mine all mine and I'll be able to relax, listen to music, and watch something.  Saturday, I can sleep in, as our rehearsal isn't until four-thirty in the afternoon.  Then some of us will go have a nice dinner somewhere nice.  In the evening hours I'll relax.  Sunday, I'll relax until it's time to mosey on over to Vitello's for sound check, and then we do our show.  Monday I can't remember if we have a revue rehearsal, but I don't think we do, which means I do nothing at all for the entire day and evening.  Then on Tuesday we have our final revue rehearsal, then I go right from that over the hill, so I can avoid traffic.  I'll go to some restaurant and relax and have a salad or something, and at 5:45 I'll head over to Twentieth Century Fox for sound check and then at 6:30 people arrive for the Nick Redman memorial.  I'm singing Hushabye Mountain.  Then on Wednesday, we have our sound check and then we play our revue, also at Vitello's.  Whew!
So, I haven't been ready to show this yet, but I guess now is as good a time as any.  Here's the cover of the new book.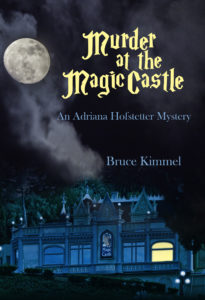 Doug Haverty did a great job of it, I think.
Well, dear readers, I must take the day, I must do the things I do, I must, for example, have our second Kritzerland rehearsal, hopefully pick up packages, eat, and relax.  Today's topic of discussion: What are your favorite film scores and albums of the legendary music man, Mr. Quincy Jones?  Let's have loads of lovely postings, shall we, whilst I hit the road to dreamland, as I take all my preventatives to fight getting sick, since I have no time for such stuff and nonsense and happy to have shared the new book cover.