Irish writer Martin McDonagh is now a well-known and well-respected screenwriter and film director after 2017's Three Billboards Outside Ebbing, Missouri as well as his earlier films In Bruges and Seven Psychopaths. He first came to acclaim with The Leenane Trilogy of plays—The Beauty Queen of Leenane, A Skull in Connemara and The Lonesome West. He has an uncanny talent for mixing dark humor with shocking violence, causing his audiences to laugh and gasp, often at the same time. Antaeus Theatre Company is currently presenting The Cripple of Inishmaan which may be McDonagh's funniest and probably his least violent stage work. John Iacovelli's gorgeous natural stone looking scenic design at worst gets an egging but the stage is not drenched in blood as it is in McDonagh's The Lieutenant of Inishmore.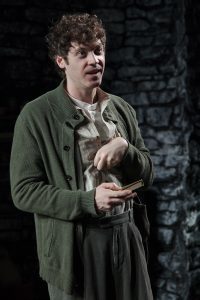 Matthew Grondin (all photos by Geoffrey Wade Photography)
Billy (Matthew Grondin) is a teenager whose left arm and leg have been crippled since birth. He was raised by two spinster sister/shopkeepers on the small island of Inishmaan off the West Coast of Ireland. He has grown up with the story of his parents drowning while attempting to leave for America and a better life for themselves and their newborn son. He was told their life insurance paid for his much needed surgery to keep him alive at the time. There are a lot of tall tales spun among this close knit community of islanders, all of them crippled in less visible ways. Gossip is the meat of their lives and JohnnyPateenMike (JD Cullum) is the gossip monger extraordinaire. He is always keen to eavesdrop on his neighbors, pencil and notebook at the ready. He trades his "news" for more edible items. JohnnyPateenMike is saddled with his 90 year old drunkard of a Mammy (Anne Gee Byrd), who has been trying to kill herself with alcohol for over 60 years since the loss of her beloved husband. Her son has been aiding her for the past 20 years to no avail so far. Cullum and Byrd make a great comic duo; their timing is precise and the laughs they generate are deep and heartfelt. They would have made a great music hall act in 1934 London if they could ever get off their little island.

Ann Gee Byrd and JD Cullum
Although not related by blood, Aunt Kate (Kitty Swink) and Aunt Eileen (Julia Fletcher) have always thought of Billy as their own flesh and blood. Always worried when he is late as he spends too much time out staring at cows. In times of stress Kate talks to stones while Eileen gorges on sweeties before her customers get a chance to purchase them. Simple minded Bartley (Joey Millin) can never find the sweetie he likes in stock and is usually being berated and slapped around by his unruly sister Helen (Abby Wilde) who has a thing for throwing, crushing, smashing and just destroying eggs she is supposed to be delivering to customers.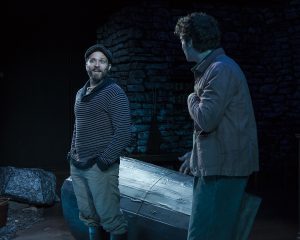 Seamus Dever and Matthew Grondin
Billy thinks he has found the answer to finding adventure and getting off the island when a Hollywood film crew visits the nearby island of Inishmore. Feigning a serious illness, he cons BabbyBobby (Seamus Dever), who is still in mourning for his wife, into rowing him, along with Helen and Bartley, to Inishmore to audition. And in true Hollywood fashion, Billy is chosen to be taken to Hollywood to screen test for the role of a cripple, much to Helen's displeasure and his aunts' consternation. Billy does return after a few months and there is even the hint of a happy ending, although in true McDonagh style, it may be a short-lived one.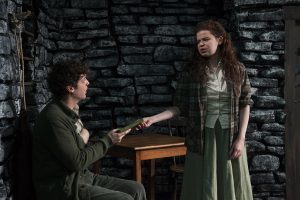 Matthew Grondin and Abby Wilde
Steven Robman has deftly directed the many scenes and his cast is a finely meshed ensemble. There are plenty of laughs unearthed by this cast, as well as some lovely, heartfelt emotions. The Cripple of Inishmaan is a lovely way to spend a couple of hours with some truly colorful characters.

Kiki & David Gindler Performing Arts Center, 110 E. Broadway in Glendale. Ends March 11. www.antaeus.org