Well, dear readers, we had a fun stumble-through yesterday, with only a couple of lyric hiccups.  The structure worked really well (it was hard to come up with a show order due to the large number of ballads, but it worked out very well, thankfully).  After it was done, I gave a few notes, worked out some arrangement things that weren't working, and that was that.  It's a wonderful cast and all that Legrand music is, well, le grand.
Prior to that, I'd gotten a whopping close to eleven hours of really needed sleep.  Once up, I answered e-mails, then went to the mail place and retrieved some of the The Cardinal boxes, then came right back home and deposited them in the garage. The helper came by and got those invoices and then he picked up the remainder of the boxes and began shipping.
Then it was time for the stumble-through, which you've already read about it.  Once that was done, I was starving, so I rustled up some Wacky Noodles and ate them up, but not quite finishing all of them.  And then I did some work on the computer, and we made the new book available for pre-order at Kritzerland – the usual signed copies with some fun extras included, as always.  If you'd like to order the new book, here is the direct link to that page.
http://kritzerland.com/castle.htm
Here's the fun cover again.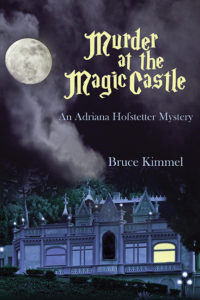 Then I just relaxed, listened to some music, and then sat on my couch like so much fish.
Last night, I just wasn't interested in watching the rest of Psyche 59 right then, so I found a movie on the Flix of Net that I hadn't seen before, entitled Exposed, starring Keanu Reeves and an actress named Ana de Armas. The director, some fellow with the first name of – wait for it now – Gee – took his name off the film because it was completely recut after the studio got a look at his cut.  I'm guessing it was an endless bunch of malarkey – you can even see that in what's left, but they tried to turn it into some thriller and that didn't work either.  A massive flop and a truly terrible film with awful dialogue, pretentious scenes, and a "revelation" that every one of these kinds of films seems to have.  I was happy to see that the director, who also wrote the film, managed to go fifty whole minutes before introducing the obligatory vomit scene.  Keanu Reeves is stone-faced and monosyllabic throughout, but I thought Ana de Armas was really excellent.  In short, a complete waste of time save for Ana de Armas.
After that, I relaxed some more and listened to music, took a hot shower, and that was that.
Today, I'll sleep in again, then relax, get ready, and then mosey on over to Vitello's for our sound check and show.  I don't know if ticket sales have gone up or not, since I no longer have the ability to check since they changed the way reservations work.  We'll probably end up with sixty or so, hopefully more.  I'm sure some of us will eat afterwards.  I will, of course, have a full report.
Tomorrow is a ME day – no plans, no work, unless I write some liner notes – and just resting my voice and clearing my cranium of all that's extranium. Tuesday, we have a noon to three revue rehearsal, then I go over the hill, have a quick bite, do a sound check, and then attend and sing at the Nick Redman memorial.  Wednesday, we have a sound check at four-thirty, and then we play our revue.  The rest of the week is meetings and meals and catching up on everything that I've let slide, plus announce one or two new titles.
Well, dear readers, I must take the day, I must do the things I do, I must, for example, sleep in, relax, get ready, have a sound check, and then do our show, then eat.  Today's topic of discussion: It's free-for-all day, the day in which you dear readers get to make with the topics and we all get to post about them.  So, let's have loads of lovely topics and loads of lovely postings, shall we, whilst I hit the road to dreamland, happy to have had a most melodic stumble-through and happy to have pre-orders live for the new book.