The Argonauts (all photos by Craig Schwartz)
The poet Ovid wrote his classic Metamorphoses during the reign of Augustus, the first Roman Emperor. In 1996 playwright/director Mary Zimmerman brought ten of the myths to life in a pool of water on stage in Chicago and later Los Angeles and New York. Ten years later she took the tale of Jason and the Argonauts to the stage in Argonautika, basing her tale of their adventures on the epic poem by Greek poet Apollonius Rhodius. Even though the Argonauts sailed across the open sea, Zimmerman did not put her cast back in the water. Neither has director Julia Rodriguez-Elliott in the highly theatrical production which recently opened at A Noise Within in Pasadena. But there are harpies and dragons and flying rams, oh my! Goddesses and heroes and villains, oh my!

The Argonauts set sail
Hera (Veralyn Jones) was the sister/wife of Zeus and, as such, served as the Queen of the gods. She was the patron of women and marriage and therefore was very displeased with her husband's rampant adulterous affairs and his many illegitimate offspring and was known to wreak havoc on them and humans who displeased her. In disguise one stormy night, while testing menfolk's helpfulness, she discovers Jason (Ty Mayberry) who helps her across a flooded river. As a result of his kindness, Hera reveals herself and promises to be at his side in all his troubles. His troubles begin when Jason's evil uncle Pelias (Alan Blumenfeld), who has stolen the throne that rightfully belongs to Jason's father, sets him on a quest to retrieve the mythic Golden Fleece, hoping he will die as a result. With the aid of Hera and the warrior goddess Athena (Trisha Miller), Jason is soon overseeing the building of the Argos, the mightiest ship ever, and gathering a crew of heroes including Hercules (Frederick Stuart) and his favorite companion Hylas (Richy Stores), Castor and Pollux and many more. Sha-boo-ya! Ya! Ya! Sha-boo-ya, roll call! is the fun and energetic way Zimmerman chooses to introduce the Argonauts. With Athena's aid, Idmon (Evan Lewis Smith), the seer, foresees some of the obstacles ahead. The Argonauts set sail and encounter adventure after adventure, mischief from Boreas (Michael Uribes), god of the winds to rescuing Andromeda (Helen Jane Planchet) from a sea monster, to seduction by the Women of Lemnos and a deadly water nymph, to Amycus, a giant boxer and harpies. And that is all before intermission.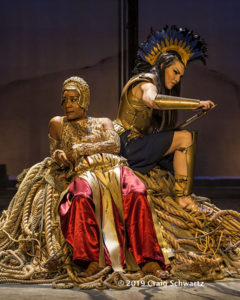 Veralyn Jones and Trisha Miller
Once the Argonauts finally reach Colchis and are in site of the Golden Fleece, they still have to face the villainy of King Aeetes (Stuart again)–his fire-breathing bulls and army of skeletons, not to mention a dragon that never sleeps. In one of the funniest scenes, Hera and Athena visit Aphrodite (Cassandra Marie Murphy), goddess of love, and ask her to send her son Eros AKA Cupid (Marc Leclerc) to shoot Aeetes' daughter Medea (Angela Gulner) with an arrow to the heart so she will fall in love with Jason and aid him in his quest with her magic. Their plot works and soon with fleece and Medea in hand, Jason and the Argonauts are back on the open sea, homeward bound with a few more adventures and many tragedies ahead of them.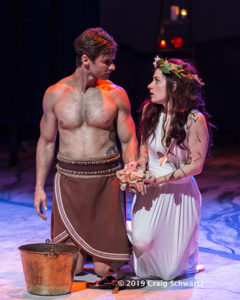 Ty Mayberry and Angela Gulner
Zimmerman has creatively written the various adventures, imbuing many of them with plenty of humor. Rodriguez-Elliott has inventively staged this highly theatrical stage outing. The cast (which also includes Sam Christian, Justin Lawrence Barnes, Collin Bressie, Lorena Ruiz and Bradley Alan Turner) mostly play multiple roles, switching quickly from one character to the next. It's a wonderfully meshed ensemble. Frederica Nascimento's open and spare two-level scenic design gives plenty of space for the action to be staged. Jenny Foldenauer's costumes and Shannon Hutchins's wig & make-up designs are a key ingredient. Props Master Erin Walley and Associate Puppet Designer Dillon Nelson have created some magical moments. Ken Booth's lighting heightens the mood. Robert Oriol's original music and sound design are a truly valued character. Murphy lends her beautiful voice to several of the musical interludes, including "Women of Lemnos" which she sings while suspended from the rafters in silks a la Cirque du Soleil.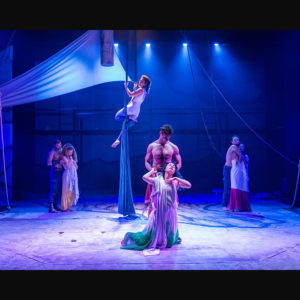 The Women of Lemnos
Mayberry makes a stalwart hero as Jason and easily carries the show on his broad shoulders. Stuart provides much comic relief as the egocentric and dull-witted Hercules as does Blumenfeld as the old and cantankerous Pelias. Gulner's Medea runs the gamut from love-struck virgin to vengeful wife and mother. Jones and Miller make a dynamic duo of strong female gods. Book your trip now with the Argonauts in Argonautika. It is sure to be one of the highlights of 2019 theatre in Southern California.

A Noise Within, 3352 E. Colorado Blvd. in Pasadena. Ends May 5. www.anoisewithin.org