Well, dear readers, Kritzerland at Vitello's 96 was a wonderful evening of melodious music from the pen of melodious Michel Legrand.  The cast all brought their A game, which I knew they would – Daniel Bellusci, Brittney Bertier, Ellie Birdwell, Kerry O'Malley, Jenna Lea Rosen, and Robert Yacko, with Richard Allen at the piano.  This was not the easiest show to assemble due to the fact that Legrand wrote so many great ballads, but in the end I think I got it right and it rolled along very smoothly.  For some reason, my eyes were having a little trouble seeing my typed notes, so that was unexpected and I had fun with it.  I always sit in the same spot at the front center table, then just get up and go onstage from there, but at Vitello's it's quite a large step up to the stage, so they got me a little metal suitcase thing as a little step and it works great – Doug usually keeps his foot against it, but didn't last night and once, coming off the stage to my seat, the suitcase slid and I almost went crashing down, but being an old Jew AND a The Unsinkable Molly Brown fan, I simply remembered I Ain't Down Yet and recovered quickly without actually going down. The audience gasped when it happened, which just made it funnier to me.  I bowed, sat, and on we went.  And I had a great time with this audience – they were loose and relaxed and really fun for me.  We had a lot of walk-ins for some reason, one of whom, I'm told, was the legendary Wrecking Crew drummer, Hal Blaine.
There were so many highlights – some of my favorites were Daniel Bellusci doing a superb job with Watch What Happens/I Will Wait for You, Brittney Bertier was really kind of on fire last night, especially with her charming Other People's Stories and the put-together of Summer Me, Winter Me/The Summer Knows. Adorable Ellie Birdwell was, well, adorable doing Sweet Gingerbread Man, Kerry O'Malley, brilliant as always, bringing down the house with the evening's only real comedy songs, Whore's Lament from Amour, but also doing a truly lovely What Are You Doing the Rest of Your Life/On My Way to You.  Jenna Lea Rosen doing all Yentl songs, spread throughout the evening, and making a meal out of each of them – one of her best performances, and that is saying something. Robert Yacko doing a heartfelt and gorgeous You Must Believe in Spring – but everything was just wonderful and Richard Allen was great at the piano.
After the show, Jenna, Robert, Daniel, and Jenna's mom went downstairs and had some food, which was excellent.  I was completely exhausted and had almost no voice left at all, but I'm keeping quiet all of today and tonight and most of Tuesday, so hopefully I'll be fine for singing at the memorial.  Then I came home.
Prior to that, I'd gotten nine hours of sleep, got up, and basically just relaxed and listened to music until it was time to mosey on over to Vitello's for sound check.
When I got home, I just listened to music and then it was time to write these here notes.  Here are some photographs for you.  First, our merry troupe group photograph – left to right it's Robert Yacko, Richard Allen, Doug Haverty, Daniel Bellusci, Jenna Lea Rosen, li'l ol' me, Brittney Bertier, Ellie Birdwell, and Kerry O'Malley.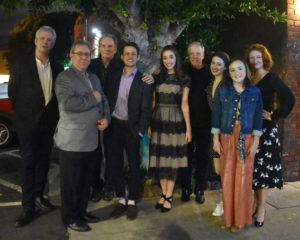 Here's Kerry O'Malley ending Whore's Lament.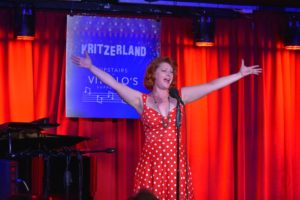 Here's adorable Ellie Birdwell.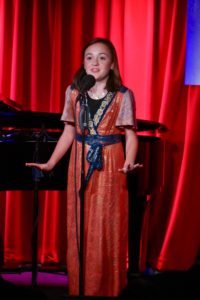 Here's Robert Yacko doing his Amour put-together.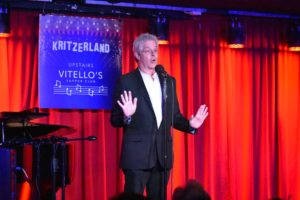 Here's Brittney Bertier.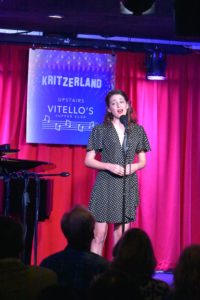 Here's Daniel Bellusci.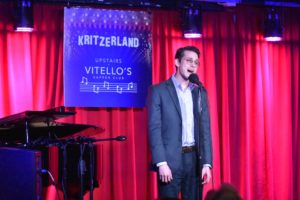 Here's Jenna Lea Rosen taking it home with A Piece of Sky.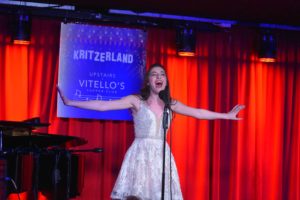 And here's our finale/sing-a-long.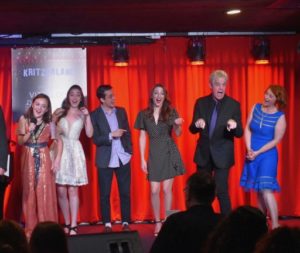 Today, I'll sleep in, and then relax all the livelong day and evening. I'll hopefully pick up some packages, eat, and that is it.  And I'll be silent as much as possible.
Tomorrow, I'll be up early, then we have a revue rehearsal from noon and I'm hoping we can finish by two-thirty, and I'll go directly over the hill, have a quick light bite to eat, and then I'll go over to Twentieth Century Fox for a sound check, and then it's the Nick Redman memorial.  Wednesday, I can relax until it's time for sound check, and then we play our revue.
Well, dear readers, I must take the day, I must do the things I do, I must, for example, sleep in, relax, hopefully pick up packages, eat, and relax. Today's topic of discussion: What play, musical, and movie have you seen the most times?  Let's have loads of lovely postings, shall we, whilst I hit the road to dreamland, happy to have had a swellegant Kritzerland at Vitello's 96.