Well, dear readers, just before leaving to sign at the paperback show yesterday, I saw the news that writer/director Larry Cohen had passed away.  I think we've had just about enough deaths this year and I command them to stop.  I had so much fun with Larry and was so delighted to be able to make one of his unfulfilled dreams come true – seeing a production of Levi, the musical he'd written with the Sherman Brothers back in 1979.  It had been optioned twice but there had not only not been a workshop, there hadn't even been one read-through of it.  When Richard Sherman came to me and asked if I could just put together little reading at my house so they could hear their baby just once – he'd been talking to Larry about it and they were just so proud of the show and so disappointed to have never heard it performed, even perfunctorily. Richard gave me the script and we sat and listened to his demo of the score.  I read it, found it fairly problematic and understood why it hadn't been produced. But I also knew there was a good show buried in there, so I told Richard to set up a lunch with Larry – that happened two days later at Jerry's Deli.
Now, I'd been a fan of his movies since seeing It's Alive – they were like no other movies, completely unique to his wacky sensibility, in the same way Sam Fuller's movies were like no one else's.  They were crazy, funny, off-kilter and out of left field, but wildly entertaining.  So, it was great fun to meet him and he was everything you'd want him to be, but mostly he was a character.  And so, I told them my problems with the show – the entire opening number didn't work for me because it didn't start with the right people and it was confusing, and that it was unwieldy and in certain instances not really something you could produce on a stage.  A movie, yes, but not theater.  I'd already thought about how to approach the meeting and I let forth with my idea: If Larry was willing to do the revisions I thought were essential, then not only would I give them a reading of the show, but I'd do a full production on the main stage at LACC (I'd already made sure that could happen).  They were thrilled and Larry said he'd do whatever I asked.
Months went by.  I sent a long list of my notes to Larry, and more time went by because he was traveling and doing festivals and events and also was taking part in a documentary about him and his films.  Richard was frustrated and suggested to Larry that I should perhaps do whatever rewriting needed, so in February of 2017 I got a phone message from Larry saying he was giving me his complete blessing for me to do the revisions in whichever way I thought best.  So, I began revising by fixing the opening number, and then over the course of a month I cut, rearranged, wrote additional material, and focused the show and got rid of anything unwieldy.  And I had the commitment for the production.
In June, we did a private reading at my house for Richard and Larry, so they could hear what we'd done, both to the book and in the arrangements of the score, which were, in certain instances, radically different. Well, they both loved it, and after, Larry, beaming, said to me, "I don't know what's you or what's me, but it's really great."  I made a few more revisions based on the reading, and just before we went into rehearsals, Richard and I wrote a new song because a scene was just crying out for it and it I needed a transition into the next scene.  The title of the song was so beautiful – "So Many Empty Rooms" – it was the final line of the scene and it just screamed, MAKE ME A SONG. I made further revisions as we rehearsed the pros and students.
They were both there on opening night, with their wives (and in Larry's case, his ex-wife was also there, as she'd helped with the original book).  As the curtain came down on act one, Larry, who was sitting directly in front of me, turned around – tears were streaming down his face and just grabbed my hand and told me how important this was to him and how much he loved it.  Same thing at the end, with the full house on their feet and cheering.  I think he came to about 95 percent of the performances and every time he was so effusive in his praise of the production itself.  He told me that he thought only he could direct his work, but that he'd trust me with anything.
We lunched every now and then, and when the video was cut we all gathered in the editing room and watched it.  I'd already made certain fixes, but I'd decided after the run that one sequence simply didn't work as written and I'd already figured out how to fix it, but there it was on the video, in the version that didn't work. It was Larry who came up with the way to fix it aurally and I came up with the way to do it visually and voila. He'd call every few weeks and leave me very long messages about the show and not understanding why other theaters weren't jumping at the chance to do it – believe me, we tried, he and I – and I always wished I could give him good news about it, but alas it was not to be. I shan't comment on the theaters who couldn't even be bothered to listen to the CD, read the script, or watch our great-looking video.  It was, in my opinion, disgusting and sadly typical.
So, RIP, dear Larry, you crazy, strange, lovable, talented character, a kind of real-life Patrick Bronstein.  If you haven't seen the King Cohen documentary, I heartily recommend you do.  Whether you find it well done or not doesn't matter – because you'll see and hear Larry being Larry, and that's all that matters.  He was simply one-of-a-kind and a treasure, and my time with him is something I'LL always treasure.  Here's Larry and Richard at that first fateful lunch meeting.
And here we all are at opening night.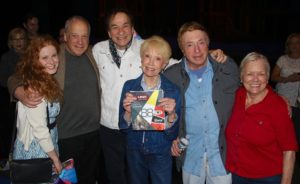 I got about seven hours of sleep, and then I had to mosey on over to the Glendale Civic Auditorium in Glendale.  The show was very crowded, more so than in past years, I think.  I set up for my hour.  As sometimes happens, I unfortunately got seated next to a popular author and he always had a little line of people because he couldn't stop yammering with people – Tim Powers was his name.  So, no one could really even see me.  But Grant came by, and then occasional dear reader Leslie and her two daughters, Alexa and Mia visited and they got their rare error copy of the new book.  And then Peyton Kirkner and her entire family came and that was really fun.  She and her brother Jack are reading the new book at the same time, and I think they're almost through with it.  Jack had it with him at school and one of his school mates asked him about it and he told him he knew the writer, and the kid didn't believe him.  So, I signed it to Peyton and Jack (they'd brought it with them) and now he can show the disbeliever.  Here's Alexa and Mia and me-uh.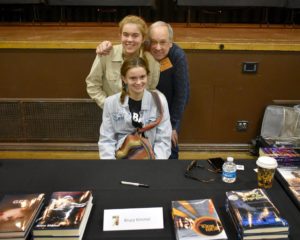 After my hour was up, I traversed the room, visiting with a few dealer friends.  Just before I was going to leave I finally found the dealer who always has really interesting things, so that was fun.  He had a store near the Nu-Art Theater in West LA, but he's now moved to La Cienega, literally five blocks from where I grew up.  So, I told him about the Kritzer books and he can't wait to read up on what the neighborhood once was like.  He also asked if I'd do a reading/signing there and I said absolutely and I'm actually hoping that can happen in the next couple of weeks, depending on when the new book finally gets to me, which will hopefully be sooner than later.
After that, I stopped at Taco Bell and got some food, came home, and ate it all up.  Then I answered some e-mails, then sat on my couch like so much fish and finished the remaining episodes of Paranoid.  Like all these bloated "series" they tend to sag in the middle while they kill time trying to keep everyone interested, but what they're really doing is simply playing the same scene over and over again, with slight adjustments.  It becomes a bore, and the middle also suffers from the writers having one character in particular also playing the same story beat over and over again – at one point I yelled at the TV, "Writers!  Stop being lazy!"  But the final two episodes were very good and the cast was just fine.  Then I watched the first episode of something called Aquarius from 2015, about Manson and that whole scene.  It's already annoying me so I doubt I'll continue, but maybe I'll do one more episode.  It's a HIGHLY fictionalized version.  Then I relaxed and listened to music.
Today, I'll hopefully have good news about the book order finally being placed – send most excellent vibes and xylophones for that to happen early in the day.  Then I'll take my car in for a lube and oil and smog check.  That will probably take an hour or two, so I'll walk to Jerry's Deli and have some food, then walk back, then hopefully pick up some packages. After that, I can relax a bit, but I think I'll have to approve two booklets for upcoming releases.  I also think Jerome Kern print will come in and we'll be able to ship that by end of week, perhaps.
The rest of the week is meetings and meals and going and doing, having a work session, attending an opening night and whatever else comes along.
Well, dear readers, I must take the day, I must do the things I do, I must, for example, hopefully have good news about the book order being placed, I'll take the motor car in, eat, pick up the motor car, hopefully pick up packages, then relax.  Today's topic of discussion: What are your treasured memories of buying paperback books when you were a kid?  What caught your eye, what were your favorite paperbacks and covers?  Let's have loads of lovely postings, shall we, whilst I hit the road to dreamland, saying a fond farewell to my favorite Cohen.