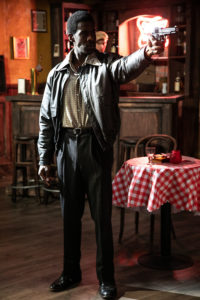 Jeff Rolle, Jr. (all photos by Waco Theater Center)
Charles Gordone's 1969 No Place To Be Somebody has the distinction of being the first play written by an African-American playwright to win the Pulitzer Prize for Drama. It was also the first off-Broadway play to win that award. A lot has changed in the 50 years since in regards to America's race relations and yet so much is still the same. In a sturdy revival at the Waco Theater Center in North Hollywood, director Richard Lawson has given the production a few tweaks to make it more relevant. The play takes place in the mind of writer Gabe Gabriel (Terryl Daluz), a light-skinned Negro who is fighting a losing battle for a career in theatre. Gabriel sets his play in a small New York City bar in the 1960s where owner Johnny (Jeff Rolle, Jr.) struggles against the ingrained mob rule and hatches some plans of his own to form a Black Mafia. Lawson has given Gabe a laptop in place of a typewriter and Daluz delivers his frequent poetic monologues more as hip hop raps than poems against a slideshow backdrop of Black life during the past 50 years.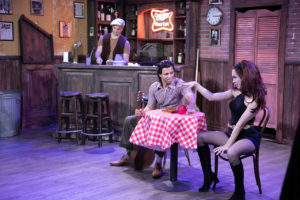 Robert Jekabson, Terryl Daluz and Marianne Bourg
Gordone's cast of characters is similar to those delusional dreamers in Eugene O'Neill's The Iceman Cometh. There are the inevitable working girls Dee (Marianne Bourg) and Evie (Taylor Leigh Edwards). Dee may be Johnny's girl but he still pimps her out on the street and takes her hard earned cash daily. Bartender Shanty (Robert Jekabson) is a jive-talking, drum playing white man who longs to be black while his girl Cora (Courtney Nichole) longs to be married to a white man.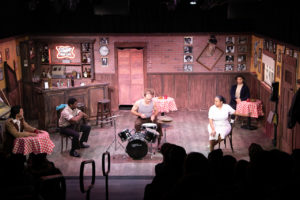 Robert Jekabson plays the drums in the bar
The show takes a turn onto violent gang war turf as Johnny attempts to blackmail the local Mafia boss and his bagman (Nick Teti) by using his latest attraction Ellen (Taylor Babb), a liberal white college student, to steal files from her father, a Mafia controlled Judge (Dan Warner). Complicating matters is Johnny's recently paroled mentor, Sweets (director Lawson at the performance I reviewed) who has six months to live and has given up his thieving ways and wants Johnny to do the same. The play ends like Shakespeare's Hamlet, with bodies littering the stage.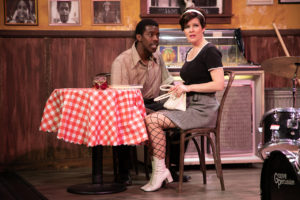 Jeff Rolle, Jr. and Kelly Tighe
It's always daunting to find a "Glossary of terms used in the play" in your program, especially a four-page Glossary. Luckily most terms were familiar so it was not a problem as in some Irish plays. There is a problem in understanding some of the dialogue that could have been fixed if the actors spoke a little slower at times and used a bit better diction. That is a mild rebuke. This revival of No Place To Be Somebody is an historical event taking us back to a point when off-Broadway was populated with large cast plays about the outcasts of society like Lanford Wilson's A Balm in Gilead.

Waco Theater Center, 5144 Lankershim Blvd. in North Hollywood. Ends March 9. www.wacotheatercenter.com