Well, dear readers, the Nick Redman memorial was very emotional and beautiful.  His ever-lovin' Julie Kirgo put it together with love and thoughtfulness.  She chose just a few speakers, a few moments musical, and a fine host in Jon Burlingame.  And she was helped by Jon's wife, the wonderful Marilee Bradford.  The memorial took place in the commissary on the Twentieth Century Fox lot, and it was jammed with about 150 people.  It was heartfelt, funny, joyous and wasn't too long. As most here know, Nick was one of my very best and closest friends for over thirty years.  And many other closer friends were there, too, and people he's worked with over the years.  I'd been asked to sing Hushabye Mountain, which was the favorite song between Nick and his smart, beautiful Darling Daughter, Rebecca.  The song was her request, and Julie asked me to do it.  I knew I was walking a tightrope with it, because a) it's one of the Sherman Brothers' most beautiful melodies and lyrics, and b) because it's hard singing something that's emotional and to be in control of not only one's emotions, but one's singing.  And that was made doubly difficult because Rebecca and her mom, Nectar (Nick's first wife, who was my assistant back in 1989 when I was doing Totally Hidden Video and who brought Nick along to meet me in our editing bay) were sitting about five-feet away directly in front of me, and the minute I began singing I could see Rebecca crying – I had to avoid glancing in her direction because had I, I would have completely lost it.  So, I either kept my eye on the lyric sheet or towards the back of the crowd. I got through it okay, and Tom Griep on piano was very supportive.  The other musical performances were lovely, too, including the legendary Mike Lang playing a beautiful rendition of Laura.
I'd arrived at five-thirty and done a quick sound check, then just hung out, talking to Julie and Jon and Marilee.  People began arriving around six-fifteen.  Of course, I knew many attendees, so it was nice to chat and reminisce about Nick.  The only time I completely lost it was after the show when Julie hugged me and said, "He loved you so much."  And I him. We had so many fun adventures together from the Bay Cities days on.  And I like to think that wherever he is he was looking down, watching happily to know how loved and important to all of us he was.  And if you've read GEE, you know I feel strongly that we all come back again, and I believe he'll be back in one form or another.  That was his favorite aspect of GEE, the thought that we die and come back and get a second go.  It was a beautiful and not too long evening.  I hung out for a bit, but I don't do well at these kinds of things, so after about twenty minutes I was on my way to my motor car.  Here is a photograph of me at the mic singing.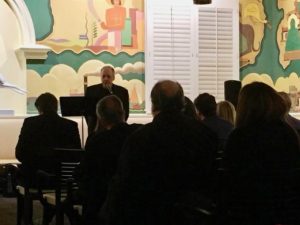 And here's one of me, film historian and wag David Del Valle, and Miss Diane Baker, who adored Nick.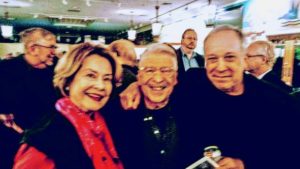 She came right up to me and told me she loves getting the Kritzerland e-mail announcements and we reminisced about the few signing shows we did at the same time, and how neither of us really wants to ever do them again.  I'm going to try and get her to a Kritzerland show.
Prior to that, I'd gotten about seven hours of sleep, got ready, and then we had a run-through of the revue, which really went well – pace was excellent and I only had a couple of little notes, mostly to do with sharpening up the staging.  Then I answered a few e-mails, then moseyed on over the hill at two-thirty, and thereby avoiding all traffic.  I got over Beverly Glen very quickly and down to Pico Blvd. very quickly.  I went to Factor's Deli, arriving at three.  I had a chicken salad sandwich and potato salad. I took my time, relaxed, and managed to kill two hours quite easily.  Then I drove to the Fox lot, parked, and went in for sound check at five-thirty.  The rest you know.
Once home, I had some soup and a donut I'd picked up at K's Donuts on the way home.
Today, I can sleep in, relax, hopefully pick up some packages, and then it's sound check, eating, and playing our revue.
Tomorrow I think can be a ME day.  Friday, I'm doing an interview for a little documentary about Kay Cole, and funnily I may also see Kay for a belated birthday dinner (hers).  Not sure what's up for the weekend, but I'll definitely be doing some liner notes, choosing songs, and figuring out our final performer.
Well, dear readers, I must take the day, I must do the things I do, I must, for example, sleep in, relax, hopefully pick up packages, do a sound check, eat, and see our revue.  Today's topic of discussion: It's Ask BK Day, the day in which you get to ask me or any dear reader any old question you like and we get to give any old answer we like. So, let's have loads of lovely questions and loads of lovely answers and loads of lovely postings, shall we, whilst I hit the road to dreamland, happy that the Nick Redman memorial was so heartfelt and warm and filled with love.