Well, dear readers, I have taken a nice hot shower, which is better than taking a not nice hot shower.  Therefore, I am quite relaxed after having done a most annoying Word update that somehow managed to screw up all my default settings.  I got one thing fixed by doing a chat on their website, and then had to Google how to fix the other thing, which I finally did.  I'm going to call them tomorrow and be persnickety, oh, yes, I'm going to be persnickety all right.
Yesterday was a surprisingly nice day filled with nice surprises, in that three important envelopes arrived on the same day.  Who knew?  I did get eight hours of sleep, and then did some work on the computer before moseying on over to the mail place, Vitello's, banking, putting gas in the motor car, and then finally having some food, a Cobb salad with ranch dressing at Jerry's Deli.
Then I came right home and began prepping our new release announcement.  I wasn't much in the mood to watch anything, so I just did a lot of work on the computer, and only have a couple of songs left to choose and most of the singers have their music.  I listened to tons of music, of course, and even had a few telephonic calls.  I'd also taken home some bread pudding from Jerry's, so I ate that, too.  I had no other food.  And somehow, after only three paragraphs, the day and evening were done, well done, a well-done day, despite the annoying Word update.  I also got the eBooks of Murder at the Magic Castle up at Amazon and Barnes and Noble online, and was surprised to see that both sites already had the actual books for sale.
Today, I think I'm supposed to be meeting someone from the UK for lunch but I've had no response to my e-mails and therefore who knows what will be – well, the Shadow knows, but he's not talking.  I'll hopefully pick up some packages, I'll eat whether this fellow is there or not, and then I'm hopefully we'll be able to announce our new title.
The rest of the whatever's left of the week will be meetings and meals, errands and whatnot, and I'm really hoping there are no shows to see.  I know I'll watch some more stuff, choose the final couple of songs and get them to their singers, and relax.
Before we wrap up these here notes, here are three photographs from Everybody Rise! A Resistance Cabaret.  First is our merry troupe.  Left to right: Eric Petersen, Kerry O'Malley, Robert Yacko, Brittney Bertier, and Nick Sacks.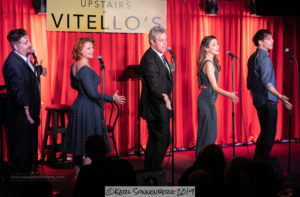 Here's another bit of 'ography by li'l ol' me.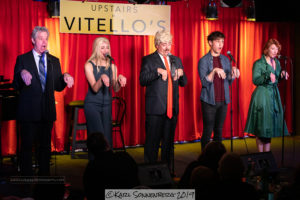 And finally, a parody version of Mein Hair called My Hair.  I asked Eric to learn all the Liza choreography from the film of Cabaret and he did, every single move.  This one brings down the house.  I have to download more photos to share and there are lots of 'em, taken by Karl Sonnenberg.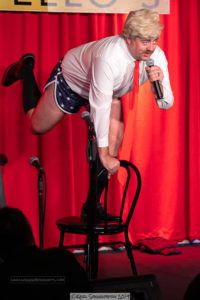 Well, dear readers, I must take the day, I must do the things I do, I must, for example, maybe have a lunch meeting, hopefully pick up some packages, and then relax.  Today's topic of discussion: It's Ask BK Day, the day in which you get to ask me or any dear reader any old question you like and we get to give any old answer we like. So, let's have loads of lovely questions and loads of lovely answers and loads of lovely postings, shall we, whilst I hit the road to dreamland, happy to have had a well done day.