Well, dear readers, we had our first rehearsal for next Sunday's Kritzerland show, but only with three of our six-member cast.  One of our gals' flight was delayed and she couldn't get to us on time, one guy we knew about up front, and our guest star is coming today, as her pianist is her husband.  So, it was short and sweet, and everyone was pretty on top of their material. We only adjusted two keys.  First up was Daniel Bellusci.  We began with a rare song from the one-performance legendary flop, The Little Prince and the Aviator – it's called Planet of the Apes – oh, wait – Playground of the Planets by John Barry and Don Black.  Very interesting song and Daniel does it really well.  We had to fix a couple of chords where the music we had didn't match a track I have of it. Then Daniel ran a Vernon Duke revue song called What Has He Got, a really cute little ditty about a man trying to figure out what Fred Astaire has that he doesn't have.  The excellent and funny lyric is by Ted Fetter.  Finally, since his duet partner wasn't with us, we ran Silverware from We Take the Town and I filled in.
After that, Laura Wolfe arrived and we ran her three songs, two of which are from the act I created for her back in 2011 or thereabouts. First, she did the tongue-twisting Ya Got Trouble – it's really fun hearing it with a woman and Laura does it really well – Professor Helen Hill.  Then she ran Randy Newman's Short People – Laura is a bit over 5'10" tall.  And finally, she ran a song from another huge flop, The Prince of Grand Street – the song is called The Girl With too Much Heart and is by Bob Merrill.  Quite a winning little number it is, too.
Then Peyton Kirkner arrived.  She was a little under the weather due to some tummy trouble, so I gave her a Pepcid and we began.  First, she ran The Girl I Mean to Be from The Secret Garden.  She played Mary Lennox so she was doing it as she did it in the show – with a Brit accent.  I tried to get her to do it without, but it's so ingrained that I just said do it the way it's comfortable.  I'll just revise my set-up slightly and it will be fine.  Then she ran Everything is Gonna Be All Right, my song from Welcome to My World, which she loves.  We're passing the torch on this show.  She does it very sweetly.  And finally, we ran the new What If that opens the show.  I gave her a bit of staging and I think it's pretty funny and will work very well, at least that's the hope.  She's truly got a great comic sense, this young girl.
That was the end of that.  Prior to all that, I only got six hours of sleep thanks to the idiot neighbors doing some work in their yard.  I think Grant and I are going to have a little chat with them, because they make too much damn noise and are very inconsiderate, letting their kids play loudly in the yard after ten at night – even on school nights.  So, I answered e-mails, had some telephonic calls, and then I moseyed on over to the mail place, where I picked up a couple of packages, but more importantly, three important envelopes.  I went to the bank – a small line, only two tellers, neither of whom have helped me before.  The one I ended up with was humorless and a bit sour – hopefully the good tellers will be back the next time I'm there.
Then I went to the Subway closer to where I live.  I got a foot-long Subway club and a six-inch spicy Eyetalian for after rehearsal.  She got it wrong, of course, even though I was very clear, and she repeated what I'd ordered to me.  She was making both of them six-inchers.  I saw it and stopped her.  But in making the foot-long, she just took the meat she'd already put on the six-inch and slapped it into the foot-long bread and then was very sloppy with the rest. The other sandwich she'd done fine. I added my normal fixins and came home. I ate the foot-long, which was so badly made that it was hard to eat and frankly it didn't taste great.  Then I shaved and showered, and after that our pianist showed up.
He got everything set up and then we did our rehearsal. After that, I ate my spicy Eyetalian sandwich and that was really good.  I think I'm done with the Subway club, frankly.  Then I got the eBlast ready, I alerted the media that we're announcing two count them two CDs and listened to music.  I had another telephonic conversation and that was pretty much the evening.
Now, I'll tell you what the two CDs are, but they won't be live on our site until morning, probably before ten and closer to nine. I'd had several e-mails from customers asking if it was possible to release two Bagley titles at once, as it saves quite a bit on postage.  That made total sense to me and so we got the next two in the series ready to go.  And they are: George Gershwin Revisited, a really good album with great songs and an amazing cast: Barbara Cook, Anthony Perkins, Bobby Short, and Elaine Stritch.  What fun. But it's one of the few releases where Bagley didn't add bonus material for the CD issue.  But boy did we find a great bonus of our own: The very first recording of Concerto in F, in the original Ferde Grofe arrangement, with Roy Bargy at the piano.  If you only know Gershwin's later symphonic orchestration, you're in for a bit of a shock, but hopefully you'll be as delighted as I was the first time hearing it. And we got that ancient recording to sound really very good.  Here's the cover.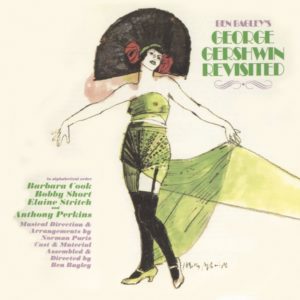 The second title is Noel Coward Revisited, one of my favorites of the Bagley series in terms of the material, and again a stellar cast including Nancy Andrews, Edward Earle, Hermione Gingold, and Laurence Harvey, with a special appearance by Dorothy Loudon and bonus tracks, too.  Now, this was, at least to date, the absolute worst-sounding Bagley CD.  It's hard to know what anyone was thinking when they mixed this CD but I would not be surprised if Mr. Bagley were on some major hallucinogens.  First of all, the previous CD had the channels reversed. Second of all, he has all the instruments hard-panned to the left or the right with NONE in the middle, which is where the vocalists are.  It is so off-putting and awful, and then the entire thing sounds like it's in mud – so while we obviously can't remix this, we are laboring mightily to have it sound at least more normal.  We've corrected the reversed channels and are doing some trickery with the stereo field so hopefully all that will help.  But the songs are great, and the bonus material is fun.  Here's that cover.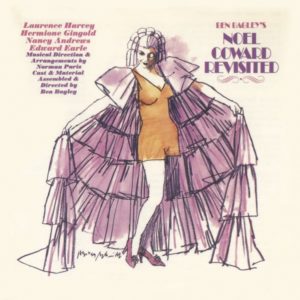 Today, I'll hopefully print out a LOT of orders.  Then at noon o'clock we have a quick rehearsal with our guest star, Ilene Graf, just for me to hear the arrangements.  I think I've got them where they belong in the show order, but just want to make sure that how they're doing them works with what comes before and after.  Then I'll hopefully pick up some packages, eat, and then I'm getting a well-needed haircut around four.  After that, I'll relax.
Tomorrow, I'm hoping we can have our pick-up rehearsals for the two performers who couldn't be there yesterday.  Thursday is our second rehearsal, Friday there are several things going on, Saturday is our stumble-through, and then Sunday is sound check and show.
And has anyone noticed that somehow this month is in its final day?  Can you believe it?  Tomorrow will be a new month and it is my fervent hope and prayer that tomorrow will be a month filled with health, wealth, happiness, creativity, and all things bright and beautiful.
Well, dear readers, I must take the day, I must do the things I do, I must, for example, hopefully print out a LOT of orders, have a quick rehearsal, hopefully pick up packages, eat, get a haircut, and relax.  Today's topic of discussion: What other Ben Bagley albums are you looking forward to, for those who care about such things? Let's have loads of lovely postings, shall we, whilst I hit the road to dreamland, as we bid a fond farewell to April, happy to have had a fun first rehearsal for three.