Well, dear readers, I am sitting here like so much fish, listening to music, and trying not to be irritated at having just knocked my head into the corner, the sharp corner, of a kitchen cabinet.  This is not the first time I've done it – it has to do with charging the magic trackpad and unplugging it from the back of the computer. Right now, I have a rather large headache from said knocking of the head so I suppose I'll have to take some aspiring to help it along.  That is the way of things when you knock your head into the corner, the sharp corner, of a kitchen cabinet.
Yesterday was a rather nothing day.  I was up at eight after five hours of sleep, and finally managed to fall back asleep around nine-thirty and woke up at eleven-thirty, so seven hours of sleep.  Once up, it was the usual assortment of activities – answering e-mails, having telephonic calls, and doing some work on the computer.  I did not choose songs because I needed a day of rest from the Kritzerland shows.  We got news that the Jerome Kern CD will be ready, so the new helper will get that Wednesday morning and ship that day.  We should have the other two titles a week later.
At about one-thirty, I moseyed on over to the mail place and picked up some packages, then I went to Subway and got a foot-long Subway Club for lunch and a six-inch spicy Eyetalian for the evening snack – just over 1000 calories for both.  I came right home, ate the foot-long sandwich, which was not as good as usual due to a newbie making it and not understanding how to "pack" the sandwich properly.  I listened to some music but mostly had to relax.  At some point, I sat on my couch like so much fish.
Last night, I watched the Peter Bogdanovich documentary on Buster Keaton, called The Great Buster.  It has some good interviews in it and of course the clips are great. But I'm afraid whatever talents Mr. Bogdanovich had have sadly been in absentia for decades.  He narrates in his awful, droning voice, and even though he calls this thing "A Peter Bogdanovich Picture" (I kid you not), it is very firmly in the Blu-ray extras mode kind of thing – think the awful Laurent Bouzereau, where every point is illustrated with a clip – as in if Bogdanovich says, "He picked up the phone" we have some unrelated shot of Buster picking up a phone. And talking heads.  And some pretty curious participants who say some pretty stupid stuff – chief amongst them Quentin Tarantino and the star of some Spiderman thing, and, worst of all, Cybill Shepherd, Mr. Bogdanovich's former girlfriend. I don't think there's any new news here and it was all done much better in the major Kevin Brownlow documentary, A Hard Act to Follow.  If you need a Buster bounty of a documentary, that is the one I recommend.  But the clips are great so as long as you understand you're basically watching an average Blu-ray extra, you'll enjoy it.  I'm happy to have seen it.
Then I began watching the new Blu and Ray from Twilight Time of The Quiller Memorandum.  I never saw it back in the day, so I bought the Brit Blu of this when it came out and just didn't care for it – but I know a lot of that had to do with the terrible transfer from a faded internegative – all brown and ugly.  So, I'm happy to report that the Twilight Time looks great with perfect color – what a difference that makes and I've watched the first twenty minutes and am enjoying it – it's very Pinteresque, but that's probably because the screenplay is by Harold Pinter.  I'll finish that up this evening and report back.
After that, I had my spicy Eyetalian Subway – that was a bit better, and I had a caramel and some Swedish fish. Then I knocked my head but good and here we are.  Oh, I promised some more photographs from the show – these were done by someone in the audience. Here's Robert Yacko and Ashley Fox Linton doing You Must Meet My Wife.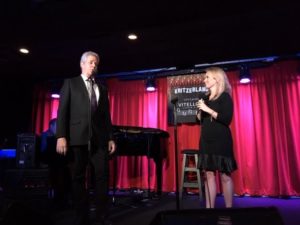 Here's Fay DeWitt doing Who Gave You Permission.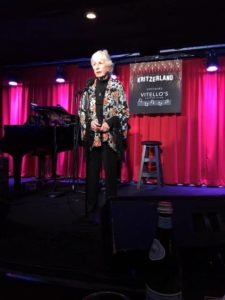 Here's Robert Yacko opening the show with the Sondheim King and I What If.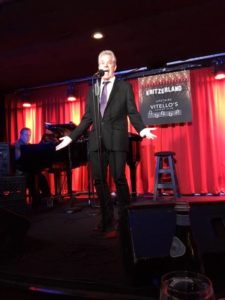 Here's Kim Huber and hubby Roger Befeler doing An Old-Fashioned Wedding.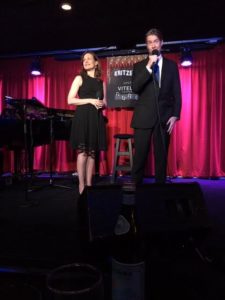 Today, I'll be up by eleven, I'll choose some songs, then I have a lunch meeting.  After that, I'll hopefully pick up some packages, and then I'll come home and choose more songs and get folks their music.  After that, I'll listen to music, relax, and finish The Quiller Memorandum
The rest of the week is meetings and meals and doing our final workshop at the Group Rep on Saturday.  Lots o' other stuff to do, as well, and I think I have to see something, too, although I cannot remember what.
Well, dear readers, I must take the day, I must do the things I do, I must, for example, choose songs, have a lunch meeting, hopefully pick up packages, get people music, and relax.  Today's topic of discussion: What have been the most irritating self-inflicted, stupid injuries you've done to yourself?  Let's have loads of lovely postings, shall we, whilst I hit the road to dreamland, after which I shall endeavor not to have a hard-knock head.