Well, dear readers, Kritzerland Upstairs at Vitello's was one of my all-time favorite shows and for me personally I had the most fun time ever.  When I arrived for sound check, the room was configured in an entirely new way and I couldn't believe it and not in a good way. Instead of the long tables and occasional four-tops, the first two rows were two-tops stretched out facing the stage like theater seating.  The first problem was I have a table of fourteen at every show – there were twelve seats in each of those rows.  Thankfully, sound man Nick calmed me down, told me to talk to the guy who was working the room, which I did, but I was basically told that this was the way it was going to be from here on in, but he also said that he understood why I'd be taken aback by the shock of it, without any warning.  Had I had a warning I could have taken the time so I walked in prepared for it.  Nick, who's great, figured out the way to have fourteen in the front row, so that was at least a help.  But I honestly had no idea how I was going to play that configuration.  I took to aspirin and just cleared my head of negative feelings.
We had a few more people than we thought – the room was pretty full when all was said and done – probably about fifteen more people than were on the books, so that was good.  So, I girded my loins, was introduced, and did my usual welcome line.  But instead of going on from there, I immediately addressed the new configuration, which was the perfect thing to do, and there were nice laughs and then a huge laugh when I compared it to playing to The Last Supper.  So, I was instantly comfortable and went into the next bit of patter, and got to the first joke, wherein I said, "If I don't read from the paper it would lead to utter chaos and utter pandemonium, which would lead to utter McKinley.  The laugh started as more of a chuckle from a few people, so I immediately added, "What, four people know what Utter-McKinley is?" The laugh started getting louder, and then I said, "It's a mortuary." And that got a great laugh, and then I said that when I was growing up there were bus benches on every corner and at least one of them advertised Utter-McKinley.  I said, "I asked my mother what Utter-McKinley was and she said it was the place where they take dead people."  I added, "I would never sit on one of those benches."  I was already completely in love with the audience. And between the configuration and Utter-McKinley, I had running gags throughout the show.  I just went there whenever the fancy struck me.
And then later, I was telling the history of the musical, The Day Before Spring, and that it was directed by Edward Padula, who went from directing his first and only show to being a stage manager but striking pay dirt when he became a producer with Bye Bye Birdie.  I pronounced his last name "Padjula", emphasis on the first syllable.  Barry Pearl, who was in Bye Bye Birdie on Broadway when he was a kid, shouted out that the pronunciation was Padewla, emphasis on the second syllable.  Well, we carried that on for about a minute back-and-forth with the pronunciations and the laughs were so huge – it culminated with me saying, "We've gone to Jerry Lewisland."  Then, after the song, I got back up and said, "C'mon, Barry, how about that song I've Come to Wive it Wealthily in Padula (pronouncing it my way) – he shouted out Padua (which I knew he would), and, well, I just live for that kind of thing.
The entire cast was on fire and did brilliantly.  I confess that I was worried after the stumble-through, but everyone had taken their notes, addressed them, and we did not have one mistake in the entire show – that's only happened about four or five times in our 97 shows.  There were several showstoppers, too.  I'd decided to cut my What If example at the top of the show – while I thought it was funny (What if Kander and Ebb, instead of writing Cabaret, had written Li'l Abner – then it was to the tune of Don't Tell Mama – hesh up, don't tell Mammy, shesh up, don't tell Mammy), I realized that not enough people really knew Li'l Abner and I felt it hadn't worked at the stumble-through so out it went.  So, I just explained the concept and then introduced Robert Yacko to do the first What If, which was what if Stephen Sondheim, instead of writing Into the Woods, had written The King and I.  Robert did it to a faretheewell.  Here's the lyric to the tune of the title song:
Into Siam
She's journeying
Miss Anna comes
To meet the King
Into Siam
To do a thing
To teach the Royal Children
Into Siam
With child in tow
Miss Anna only
Wants to know
Where is her house
The King says "No!"
She'll live inside the Palace
What can she do
The King is King
She'll seethe and stew
Then start to sing
The King will stand firm
The King will not budge
But Anna's quite the grouse, dear, and so she gets her house, dear
Into Siam
Well, Shall We Dance
And will they ever
Find romance
Sadly, they never get
The chance
And all because of Tuptim
Into Siam
The King will die
And so there's no more King and I
She has to stay
And she knows why
To help the kids
To wear big dresses
To teach
To sing
To learn
To grow
To help
To dance
To anger the Kralahome
Into Siam
Into Siam
Into Siam
She'll stay in Siam, Miss Anna, the I.
Sorry, I couldn't quite lay this out as it should – I guess importing it caused some issues so some lines that should be on their own, aren't. And several songs in, I did a variation What If, talking about this new reimagined production of Oklahoma, which opened on Broadway last night, a radical reimagining.  I explained what it was, then said I was reimagining Oklahoma for the Yiddish musical theater, and then proceeded to sing:
Oy-klahoma
Where the Jews all gather every day
And the borscht they eat is pink and sweet
As they read the Torah and they pray
Oy-klahoma
Where each boy and girl is known to kvell
And it's not a stretch to say they kvetch
As they eat some herring and then smell
They know they belong to the shul
And the shul they belong to is cool
And so we say, a big and loud oy vey
We're only sayin' we're gonna shvitz Oy-klahoma
Oy-klahoma, Oy-k-l-a-h-o-m-a – Oy-klahoma!  Oy!
Anyway, it was grand fun and I could not have been happier. Now I just have to get used to the new configuration.  After the show, four of us went downstairs and I had a really good halibut with asparagus on the side.  VERY low-calorie and really tasty.  Then I came home.  Here are some photographs.  First, our merry troupe.  Left to right: Fay DeWitt, Doug Haverty, Richard Allen, Robert Yacko, Autumn Jessel, li'l ol' me, Abigail Thompson, Brittney Bertie, Kim Huber, Ashley Fox Linton, and Roger Befeler.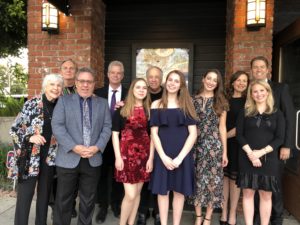 I'll have a few more photos tomorrow.  Prior to the show, I got eight hours of sleep, got up, answered e-mails, then just relaxed and rested my voice.  Then I got ready and moseyed on over to Vitello's and the rest you know.
Today, I can sleep in, then I have to choose songs, gather up sheet music, eat, hopefully pick up packages, then relax, and I think I have to attend a meeting at some point.
The rest of the week is meetings and meals, including a lunch meeting tomorrow, but mostly solidifying the May Kritzerland show and then we do our third and final workshop on Saturday at the Group Rep.
Well, dear readers, I must take the day, I must do the things I do, I must, for example, sleep in, choose songs, eat, hopefully pick up packages, maybe attend a meeting, and relax.  Today's topic of discussion: If you've ever had what I believe is called a midnight snack, what were and/or are your favorite midnight snacks?  Let's have loads of lovely postings, shall we, whilst I hit the road to dreamland, happy that Kritzerland at Vitello's 97 was one of our all-time funniest and best shows, at least for me it was.