Well, dear readers, I have eaten a little too much food and therefore am feeling logy and gross.  I don't actually think that in the scheme of things it was all that much spread throughout the day and evening, but it's just sitting in my stomach like so much fish.  However, I'm here, I'm writing these here notes, and on we go, logy or not.  As I write these here notes I am listening to Music to Feel Logy and Gross By.  It's a fine album by Esquivel – I forgot to mention Esquivel in yesterday's notes.  That was quite an oversight, which is, I suppose, better than an undersight or at least and undershirt.
Yesterday was a rather okay day.  I got about seven hours of sleep, answered e-mails, showered, and then moseyed on over to the Wood of Brent for a lunch with the lovely and wonderful and very smart Julie Kirgo.  It was really fun and we talked about many things and spoke lovingly, of course, of the late Nick Redman.  We were there almost two hours.  She very sweetly brought the last few batches of Twilight Time titles and some photos she'd found, along with an old Bay Cities t-shirt.  I brought her the new book and a bunch of Kritzerland CDs.
After that, I came right back to the Valley, stopped at home for a minute, then took a five-minute drive to have a little meeting with a nice fellow named L.J. Dopp.  I'd seen him at the paperback show a few weeks ago – he sells his paintings (or prints from them), DVDs of movies he's directed, and he's written books, too.  I jokingly said he should do a painting for me and since he needed a favor from me, so we made a tit for tat deal right then and there.  He asked what I'd like and without hesitation, and I mean without hesitation, I said Invaders from Mars.  He loved that idea.  He's done a lot of sci-fi paintings but had never thought to do that one.  We talked about what it might include.  He sent me a photo of the almost finished version a few days ago, I loved it, he put the finishing touches on it and I picked it up. First, we met about the favor I'll be doing him and so that's now in the works.  The painting came out great.  Here is the almost finished version – he just did a couple more smoothing out things and signed it.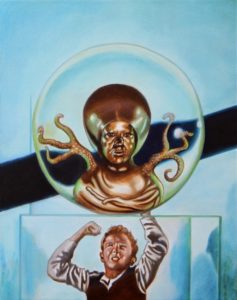 Isn't that great?  I'll get it framed then Grant can figure out where the HELL to hang it.  I love the colors, too, and he really captured the main image so perfectly.  After that, I picked up a couple of packages and no mail, then came home.  I listened to music for a bit, and sampled some of the Twilight Time transfers, then I knew I needed to get some food because the lunch was very small portions.  So, I went to Gelson's and got a small amount of chopped liver from their deli counter, some egg and onion matzohs, and a small cube steak.  I came home and made the cube steak and it was really good.  Later, I had the chopped liver.  I opened the box of matzohs but for whatever reason they smelled like they'd been treated with pesticide.  I took a bite and they tasted okay but I could not deal with the smell and threw the whole box in the trash.  The chopped liver was good, though.
I listened to more music – all kinds of music – classical, soundtracks, very eclectic and all very enjoyable.
Today, I can sleep in a bit, then I have some stuff that needs doing, I'll hopefully pick up packages, I'll try to eat only one meal, and then I'll watch some motion pictures.
The rest of the week is more meetings and meals, getting our replacement musical director all the May Kritzerland stuff, then I'll make a show order and write the commentary.  Not sure what's happening on the weekend.
Well, dear readers, I must take the day, I must do the things I do, I must, for example, sleep in a bit, do stuff, hopefully pick up packages, eat, and watch motion pictues.  Today's topic of discussion: It's Ask BK Day, the day in which you get to ask me or any dear reader any old question you like and we get to give any old answer we like. So, let's have loads of lovely questions and loads of lovely answers and loads of lovely postings, shall we, as I continue to listen to Music to Feel Logy and Gross By.