Well, dear readers, let me start by saying that eating stale bread is a losing proposition.  Yes, you heard it here, dear readers, eating stale bread is a losing proposition in that it will probably make you want to throw up on the ground.  For example, I currently want to throw up on the ground because I ate stale bread.  How did it come to pass that I ate stale bread?  Well, I'll tell you, because why should I keep such things from you dear readers?  It came to pass because I decided to have Subway yesterday – I like the foot-long Subway club first, then many hours later, I like the six-inch Spicy Eyetalian – total calories for the two is under 1100.  Unfortunately, I got the same gal I had last week, the Subway "newbie" and her attempts to make these sandwiches are as bad as they were last week.  At some point, kid, you're not a newbie anymore. Perhaps no one trained her properly. The bread for the foot-long was fine, but the bread for the six-inch was hard and stale and unacceptable.  She still doesn't know the art of making a Subway sandwich, and it is an art, because when done properly, it doesn't fall apart when you open the wrapping, everything is where it should be and laid out properly in terms of how to place the meat.  This gal just shoves stuff in there.  I should have asked for a different person or just left, but it took me a minute to realize it was the same gal.  I knew it as soon as I told her what I wanted and I had to repeat it for her twice and an additional time after she'd pulled the bread off the rack. It's kind of her job to know when bread feels not fresh and hard, but alas, she clearly doesn't care.  That attitude is evident at every step.  As I watched her stuff the meat in the sandwiches in an unseemly way, she asked what kind of cheese – I said provolone and I said it louder than I needed to, so I wouldn't have to repeat it.  I had to repeat it.  In fact, I had to repeat everything at every step as we added the vegetables and stuff.  She wouldn't put enough of anything, and I just got tired of repeating myself and couldn't wait to get the HELL out of there.  Last time, someone else wrapped the sandwiches – this time she did and even that was inept.
The Subway club was simply messy and kind of gross to eat because the meat wasn't properly put on in the order it's supposed to go.  But let's go back to the beginning, which was actually only an hour before that.  I was up at seven-thirty with some allergy issues – I didn't fall back asleep until nine and then I slept until two, for nine hours of sleep, which I really needed.  I answered e-mails and then I moseyed on over to the mail place to pick up the packages from the day before.  Then I got the food and came home.  I listened to music, took an allergy pill, and sat on my couch like so much fish.
Last night, I watched two Perry Como Kraft Music Hall shows – one with Dolores Gray and Andy Griffith, and one with Alice Faye.  They're fun, Como remains one of my favorite crooners, he's clearly not comfortable being forced to do variety show comedy, Andy Griffith's big comic scene was completely unfunny, but the music's the thing.  In the Alice Faye episode, we also got Paul Lynde, Don Adams, and Kaye Ballard, so that was fun.  I also watched a bit of Les Miserables, the 1932 four-hour French version that everyone raves about, with a score by Arthur Honegger.  The score is indeed great, but boy is it a slog to watch.  I got through about forty minutes, and I guess I'll watch in small doses.
Then I got everything ready for our new release announcement, which is Ballet on Broadway … And More, another Ben Bagley reissue, although the Ballet on Broadway was just something he issued but did not produce. It was originally recorded with conductor Lehman Engel but never released.  Thankfully, there were a handful of copies pressed and Bagley got one, involved Mr. Engel, and we got this delightful album.  For Bagley's CD release he added some rare Vernon Duke songs and they are delightful.  We have considerably improved the sound of the entire thing, but especially the Ballet on Broadway selections, which are fantastic.  Here's the delightful Harvey Schmidt cover.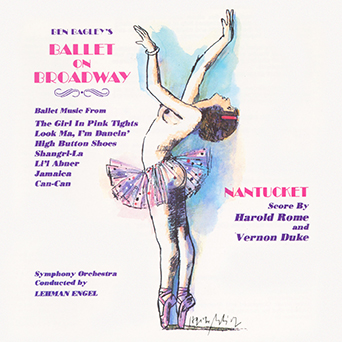 Then I ate the Spicy Eyetalian.  I knew pretty quickly that the bread was completely stale – not rancid, just not soft and fresh as should be.  I ate it, which I should not have, and now I am nauseous as can be.  I ended up writing a long screed to the Subway corporate office – we'll see if they respond – if they don't, I'll speak to the manager.  Then I just listened to music and relaxed.
Today, I can sleep in a bit, but not too late.  I'll hopefully print out a LOT of orders, I'll finalize song choices, get singers music, eat (not Subway), hopefully pick up some packages, and then relax.
Tomorrow, I have a lunch at noon o'clock, place to be determined, and the rest of the week is all meetings and meals and going and doing and doing and going.
Well, dear readers, I must take the day, I must do the things I do, I must, for example, sleep in a bit, hopefully print out a LOT of orders, finalize song choices, get singers music, eat, hopefully pick up packages, and relax.  Today's topic of discussion: What's your favorite dance music from Broadway and movies and beyond?  Let's have loads of lovely postings, shall we, whilst I hit the road to dreamland, with the hopes that I never eat stale bread again.