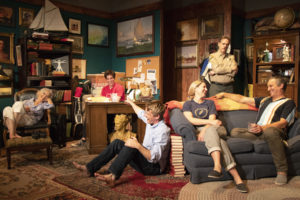 (photos by Jeannine Wisnosky Stehlin))
Dysfunctional families have been a mainstay of the theatre since The Greeks—The Oresteia, Oedipus Rex. Lillian Hellman gave us the Hubbards in The Little Foxes and Another Part of the Forest while Eugene O'Neill and Thomas Wolfe gave us fictionalized versions of their families in Long Day's Journey Into Night and Look Homeward Angel, respectively. More recently Tracy Letts gave us the Westons in his Pulitzer Prize winning August Osage County. Now with Boxing Lessons, receiving its World Premiere at The New American Theatre, local playwright John Bunzel has created a family that towers over the others, at least in cataloguing and reveling in their depravities. Child abuse, infidelity–hetero and homosexual, alcoholism, bedwetting, internet porn, opioid addiction etc. Name your vice, I'm sure it's mentioned sometime during the play. It contains just about everything except the kitchen sink but that off stage item is mentioned several times. There are just way too many secrets revealed in a 90-minute one-act to be believable among this family consisting of mother/ex-wife Meg (Susan Wilder), pill-popping daughter Judy (Eve Danzeizen), pretentious professor son Ned (Luke McClure),asthmatic autistic adopted son Steve (Stephen Tyler Howell), family hanger-on Billy (Bruce Nozick) and incompetent Sheriff Bob (Eric Curtis Johnson). A play starting off with a character amused by a strap-on dildo has nowhere to go but downhill and fast.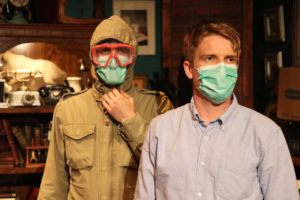 Stephen Tyler Howell and Luke McClure
This odd sextet has gathered in a remote cabin on an island in Puget Sound during a forest fire because the patriarch, a writer most famous for his beloved Christmas story "Suck My Thumb", may have committed suicide. The hunt is on for the will faster that you can say Daddy's Dyin', Who's Got The Will. This family sure could use some of Del Shores's zingy one-liners. The cast is competent under the direction of Jack Stehlin, they just don't have very good material to work with. Wilder, as the cynical ex, and Nozick as the reluctant voice of sanity fare best. John Iacovelli has done a masterful job of creating the cramped, over-stuffed living space of a master hoarder. The deceased's unseen but heard howling pet, a three-legged dog stranded on a rock in a smoke-filled atmosphere, probably has a better time of it than any of the humans depicted.


The New American Theatre, 1312 N. Wilton Pl. in Hollywood. Ends June 30. www.newamericantheatre.com