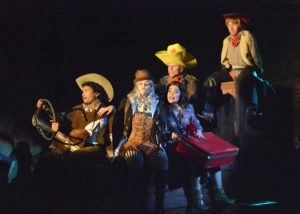 (all photos by Ed Krieger)
The 1980 film Bronco Billy is a minor film in the large ouvre of director/actor Clint Eastwood. It's tale of a rundown traveling Wild West show featuring the fastest gun alive was charming and reminiscent of an America that was quickly and quietly disappearing. Fast forward nearly 40 years and Bronco Billy The Musical at the Skylight Theatre is a loud, colorful, over-produced, virtually soulless representation of what passes for new musicals today. The score by Chip Rosenbloom and John Torres, with additional lyrics by Michele Brourman, contains 28 musical numbers—six of them reprises, three of them instrumental and none of them memorable. The opening and closing number, "Ride With Us", is the only tune featuring a catchy melody and lyrics. Most of the numbers are not really traditional musical theatre songs but more recitative that underscores dialogue. Dennis Hackin, who wrote the original screenplay and the resultant novel, wrote the book for the musical but leached it of most of its charm.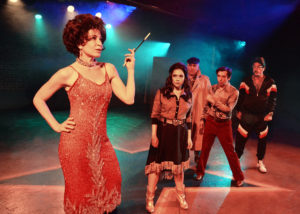 Michelle Azar and cast
Runaway heiress to a candy fortune, Antoinette Lilly (Amanda Leigh Jerry), reluctantly takes refuge in Bronco Billy's troupe after a failed murder attempt by her new husband John (Chris M. Kauffmann). If she does not survive 30 days after her recently deceased father's will was read, she loses her inheritance and it goes to her greedy, evil stepmother Constance (Michelle Azar). So Constance was informed by her shyster lawyer and lover Lipton (Marc Cardiff) and they soon hire hitman Sinclair St. Clair (Pat Towne) who specializes in murders looking like accidents. This plot is almost entirely new to the musical and differs greatly from the film and is just clunky and mostly laugh resistant no matter how hard the cast tries to sell this nonsense. Azar comes off best and is the show's standout performer. Towne milks his bits even when the cow goes dry after the first failed attempted joke with his name.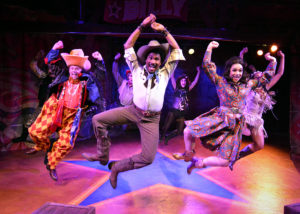 The cast kicks up their heels
The rest of the characters don't really get fleshed out very much, even Billy (Eric B. Anthony). The cast has some strong voices and the five-piece onstage band led my musical director Anthony Lucca really rocks the score. You just wish they really had something worthy of their talents. Director Hunter Bird manages to keep the action in motion but Janet Roston's choreography is klutzy and poorly executed except for the big "Disco Medley" which is well executed but contains a ludicrous attempt by the hitman to kill the heiress by "accidentally" stabbing her on the dance floor. The "Musical Showdown" that nearly ends the show is just as ineptly staged.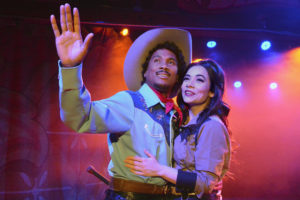 Eric B. Anthony and Amanda Leigh Jerry
A lot of money has been put into the production of this World Premiere. Ann Closs Farley designed the very colorful costumes, Brian Gale has lit the action brightly and John Iacovelli designed a simple yet ever evolving scenic design that morphs from one scene to the next and features a spectacle disaster effect. You just wish more funds had been spent on the book and the score to make Bronco Billy The Musical get closer to the bullseye it seems so desperate to hit.


Skylight Theatre, 1816 1/2 N. Vermont Ave. in Hollywood. Ends July 21. www.skylighttix.org