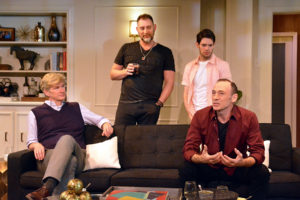 (all photos by Ed Krieger)
To marry or not to marry? That seems to be the new conundrum for long time gay and lesbian couples since the 2015 U.S. Supreme Court ruling on the long fought battle for marriage equality. Playwright Michael McKeever began to write Daniel's Husband, currently at The Fountain Theatre, before the ruling. After the ruling, he rewrote the play to put it on a more personal level and the result gives its audiences a lot to think about.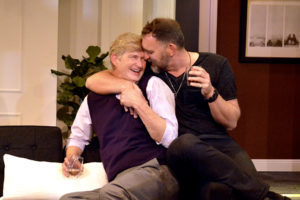 Bill Brochtrup and Tim Cummings
We meet Daniel (Bill Brochtrup), a successful architect, and Mitchell (Tim Cummings), a successful writer of gay romance novels, in their tastefully appointed living room (great scenic design by DeAnne Millais) where they are having dessert and after dinner drinks with Mitchell's agent Barry (Ed F. Martin) and his date of the week Trip (Jose Fernando), a home health care provider. Barry is nearly twice Trip's age and takes a lot of ribbing from Daniel and Mitchell about his penchant for short-lived affairs with much younger men. Trip is surprised to learn that Daniel and Mitchell, who have been together seven years, are not married. Daniel believes in the marital state but Mitchell is adamantly opposed to it and they really don't discuss it much anymore.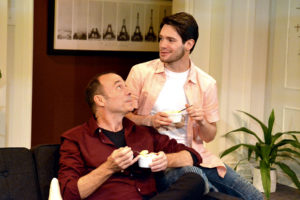 Ed Martin and Jose Fernando
Daniel is stressed out over the impending visit of his over-bearing mother Lydia (Jenny O'Hara). Even though Lydia says she accepts the couple, Daniel hates her for her animosity towards his father. When Daniel suffers a stroke that leaves him with locked-in syndrome (paralyzed except for eye movement), the lack of a marriage license proves significant.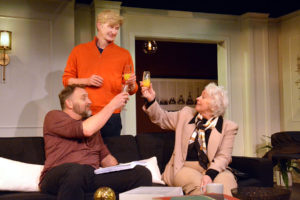 Tim Cummings, Bill Brochtrup and Jenny O'Hara
McKeever has written an intelligent and thought-provoking play and director Simon Levy has expertly guided his stellar cast through it. They deliver the comedy as well as the drama that is deftly exposed as the play progresses. Brochtrup and Cummings create a dynamic couple and their deep love and respect is skillfully shown. Martin provides a lot of the humor as the aging playboy while Fernando brings delightfully boyish charm and enthusiasm to his role. O'Hara commands the stage as usual, creating a concerned mother and not a monster. This quintet of actors work beautifully to create a moving piece of theatre. If you appreciate theatre that entertains you as well as makes you think, don't miss Daniel's Husband.


The Fountain Theatre, 5060 Fountain Ave. in Hollywood. Ends July 28. www.fountaintheatre.com