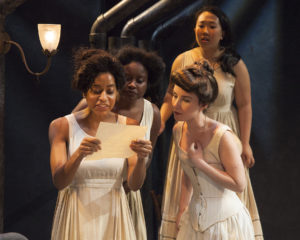 Kristen Ariza, Krystel Roche, Cindy Nguyen and Shannon Lee Clair (all photos by Geoffrey Wade Photography)
Cicely Hamilton (1872-1952) was a British actress, playwright, journalist, feminist and suffragist whose work really needs to be rediscovered if her play Diana of Dobson's is any indication of her talent. She comes across as a more feminine, less dogmatic writer than her contemporary, George Bernard Shaw. In Diana, receiving a wonderful revival by Antaeus Theatre Company in Glendale, she delves into the world of the working class shop girl, struggling to make a living for meager wages in Edwardian England. The girls at Dobson's live in a dormitory over the store where it is lights out by eleven after spending grueling and long days on their feet six days a week. Diana (Abigail Marks) is a rebel and constantly in trouble for breaking the rules and having her paltry pay docked as a result. When she discovers she has inherited 300 pounds (about $2500 dollars in 1908 currency) from a distant relative, she decides to treat herself to a well-deserved holiday, even if it is only for a few weeks. Her co-workers caution her against it, telling her to save it, especially with her spotty work resume. But Diana is off for Paris for clothes and then the Swiss Alps for some high living. Hamilton's witty take on the social classes and male/female relationships provides plenty of humor.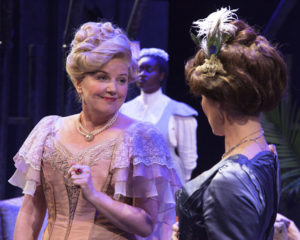 Eve Gordon, Krystel Roche, Elyse Mirto
At the Hotel Engadine, Diana passes herself off as a wealthy widow and is soon fending off advances from an older former employer (John Apicella) as well as from Victor, a young ex-guardsman (John Bobek), who has trouble living on his yearly income of 600 pounds. His aunt (Eve Gordon) plays matchmaker, thinking he will have struck gold marrying the widow. The fun escalates until Diana's money runs out and she is forced to return to England and her life as a shop girl. She confesses all to Victor and challenges him to try to earn a living for six months. The final act reunites the twosome on the Thames Embankment where Victor ends up trying to earn a living and having a rough time of it. He still has his income but is determined to prove he can make his way without it, just like Diana. There is a happy ending in store for them both.

John Bobek and Abigail Marks
Casey Stangl has done a wonderful job of streamlining the action and her talented cast delivers the humor as well as the social messages with aplomb. Marks easily carries the show on her shoulders and receives strong support, especially from Gordon and from the always watchable Lynn Milgrim. Nina Caussa's deceptively simple scenic design easily converts to the various locales. A. Jeffrey Schoenberg's costumes are well detailed. Cicely Hamilton and her Diana of Dobson's are delightful discoveries.


Kiki & David Gindler Performing Arts Center, 110 E. Broadway in Glendale. Ends June 3. www.antaeus.org